Runaway Ronnie disappears with Russian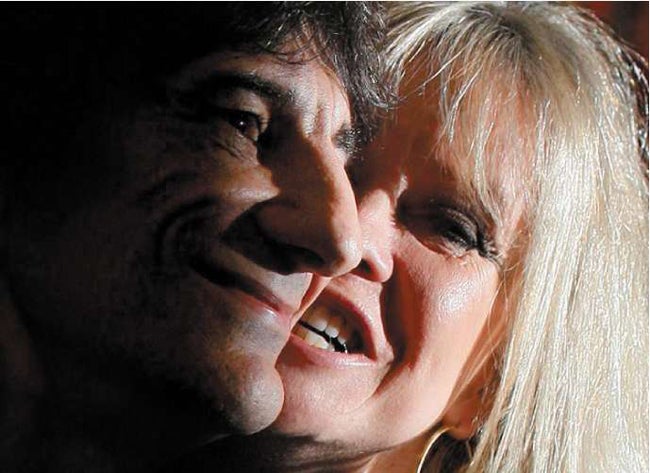 There is nobody quite like a Rolling Stone for growing old disgracefully. The latest wrinkly rocker to live up the group's bad boy reputation is the guitarist Ronnie Wood, who has gone on a prolonged drinking bout in Ireland with a woman less than a third his age.
Wood's weakness for alcohol is well known, but his wife says this latest binge is a real worry.
The guitarist is said to have met his 19-year-old companion, Yekaterina Ivanova, in a London escort club after the premiere of Martin Scorcese's documentary about the Rolling Stones, Shine A Light. For the past fortnight, they have been holed up together in Ireland, where the 61-year-old Stone is said to be downing two bottles of vodka a day.
Mick Jagger and Keith Richards, founder members of the Rolling Stones have pleaded with him to get help. So has Rod Stewart, who played in The Faces with Wood in the 1960s.
Ms Ivanova, a cocktail waitress from Moscow, is now claiming the father of four as her new boyfriend. She is said to have told a friend that Jo Wood, the guitarist's wife, pleaded with her not to steal her man, but the teenager claimed to have replied: "I am not taking him; he is leaving."
Mrs Wood, who has established a successful range of organic beauty products, is adamant that this conversation, supposedly at their home in Kingston upon Thames, south-west London, is fiction. Mrs Wood told The Sun: "She is mad. She is a terrible alcoholic."
She said Wood, a talented artist, had travelled to his retreat in County Kildare to paint, using Ms Ivanova as a model. She claimed to be more worried about his alcohol intake than Ms Ivanova's boasts.
"He's drinking heavily, maybe two bottles of vodka a day," she told The Sun. "I was quite all right that she was hanging around with him. They're not boyfriend or girlfriend, not in that way. They have been staying in Ireland and Ronnie's art man was with them. Ronnie told me she was staying there and I said, 'OK, get on with it and have a drink, go mad. Drink your guts up'."
Wood married the former model in 1985, and they have stayed together despite his problems with drink and drugs.
He went into rehab for the first time for 10 days in 2000. He wasback in The Priory, in London, a year later. When that failed, he tried two weeks in the Cottonwood Clinic, in Arizona. In 2004, he went back into The Priory after being found drunk under a restaurant table. In 2005, he checked into an Irish clinic, and in 2006, it was back to The Priory.

Enjoy unlimited access to 70 million ad-free songs and podcasts with Amazon Music
Sign up now for a 30-day free trial
Sign up

Enjoy unlimited access to 70 million ad-free songs and podcasts with Amazon Music
Sign up now for a 30-day free trial
Sign up
His latest visit to a clinic came just before his daughter Leah got married last month.
"It's all connected with his drinking," Mrs Wood said. "Each time Ronnie falls off the wagon it gets worse and he has been on a bender for the past two weeks.
"He doesn't remember anything or know where he is. It looks like he's risking his life.
"Mick, Keith and Rod have been calling saying, 'What the hell are you doing?' but nothing's getting through. Ronnie is adamant this girl is just a friend but he's not thinking rationally. His family just want him to get better and come home."
The Stones in trouble
*1966: Three members, including Mick Jagger, arrested for urinating in a petrol station.
*1967: Jagger and Keith Richards arrested on drugs charges.
*1969: Brian Jones found drowned in his swimming pool.
*1977: Canada scandalised by the sight of Margaret Trudeau, wife of the Prime Minister, partying with the Stones.
*1993: Bill Wyman quits after nearly 30 years.
*2000: Ronnie Wood admitted to The Priory with a drink problem. There would be five visits more in six years.
*2006: Richards has brain surgery after fall.
Join our commenting forum
Join thought-provoking conversations, follow other Independent readers and see their replies