Sara Cox takes on rapper Pitbull: He 'makes my soul weep with the way he sings about women'
DJ adds voice to growing concerns over sexism in pop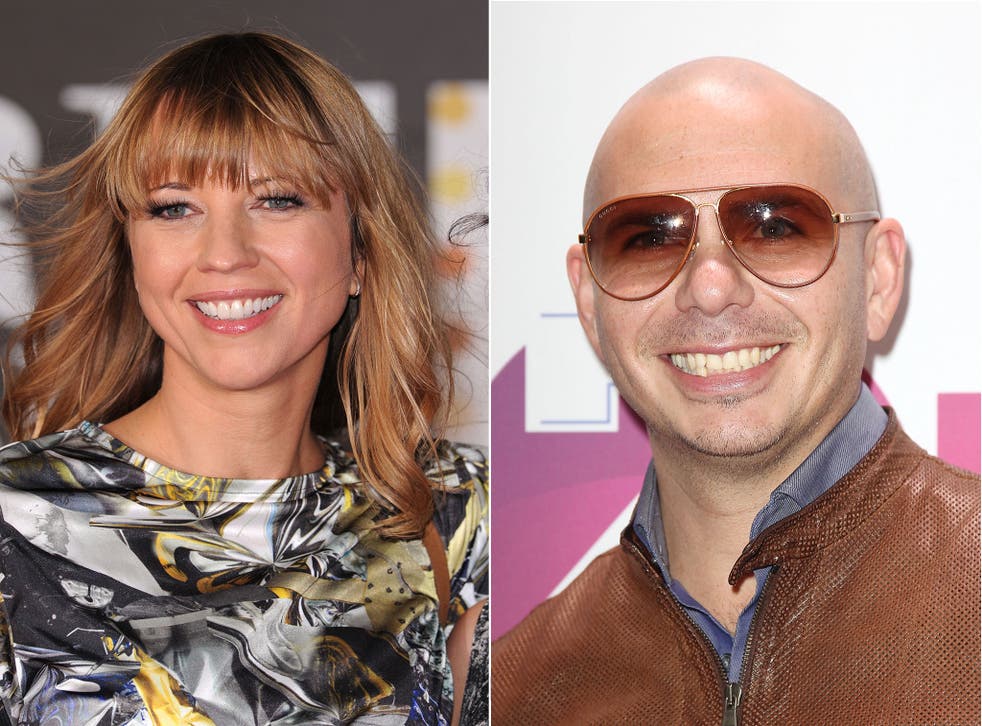 Sara Cox, the former BBC Radio 1 DJ, has criticised the station for playing music with sexist lyrics by rapper Pitbull.
The presenter, who now works on BBC Radio 2, said she felt upset by the station playing songs by the best-selling artist, whose lyrics have faced accusations of misogyny and objectifying women.
Cox told the Radio Times: "Someone like Pitbull on Radio 1 makes my soul weep with the way he sings about women. I just couldn't bear playing that."
She spoke of her love of the music on both Radio 1 and Radio 2 but added: "There will always be the odd song that isn't for me."
Pitbull, whose real name is Armando Perez, burst onto the music scene in 2009 with the hit song "I Know You Want Me (Calle Ocho)" from his fourth album Rebelution. He has sold well over five million albums, with number one hits in more than 15 countries.
For all his commercial success, the depiction of women in some of his songs, as well as the accompanying music videos, has prompted controversy.
One post on Pitbull's own website by the mother of a 14-year-old listener claimed that his lyrics "harm girls". The writer said that after being directed to the songs by her daughter, "I was shocked at how misogynistic they are… Some of the lyrics make women seem like nothing more than an object for the gratification of men."
The anonymous writer, who wrote under the name "Nothappy", said the lyrics were "profiting from putting women down". She added: "My daughter has to live in a world where you are sending these powerful and hurtful messages about girls and women, so quit hypersexualizing them. Your music is a real disappointment."
Pitbull's song "Timber", which reached number one last year, includes the lyrics: "I have 'em like Miley Cyrus, clothes off/twerking in their bras and thongs… face down, booty up." He also sings: "She say she won't, but I bet she will." Other songs include the lines "I like that when you fight back" and "Shake that shit bitch/And be off in the club with a hard-ass dick."
Enjoy unlimited access to 70 million ad-free songs and podcasts with Amazon Music Sign up now for a 30-day free trial
Sign up
His video for the song "I'm a Freak" with Enrique Iglesias has also been criticised for its objectification of women.
Sara Cox first appeared on Radio 1 in 1999 and presented the breakfast show the following year. She now presents a regular Saturday night show on Radio 2.
The BBC said in a statement: "Each track is considered for the playlist based on its musical merit and whether it is right for our young audience, with decisions made on a case-by-case basis." A spokeswoman added that Pitbull was not currently on the Radio 1 Playlist.
The issue of misogyny in pop music became a hotly debated topic last year following the release of "Blurred Lines" by Robin Thicke, which was dubbed the most controversial song of the decade.
Anger among feminists centred on whether the lyrics could be interpreted as legitimising rape – while the video showed three fully clothed male singers surrounded by scantily clad female models.
Annie Lennox later last year attacked the sexual imagery of music videos saying many were "pornographic" and calling them "overtly sexualised".
Register for free to continue reading
Registration is a free and easy way to support our truly independent journalism
By registering, you will also enjoy limited access to Premium articles, exclusive newsletters, commenting, and virtual events with our leading journalists
Already have an account? sign in
Register for free to continue reading
Registration is a free and easy way to support our truly independent journalism
By registering, you will also enjoy limited access to Premium articles, exclusive newsletters, commenting, and virtual events with our leading journalists
Already have an account? sign in
Join our new commenting forum
Join thought-provoking conversations, follow other Independent readers and see their replies