Sir Paul McCartney: 'There was something a little bit suspect about Jimmy Savile'
The Beatle speaks to The Independent's arts editor David Lister about his friendship with the disgraced DJ
David Lister
Thursday 22 November 2012 18:22 Comments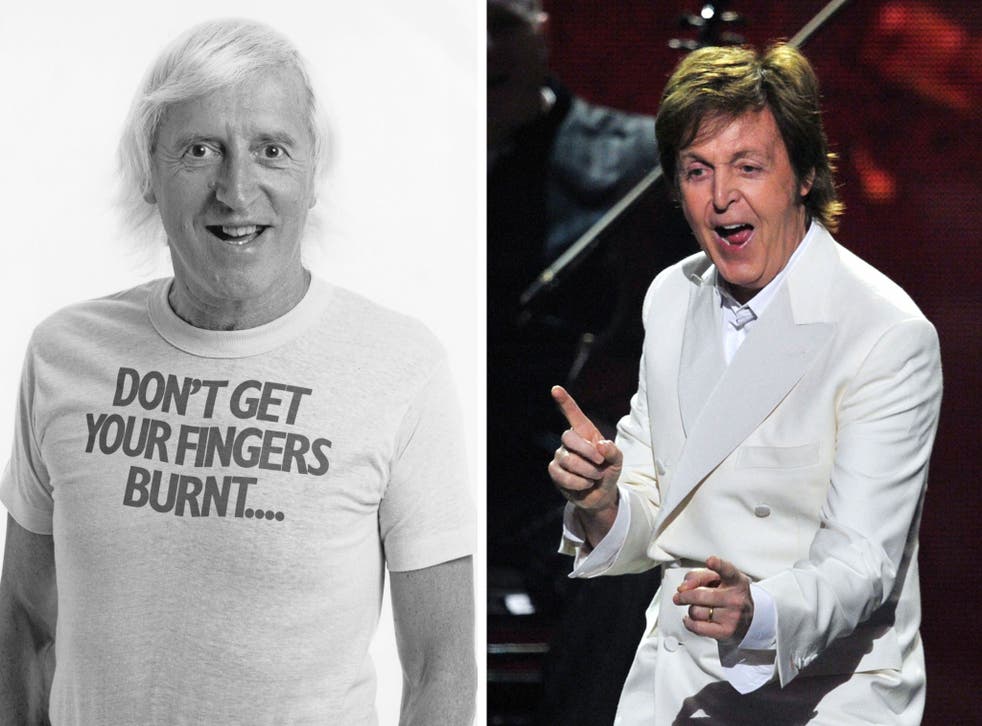 Sir Paul McCartney has become one of the first rock stars to speak about Jimmy Savile and the sexual climate of the sixties and seventies.
Few rock stars have said anything about their behaviour at the time, and the Savile revelations. Now the biggest worldwide pop icon has given his thoughts, and spoken about The Beatles' friendship with Savile, in an exclusive interview with The Independent, to be published in full on Saturday.
Sir Paul told me that in their early days The Beatles were close to Savile, and travelled with him. Later at the height of Beatlemania, Savile compered their Christmas shows. Sir Paul also addressed the more general area of the prevailing sexual climate in those days.
Referring to Savile and the darker side of what was perceived as a time of relative innocence, Sir Paul said: " It's very difficult to talk about it. The thing is we knew Jimmy and we worked with him, he was a DJ, an MC on some of the shows. We were working in Yorkshire and we were still living in Liverpool. And we were coming back from a gig and he came in our van over the Pennines, we gave him a lift."
"He told us all these stories about his wartime exploits how he had been buying chewing gum and nylons and all that, and selling them. He had all sorts of stuff going on. He was the older hustler guy, and we were very amused by these stories because he was a great entertainer."
"But we dropped him off at his place outside his house and we said 'can we come in for a coffee', and he said 'oh no, not tonight lads'. When he'd gone we thought why doesn't he let us in, what is it, because most people would have let us in that we gave a lift to. So we always thought there was something a little bit suspect."
Sir Paul, who can be seen on ITV on Saturday night in a special concert showcasing his most recent album, went on in the interview to speak about the sexual mores of the period. He said: "More generally, then the whole sort of scene was not so PC. [In] the post war boom, girls and guys,it was a much more open scene, and you know free love, and the pill had just come in, so it was a completely different scene. The other aspect of course is that we, though not quite Jimmy, we were of the age of the girls, we were all young. So if you're now talking about a 17, 18 year old boy with a 15 year old girl, we all knew that was illegal. We knew it and it was like NO. But the closer we were in age of course the less it seemed to matter. We knew with under 16s it was illegal, so we didn't do it."
"We tried to make sure, we couldn't always be sure. But there was a definite no-no involved in underage kids. Hey listen, we didn't have to worry. There were plenty of over 16 year olds."
David Lister's full interview with Paul McCartney will be published in Radar in The Independent on Saturday
Register for free to continue reading
Registration is a free and easy way to support our truly independent journalism
By registering, you will also enjoy limited access to Premium articles, exclusive newsletters, commenting, and virtual events with our leading journalists
Already have an account? sign in
Join our new commenting forum
Join thought-provoking conversations, follow other Independent readers and see their replies