Sleaford Mods: Boris Johnson, David Gandy and Russell Brand come under attack in post-punk duo's new album Key Markets
Exclusive: The album threatens to catapult Sleaford Mods into the mainstream
Adam Sherwin
Thursday 25 June 2015 07:42 Comments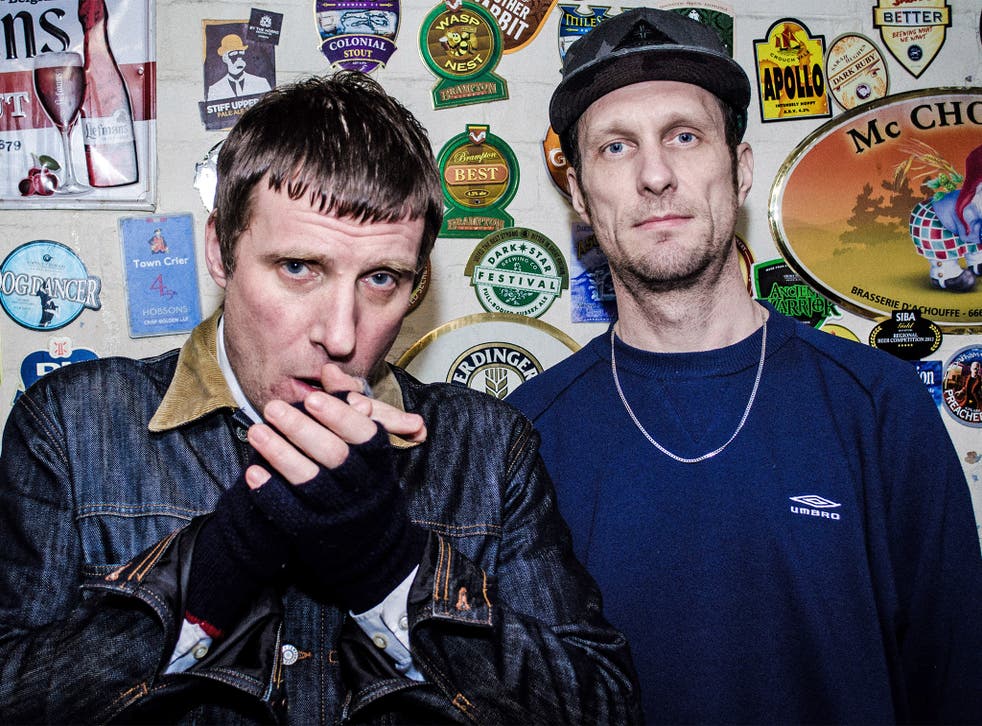 You're nobody in public life until you have been soundly insulted by Sleaford Mods, the post-punk poets of the underclass. In which case Boris Johnson, Ed Miliband, Blur and model David Gandy should be flattered after coming under sustained verbal attack from the duo on their new album.
Formed by singer Jason Williamson and musician Andrew Fearn, Sleaford Mods have garnered widespread acclaim for the uncompromising sound they describe as "electronic munt minimalist punk-hop rants for the working class and under from Nottingham."
Set to a spartan laptop-backing, former Benefits Adviser Williamson's splenetic but grimly hilarious lyrics explore the dark underbelly of austerity-hit Britain, often via the medium of random abuse launched at politicians and celebrities.
Released next month, their new album Key Markets threatens to catapult Sleaford Mods, who make their Glastonbury debut this weekend, into the mainstream.
Post-election, the duo have Boris Johnson in their cross-hairs. "Boris on a bike. Quick, knock the c*** over," Williamson urges on 'Face To Faces'.
An entire song, 'Rupert Trousers', is devoted to the speech the London Mayor gave to last year's Conservative Party conference in which he addressed a brick he had been given, to illustrate a commitment to building new homes.
Warning: video contains strong language
The song veers into an attack on the cheese-making Blur bassist Alex James, via David Cameron's visit to rural villages suffering from flooding: "Idiots visit submerged villages in 200 Pound wellies, spitting out fine cheese made by the tool from Blur. Even the drummer's a f****** MP. F*** off you c***, sir." In fact Dave Rowntree, Blur's drummer, stood unsuccessfully as a Labour candidate in 2010 and now works as a solicitor.
Although the moment may have passed, Ed Miliband is given a kicking. "Miliband got hit with the ugly stick. Not that it matters, the chirping c*** obviously wants the country in tatters." The Lib Dems don't escape either. "Nick Clegg wants another chance. Really?"
The apparently harmless underwear supermodel David Gandy pays the price for apparently endorsing the Conservatives. "David Gandy, ripped up Tory c***," the song 'Giddy On The Ciggies' repeats. Russell Brand, Keith Richards and Lauren Laverne also receive more abstract sideswipes.
Enjoy unlimited access to 70 million ad-free songs and podcasts with Amazon Music Sign up now for a 30-day free trial
Sign up
Williamson said: "Key Markets is in places quite abstract but it still deals heavily with the disorientation of modern existence. It still touches on character assassination, the delusion of grandeur and the pointlessness of government politics. It's a classic. F*** 'em."
Those who compare the Sleaford Mods experience to being trapped in a pub with a disturbed alcoholic are missing the artistry, argues Uncut magazine, which praised Williamson's "Wildean aphorisms" on the new album. "If Williamson's poetry recalls anybody, it's William Blake," said the magazine, citing the line "Skunk? I've got to be pissed up to smoke that s***, you c***."
The most memorable Glastonbury performances

Show all 10
Williamson said the attack on Gandy was justified because "when he did that underwear campaign for M&S, it was like some fascist notion of male physique."
The 44 year-old admits he made an error by voting Green at the election. "I should've voted Labour. I hated their manifesto – so f****** vague, it could have been a recipe for a Bakewell Tart. But they'd have brought some compassion."
Profane bons mots
Face to Faces: "Boris on a bike. Quick, knock the c*** over. The man of the people is now a man with no temples. Blood falls out of his head like policy in the f****** U-turn department.
"Nick Clegg wants another chance. Really? This daylight robbery is now so f****** hateful. It's accepted by the vast majority."
Rupert Trousers: "Boris and brick, chiselled faces, delegate full houses, woolly jumpers, flags from the boat lake, Rupert trousers."
Live Tonight (on Keith Richards?): "Undercover of the Night Telecaster, pirate w*****, high seas, arthritis? Yes please!"
Giddy on the Ciggies: "Rip-roaring Minnie Mouse little pony munt David Gandy ripped-up Tory c***."
On Russell Brand (after the attack on Hugo Boss at the GQ Awards): "Rusty Rockets won't stop it. His palace ain't libel. Hugo Boss took it off, so what! A celeb do will not justify you … I know people care, we all f****** care."
Key Markets by Sleaford Mods is released July 10. The band support The Who at Hyde Park on Friday and play Glastonbury, The John Peel Stage on Saturday
Register for free to continue reading
Registration is a free and easy way to support our truly independent journalism
By registering, you will also enjoy limited access to Premium articles, exclusive newsletters, commenting, and virtual events with our leading journalists
Already have an account? sign in
Join our new commenting forum
Join thought-provoking conversations, follow other Independent readers and see their replies