Snoop Dogg: 'Album artwork' takes another swipe at Donald Trump
Rapper is preparing to release his new record 'Make America Crip Again'
Roisin O'Connor
Music Correspondent
Thursday 02 November 2017 09:24 Comments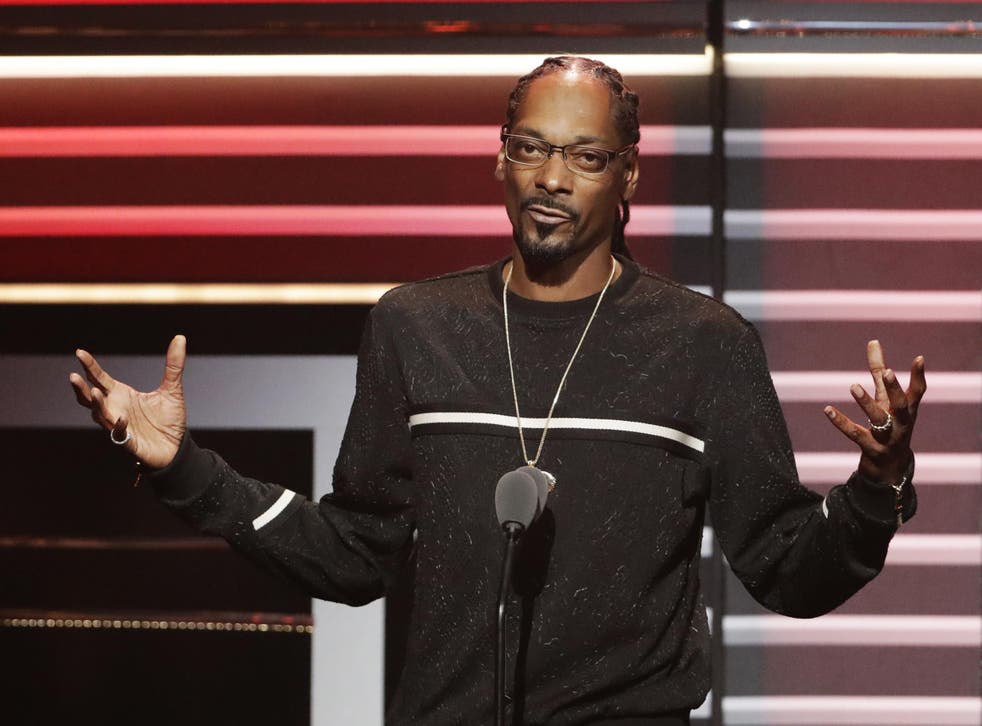 Snoop Dogg apparently made another swipe at US President Donald Trump by revealing some new album artwork.
The rapper reportedly posted an image on his Instagram account which showed him standing over a dead body coverered with the American flag.
The body's foot had a tag attached which read: "Trump."
TMZ reported that the record cover was posted on Snoop's Instagram on Tuesday but it appears to have since been deleted.
Make America Crip Again is Snoop's follow up record to Coolaid, which came out in 2016.
The image pays tribute to Ice Cube's 1991 record cover for Death Certificate, which showed him standing over a dead body, also covered by the American flag, with a tag which said "Uncle Sam."
Ice Cube's cover caused mass controversy upon its release, leading to condemnations from Billboard magainze and widespread boycotts by retailers. In Oregon, there was an official statewide ban on displaying Ice Cube's image in stores.
Reports of Snoop's new record cover follow the controversial music video which showed him parodying the assassination of Trump with a fake gun.
In "Lavender", which features Kaytranada in the BADBADNOTGOOD remix, he pulls out a gun and points it to a clown resembling Trump. He then fires the gun, which unfurls a red flag with the word "BANG" written on it.
Snoop Dogg assassinates Donald Trump in new music video
In response to the video Trump suggested that the rapper should go to jail for the "assassination" reference.
He tweeted: "Can you imagine what the outcry would be if @SnoopDogg, failing career and all, had aimed and fired the gun at President Obama? Jail time!"
At the time he told Billboard: "I feel like it's a lot of people making cool records, having fun, partying, but nobody's dealing with the real issue with this f***ing clown as president, and the s**t that we're dealing with out here, so I wanted to take time out to push pause on a party record and make one of these records for the time being."
The Independent has contacted a representative for Snoop Dogg for comment
Register for free to continue reading
Registration is a free and easy way to support our truly independent journalism
By registering, you will also enjoy limited access to Premium articles, exclusive newsletters, commenting, and virtual events with our leading journalists
Already have an account? sign in
Join our new commenting forum
Join thought-provoking conversations, follow other Independent readers and see their replies