Stevie Wonder takes a knee on stage in protest against Donald Trump's attack on NFL players
'Tonight, I'm taking a knee for America'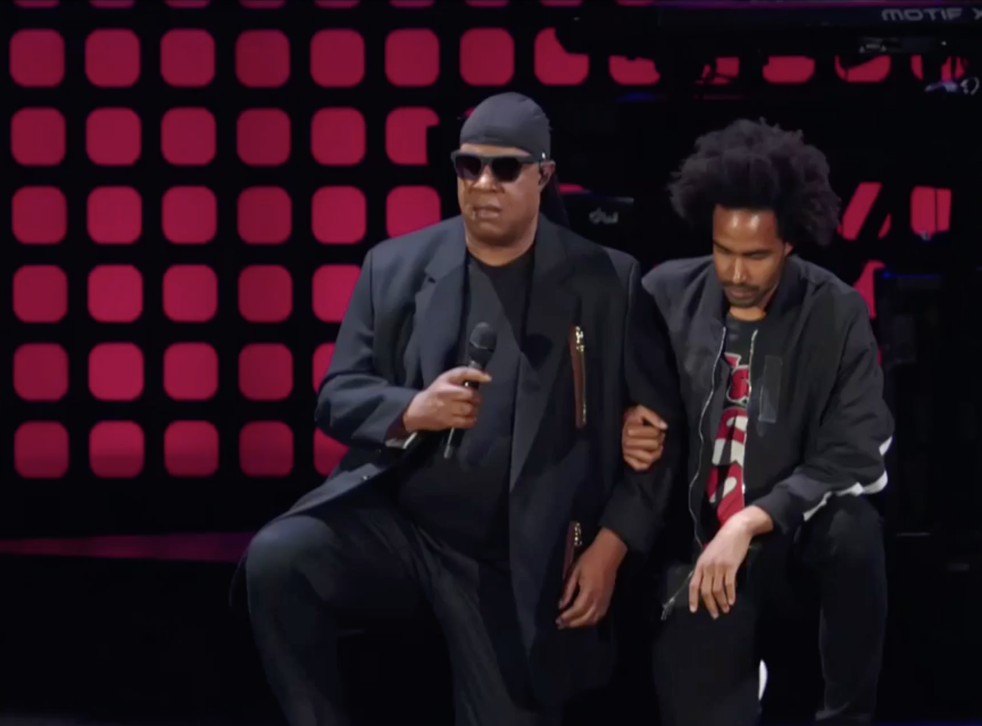 On Saturday evening, Donald Trump launched a sensational attack on NFL players who kneeled during the national anthem, labelling them "sons of bitches".
Various celebrities have been angered by the situation, including Stevie Wonder, who showed solidarity with those Trump criticised by taking a knee on stage.
"Tonight, I'm taking a knee for America," the singer said on stage midway through his Global Citizens Festival slot in New York's Central Park.
With help from his son Kwame Morris, Wonder knelt down on one knee before telling the audience, to much applause: "Not just one knee. I'm taking both knees."
He added: "Both knees and prayer for "our planet, our future, our leaders of our world, and our globe. Amen".
Over in the sporting world, Oakland baseball player Bruce Maxwell kneeled during the national anthem, becoming the first major league baseball player to take a knee.
Trump made the "sons of bitches" remark during a rally in Alabama, saying: "Wouldn't you love to see one of these NFL owners, when somebody disrespects our flag, to say, 'Get that son of a bitch off the field right now. Out! He's fired. He's fired!'"
Donald Trump's international Presidential trips

Show all 22
The President continued: "You know, some owner is going to do that. He's going to say, 'That guy that disrespects our flag, he's fired.' And that owner, they don't know it [but] they'll be the most popular person in this country."
Register for free to continue reading
Registration is a free and easy way to support our truly independent journalism
By registering, you will also enjoy limited access to Premium articles, exclusive newsletters, commenting, and virtual events with our leading journalists
Already have an account? sign in
Register for free to continue reading
Registration is a free and easy way to support our truly independent journalism
By registering, you will also enjoy limited access to Premium articles, exclusive newsletters, commenting, and virtual events with our leading journalists
Already have an account? sign in
Join our new commenting forum
Join thought-provoking conversations, follow other Independent readers and see their replies