Suge Knight claims he was the real target in 1996 Tupac Shakur shooting
Record producer was with Shakur on the night that he was killed, but previously refused to say who he thought was behind rapper's death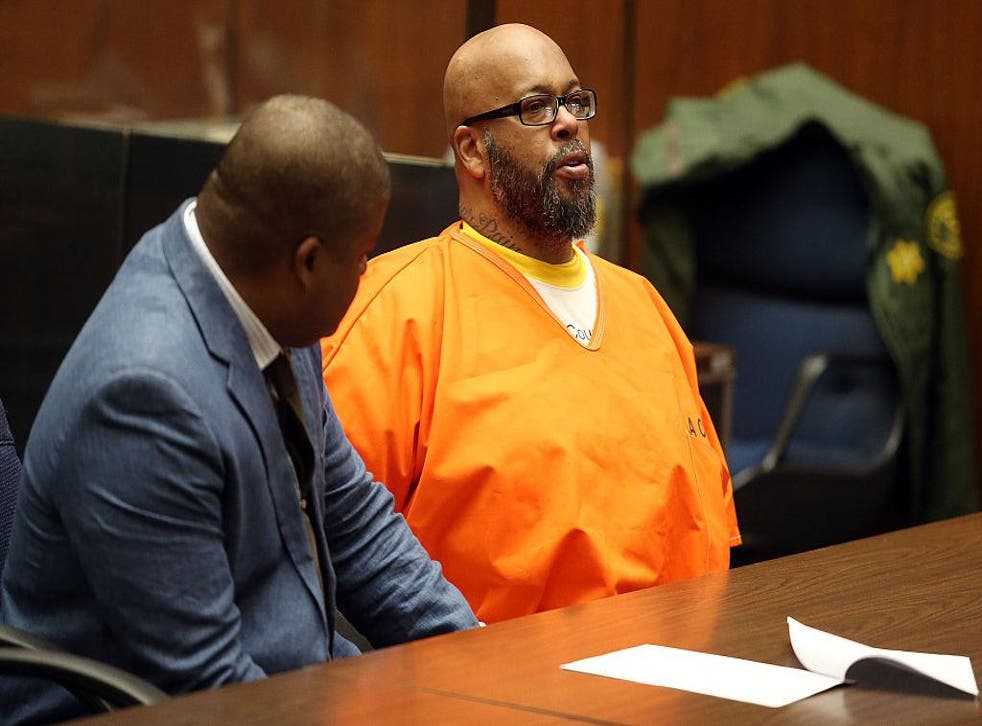 Suge Knight has claimed that he was the real target of the 1996 drive-by shooting that killed rapper Tupac Shakur, and that his ex-wife and former Death Row Records security chief were behind it.
In a signed affidavit, Knight's attorney Thaddeus Culpepper reportedly wrote that the record producer has known "for many years that Reggie Wright Jr. and his ex-wife Sharitha were behind the murder of Tupac and attempted murder of Knight", the Daily Mail reports.
Culpepper added that Knight has also alleged details of Wright's involvement in the shooting of Shakur's rival - Christopher 'Biggie Smalls' Wallace - in 1997.
The former CEO of Death Row Records was with Shakur on the night that he was killed in Las Vegas in '96.
Knight, who is currently behind bars awaiting a separate murder trial, has always refused to reveal the identity of the person he believed was responsible for Shakur's death.
He is apparently speaking out now after hearing the "salient points" in the new documentary Tupac Assassination: Battle For Compton, which was directed by Richard Bond and Michael Douglas Carlin, Music News reports.
The film tells of an attempted coup at Death Row Records - co-founded by Knight and Dr. Dre among others - which the documentary suggests eventually led to the shooting.
"Culpepper told Carlin individually that not only did Knight confirm the events portrayed in Compton, which portray Knight was the intended target and Shakur as collateral damage, as true, but also goes on to allege that these 1996 events may have been the first in a history of attempts on Knight's life," a spokesman for the film said.
Former LAPD detective Russell Poole, who worked on the Biggie Smalls case, appeared to agree with Knight's theory in 2015.
Enjoy unlimited access to 70 million ad-free songs and podcasts with Amazon Music Sign up now for a 30-day free trial
Sign up
"Suge wasn't divorced yet and if he died in that hit, she'd [Sharitha Knight] get most of everything," he said. "So she went to Wright Jr, who was in charge of Death Row, and ran it while Suge was in prison.
"Wright Jr.] has gotten away with it this whole time. They floated a whole lot of propaganda to LA Times reporter Chuck Phillips - calling in hundreds if not thousands of fake clues."
Wright Jr. denied the claims in 2015, after Poole's death, to AllHipHop, and pointed out that several people who had accused him of Shakur's murder had died in the past decade.
"I believe in karma," he said. "All these people are dropping dead. I keep telling people God don't like ugly. I hope people learn a lesson from this."
He suggested that the next person could be Tupac Assassination co-director Bond.
"The next person is probably going to be R.J Bond. I ain't predicting no death on anybody, but they better get their selves right," he said. "They better stop with all this bullcrap they've been promoting, because they're all dying like flies around here."
Since his death there have been numerous conspiracy theories around Shakur's killing, including that the rapper is still alive in Cuba after faking his own death.