Taylor Swift accused of hypocrisy for using artist's design without permission, credit or fee
Artist claims Swift's people attempted to buy her out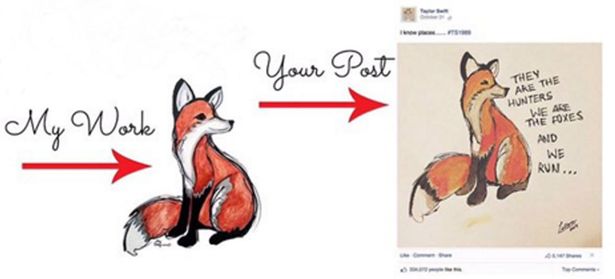 Taylor Swift's 'art is valuable and valuable things should be paid for' view has been called into question by an artist who claims the singer used one of her drawings on promos for her 1989 album without compensating her.
Ally Burguieres posted an open letter to Swift on Facebook after a fox design almost identical to hers was stamped on posts on the singer's various social media channels.
"I am a professional artist. With years of work and support from customers, friends, and family, I have built a business around my designs," she wrote.
"As a professional artist, I was astonished to see you use one of my most popular designs on all your official social media platforms as part of your promotions for 1989.
"The design was a copy, and with someone else's name signed to it. I was devastated."
"I thought if you only KNEW about the error, you would do what is in your power to make it right. I was wrong.
"After months of effort, I received an offer from you and your team that mentions no credit to me as the artist of the design, but does include payment of a 'four-figure' amount, with the stipulation that I must donate it all.
"Taylor, as a professional, would you agree to such terms from Apple, or Spotify?"
The campaign picked up pace after Ally's friend Madi tweeted about it, posting a screen grab from Facbook in which Ally added: 'Taylor Swift isn't interested in crediting me because - according to her team - her endorsement is too "valuable"…This from Ms. "Art is valuable and valuable things should be paid for??"
The New Orleans artist was referencing Swift's previous comments regarding her decision to keep her music off streaming services like Spotify.
Update: A spokesperson for Swift told us:
"A fan has stated that she created the watercolor drawing of a fox, added some of Taylor's lyrics and signed the artwork as her own, posting it. Ms. Swift, believing it to be the fan's original work, reposted the fan's art, with her own comment, continuing the social media conversation. Ms Burguieres did not contact Taylor's office, but she posted on social media her claim that the fan had used her drawing. We found that posting, accepted it at face value and immediately took down Taylor's posting of the fan art. At no time during these postings did Ms Burguieres contact our office directly. Notwithstanding the huge publicity this has generated for Ms Burguieres and her store, in early November Ms. Swift's office made a fair offer of payment well above a reasonable licensing fee for the short time that the fan art was posted online. The offer was for a payment to Ms Burguieres - there was no requirement of a contribution to any charity. Her lawyer further advised us that Ms Burguieres chose to go after Taylor only and not against the woman who has admitted she used Ms Burguieres' work as inspiration. Ms. Burguieres' lawyer acknowledged Ms Swift's action was unintentional, but rejected the offer. She promised to get back to us with an explanation of why she felt Ms Burguieres was entitled to more money, but she never did that and the next we heard was Ms Burguieres' new posting. We have tried on multiple occasions to address Ms Burguieres' concerns, but these actions make it clear to us that this is just an unfortunate effort to extract more money and more publicity. "
Join our commenting forum
Join thought-provoking conversations, follow other Independent readers and see their replies