Taylor Swift's diamond bath in the LWYMMD video was worth more than $10 million
One of the most eye-catching scenes in the video needed a lot of security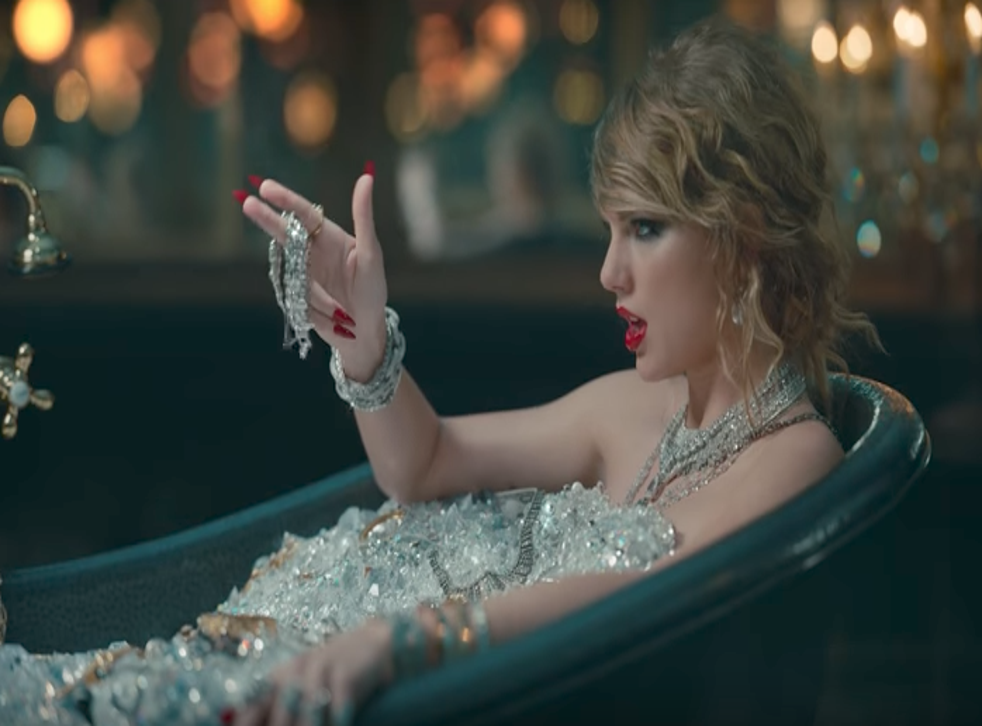 Taylor Swift's diamond bath in the video for "Look What You Made Me Do" was filled with real jewels worth more than $10 million, it has been reported.
One of the most eye-catching scenes in the visuals for Swift's new single saw the pop star sitting in a bath tub filled with diamonds chokers, rings and necklaces.
Celebrity jeweller Neil Lane has confirmed that his jewellery was featured, telling Page Six: "I had to go to the vault for this one. They wanted an over-the-top, glamorous look so we gave them unprecendented access to my collection. And wow what an amazing turnout, diamonds have never looked better!"
news.com.au reports via the New York Post that one of the snake rings of Swift's left ring finger appeared to be the same piece that Zoe Saldana wore to the 2013 Oscars. There are several snake references through the video - apparently a recurring motif for her forthcoming new album reputation.
Swift's latest video is a controversial one, in particular due to the bath scene, which many fans have speculated is a reference to Kim Kardashian, who was tied up and left in a bathtub during a robbery at gunpoint in Paris last year.
The robbers were first reported to have stolen around $11 million worth of jewels, although the value of the items was later reported to be less than that.
During the song Swift sings the lyric: "I don't like your perfect crime/How you laugh when you lie/You said the gun was mine/Isn't cool, no, I don't like you."
The tracl is widely believed to be a diss track aimed at Kardashian and Kanye West.
The lone dollar bill floating in the tub is beleived to be a nod to the symbolic $1 that Swift won after a jury found that a DJ had groped her during a meet and greet.
Swift and video director Joseph Khan were accused of copying themes from Beyonce's work on Lemonade, including the video for "Formation".
Khan, who has worked with Beyonce in the past, denied this, saying that the "LWYMMD" video was "not in the same art space" as the Lemonade artist.
Swift's album reputation, her first since 2014's release 1989, is set for release on 10 November.
Register for free to continue reading
Registration is a free and easy way to support our truly independent journalism
By registering, you will also enjoy limited access to Premium articles, exclusive newsletters, commenting, and virtual events with our leading journalists
Already have an account? sign in
Register for free to continue reading
Registration is a free and easy way to support our truly independent journalism
By registering, you will also enjoy limited access to Premium articles, exclusive newsletters, commenting, and virtual events with our leading journalists
Already have an account? sign in
Join our new commenting forum
Join thought-provoking conversations, follow other Independent readers and see their replies