The real Star Man: David Bowie champions Canadian astronaut Chris Hadfield's 'Space Oddity' cover
Hadfield rocks a triumphant returns to Earth to the sound of a classic Bowie tune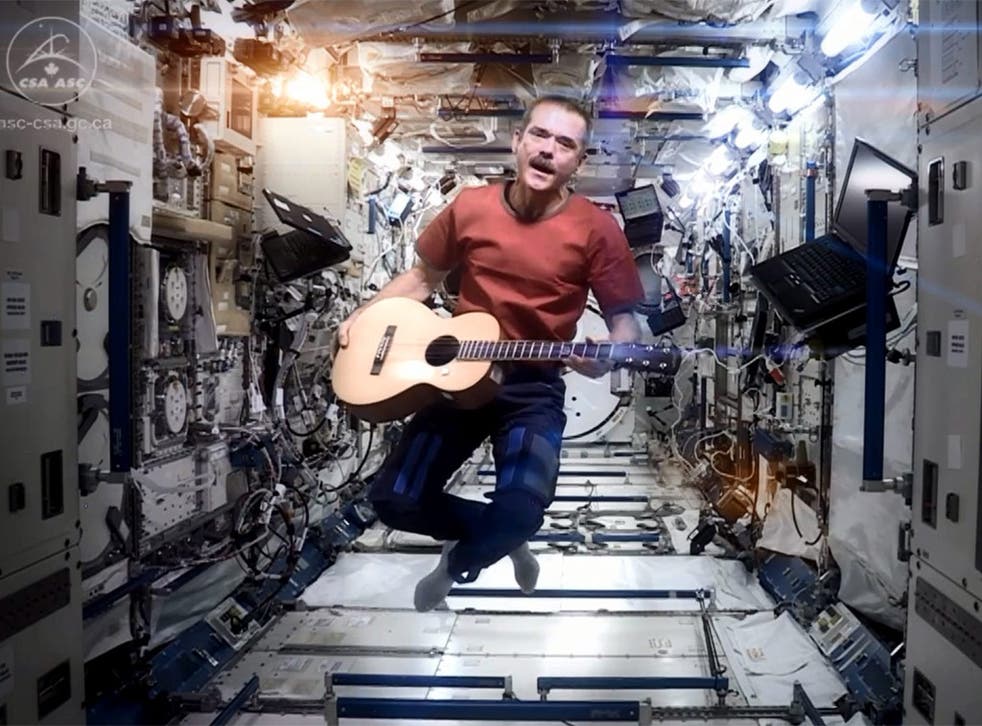 This is ground control to Commander Hadfield: you've more than made the grade and the papers want to know how a former farm boy from Canada with a love of David Bowie has accomplished a one-man mission to make space cool again.
Chris Hadfield left orbit in style yesterday after five months aboard the International Space Station. Hours before his planned return to Earth aboard a Soyuz capsule, he cast himself as Bowie's Major Tom in a remake of the singer's 1969 classic, "Space Oddity".
Commander Hadfield had already sought Bowie's permission to use the song. "We've been working on it for about six months," the astronaut's son and media manager, Evan Hadfield, told The Independent. "It was planned before the mission began and fleshed out as we realised what was possible."
The first music video shot in space, made with subtly adapted lyrics, rocketed across the web, gaining a million views in 12 hours on YouTube.
Bowie, who released the original in the summer of Neil Armstrong's "giant leap", was among thousands to tweet it. "Hallo Spaceboy," he wrote, recalling a song from his album, Outside.
It was a musical climax to a mission in which Commander Hadfield has attracted a global audience with updates from 240 miles up. His poetic tweets, photos and videos have changed the way many think about space, 44 years after he was inspired to go there as a nine-year-old watching the Moon landings at his parents' Ontario farm.
"It's wonderful," Professor Brian Cox, the physicist and presenter, told The Independent. "We've become used to seeing serious business in space but for the first time someone is allowing us to see day-to-day life."
In earlier clips, which Commander Hadfield filmed, the astronaut revealed the wonder of weightlessness by showing how a person sleeps, eats and even cries in space. A 30-second close-up of mixed nuts floating in their tub gained five million views alone. "It might seem trivial but you misunderstand our place in the universe to think we can sit on Earth indefinitely," Professor Cox said. "It has to be the case that we as a species will live and work in space rather than just explore it. Hadfield has shown us how." Professor Cox, a former keyboard player with the band D:Ream added: "He's also got a brilliant voice."
Commander Hadfield sings in several bands and enlisted his friend, Emm Gryner, to play piano over his vocals. Gryner, a former Bowie band member, then worked with her fellow Canadians, Joe Corcoran, a producer, and filmmaker Andrew Tidby to finish the film. The astronaut, 53, arrived in orbit in late December. The Canadian Space Agency always planned to exploit his charm to create good PR, but did not predict such a hit. Evan, 28, said: "I don't think an astronaut has had this level of media success since the Moon landings."
Enjoy unlimited access to 70 million ad-free songs and podcasts with Amazon Music Sign up now for a 30-day free trial
Sign up
Commander Hadfield was due to land in Kazakhstan early this morning. He will emerge from his capsule as the most famous astronaut for a generation. Next up: Life on Mars? In a Q&A last month Commander Hadfield said his dream was now to visit the red planet. Bowie has already provided the soundtrack.
Register for free to continue reading
Registration is a free and easy way to support our truly independent journalism
By registering, you will also enjoy limited access to Premium articles, exclusive newsletters, commenting, and virtual events with our leading journalists
Already have an account? sign in
Register for free to continue reading
Registration is a free and easy way to support our truly independent journalism
By registering, you will also enjoy limited access to Premium articles, exclusive newsletters, commenting, and virtual events with our leading journalists
Already have an account? sign in
Join our new commenting forum
Join thought-provoking conversations, follow other Independent readers and see their replies