This 'What did David Bowie do at your age?' site will make you feel lazy
He's soon to release his 25th studio album.
Christopher Hooton
Thursday 24 December 2015 10:06 Comments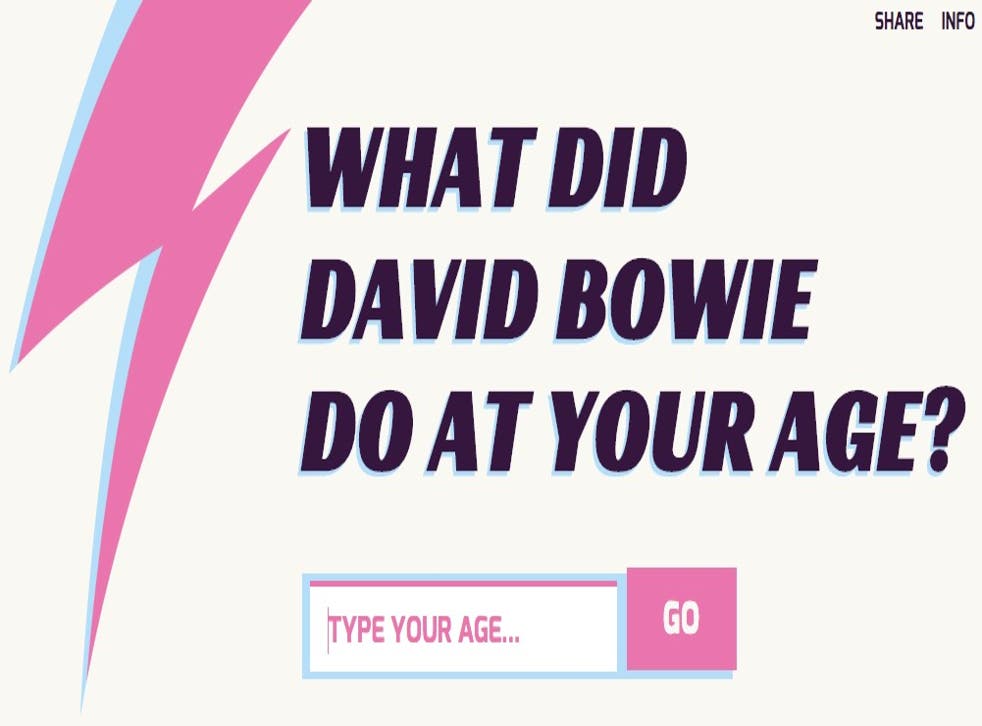 *This article was written in December 2015. You can read about David Bowie's death, announced this morning, here*
'This page is to celebrate David Bowie, and remind us to get out of our comfort zone and start doing shit,' says the creator of Sup Bowie, a site which lets you input your age and then tells you what Bowie was getting up to during your year.
It starts off fairly randomly.
When David Bowie was 5:
'He had a horrible accident with a cup of tea, and refuse to drink it to this day.'
But by his twenties highlights how much we're all underachieving.
When David Bowie was 25:
'He put the finishing touch to the look of his character "Ziggy Stardust" and released his 5th studio album "The Rise and fall of Ziggy Stardust and the Spiders from Mars".'
The site seeks to highlight Bowie's creativity.
'David Bowie might have made some of the most influential music ever,' it says, 'but what's truly impressive is his willingness to experiment and try new things.'
On 8 January, Bowie will release ★, his 25th studio album.
Register for free to continue reading
Registration is a free and easy way to support our truly independent journalism
By registering, you will also enjoy limited access to Premium articles, exclusive newsletters, commenting, and virtual events with our leading journalists
Already have an account? sign in
Join our new commenting forum
Join thought-provoking conversations, follow other Independent readers and see their replies