Tiffany Haddish explains why she won't be hosting 2021 Grammy pre-gig
Comedian said she would have had to pay all expenses to host Recording Academy's pre-Grammy ceremony
Rachel Brodsky
Los Angeles
Thursday 10 December 2020 18:10 Comments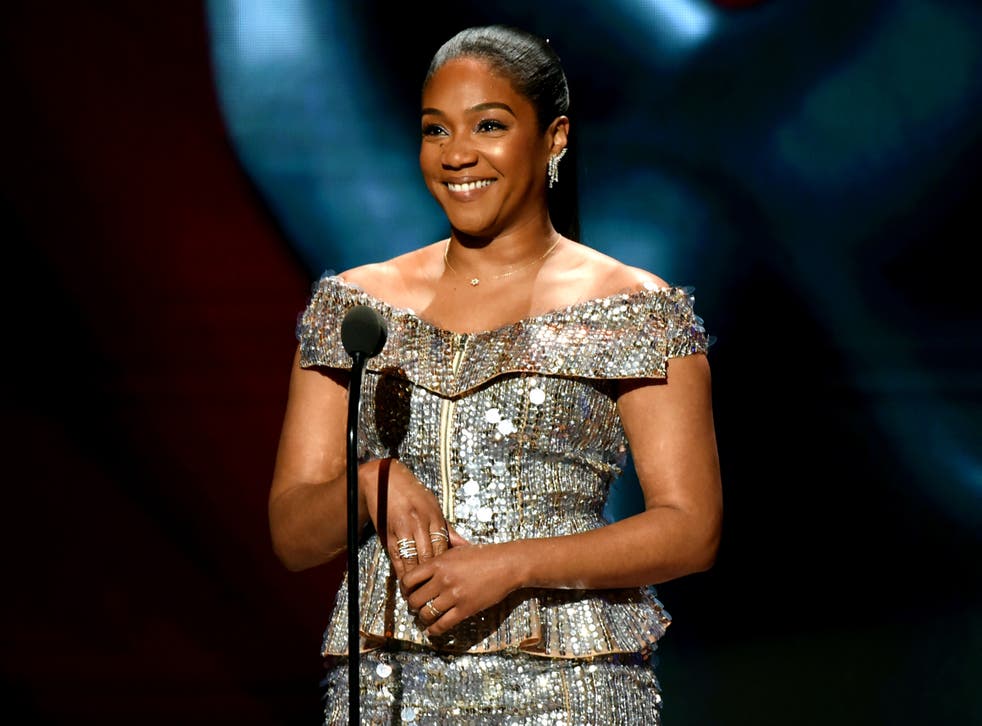 Leer en Español
The Recording Academy has issued an apology to Tiffany Haddish after the comedian called out the organisation for inviting her to host this year's pre-telecast Premiere Ceremony but refusing to pay for, well, anything.
Speaking to Variety, Haddish explained that she'd turned down the offer after being asked to host the Premiere Ceremony with the caveat that she would have to pay for all related expenses, such as hair and makeup. She would also not receive any compensation for her time.
"All of that would have to come out of my pocket," she said. "I don't know if this might mean I might not get nominated ever again, but I think it's disrespectful."
Haddish is nominated this year for Best Comedy Album for Netflix's Black Mitzvah.
"I was like, 'The exposure is amazing but I think I have enough. I appreciate you guys asking. And as much as I appreciate the honor of being nominated, that's not okay."
"This is something that needs to be addressed," Haddish continued. "How many other people have they done that to? It's like a guy asking you on a date but telling you that you have to pay for it."
Read More: If you want to understand this year's Grammy nominations, just look at the Recording Academy
In response, Recording Academy interim president and CEO Harvey Mason Jr offered an apology via Instagram, stating that he had not been aware of the conversation between Haddish and the Academy, or the terms.
"Unfortunately and without my knowing, the talent booker working for the Academy told Ms. Haddish that we wouldn't even cover her costs while she hosted this event for us," he said.
"To me that was wrong. I'm frustrated by that decision. It was a lapse in judgment, it was in poor taste, and it was disrespectful to the creative community – I'm part of the creative community and I know what that feels like, and it's not right.
Enjoy unlimited access to 70 million ad-free songs and podcasts with Amazon Music Sign up now for a 30-day free trial
Sign up
"Thankfully, Ms. Haddish was gracious enough to allow me to have a conversation with her. I apologised to her personally, I apologised from the Academy, and I expressed to her my regret and my displeasure about how this went down and how it was handled. And I will say," he finished. "Tiffany, we are sorry and thank you for allowing me to speak on it."
When Variety reached out to the Recording Academy for comment, the organisation responded that the Premiere Ceremony is not a CBS program (as opposed to the telecast, which airs on network television). Because it is hosted by the Recording Academy, a not-for-profit organization, the Premiere Ceremony traditionally does not pay presenters, hosts, or performers. The Academy also noted that the situation wouldn't impact any future nominations for Haddish.
This is hardly the first PR issue the Academy has faced this year. When the 2021 Grammy nominations dropped in November, the music community was shocked to see that The Weeknd had not received any nominations for his chart-topping album After Hours or its lead single, "Blinding Lights."
"The Grammys remain corrupt. You owe me, my fans and the industry transparency...," he wrote on Twitter at the time.
A number of other artists – including Drake and Halsey – piled on, accusing the Recording Academy, and even the industry at large, of continued corruption.
Read More: Halsey joins Grammy nominations criticism: 'It's not always about the music'
All of this comes after a difficult year for the Academy. Last year, only days before the 2020 ceremony, former president/CEO Deborah Dugan was put on a leave of absence. Dugan filed a legal complaint at the time, accusing the Grammys of "egregious conflicts of interest, improper self-dealing by Board members and voting irregularities with respect to nominations for Grammy Awards, all made possible by the 'boys' club' mentality and approach to governance at the Academy."
The 63rd Grammys will take place 31 January, 2021 on CBS.
Register for free to continue reading
Registration is a free and easy way to support our truly independent journalism
By registering, you will also enjoy limited access to Premium articles, exclusive newsletters, commenting, and virtual events with our leading journalists
Already have an account? sign in
Join our new commenting forum
Join thought-provoking conversations, follow other Independent readers and see their replies