Tom 'Mouse' Smith: 12-year-old singer writes brilliant 'no thank you' note to Simon Cowell and Britain's Got Talent
Singer was reportedly approached by representatives for the talent show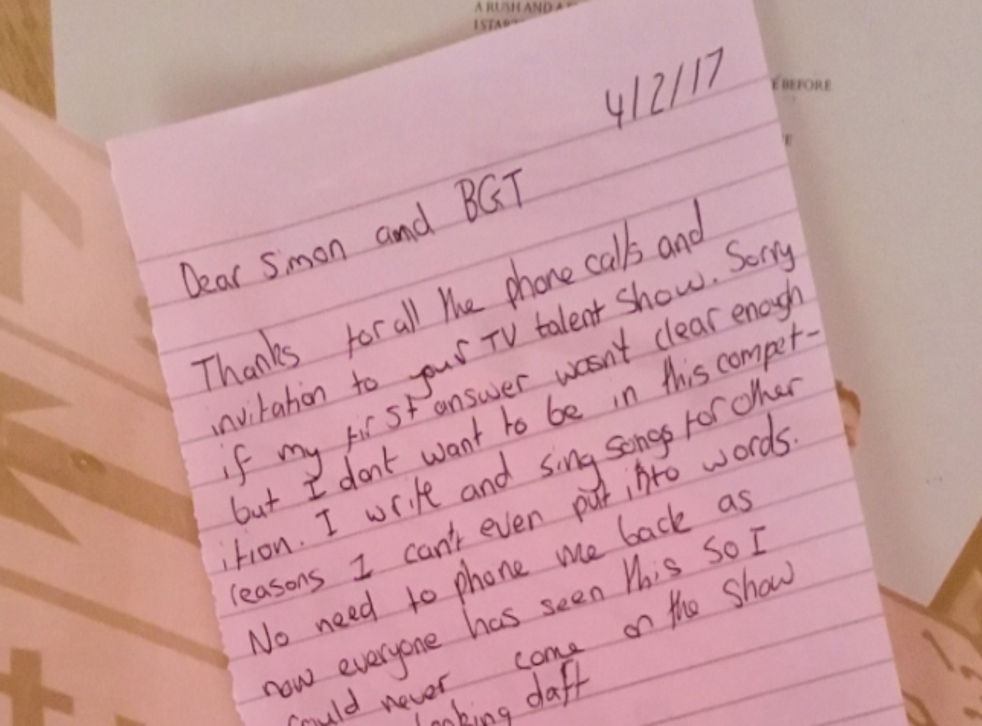 A 12-year-old singer and guitar player has attracted praise after sharing an incredibly polite open letter to Simon Cowell, where he declined an apparent offer to appear on Britain's Got Talent.
Tom 'Mouse' Smith posted the handwritten note on his Twitter account, which drew praise from the likes of The Charlatans for his firm but polite message.
"Dear Simon [Cowell] and BGT," he wrote. "Thanks for all the phone calls and invitation to your TV talent show. Sorry if my first answer wasn't clear enough but I don't want to be in this competition.
"I write and sing songs for other reasons I can't even put into words. No need to phone me back as now everyone has seen this so I could never come on the show without looking daft.
"Yours sincerely, Tom 'Mouse' Smith."
​The Independent spoke with Tom and his father Andy, who said that the representatives from Britain's Got Talent were "lovely", but that it wasn't something his son was interested in.
When were you approached by the Britain's Got Talent Team and what were they asking?
"The first time they messaged me and asked to speak with my parents was when the auditions were announced.
"They spoke to my dad and as a family (including my backing vocalist sister Hannah age 10) we decided not to do it. I was really pleased to be asked but it's just not for me. They have rang two times since then and even suggested someone from the record label would call us as well."
It sounds like this happens quite a lot - have other reality TV contests been in touch as well?
"The Voice Kids messaged and called, and Little Big Shots messaged me."
Ricky Gervais slams talent shows like X Factor and Britain's Got Talent
When did you start learning the guitar?
"I've been playing since I was six and have been performing live since I was nine."
What are you listening to at the moment and what are you favourite artists?
"I'm really enjoying Blossoms. I was invited by Tim Burgess to play at Tim Peaks at Kendal Calling last year and he told me they were playing a secret set there. I got to meet them as well they are fantastic.
"I love James Bay's songs and even jammed with him backstage at a festival. Catfish and The Bottlemen are great, I've played on stage with them and supported them in front of 5k people.
Enjoy unlimited access to 70 million ad-free songs and podcasts with Amazon Music Sign up now for a 30-day free trial
Sign up
"Man Made are amazing as well, I went to see them last week and it was funny, their drummer Blair had played for me last year. I really like The Charlatans, so I'm putting it out there I'd like to play with them."
You're sharing a festival with some pretty big names at Kendall Calling this year, how does that feel?
"It's so exciting to be on the same line up as Brian Wilson, Stereophonics, Manic Street Preachers and Editors. I'm very lucky to be able watch them all close up. If it wasn't for festivals I wouldn't be able to see much live music at my age."
What do you think of TV singing competitions in general?
"I don't mind watching them at all, they are kind of fun. Britain's Got Talent isn't just singers but I'm not sure what my mates would say if I was in a competition with a dog!
"I'm just at school - my music is just for me - I'm not bothered about someone judging it or giving me marks out of ten. I just wanted everyone to know that it wasn't for me.
"Everyone should do what they want - if that involves them being on a show like The Voice, then that is brilliant. I think I'm more of a music festival kind of kid."
Tom 'Mouse' Smith is performing at Kendal Calling Festival in July
Register for free to continue reading
Registration is a free and easy way to support our truly independent journalism
By registering, you will also enjoy limited access to Premium articles, exclusive newsletters, commenting, and virtual events with our leading journalists
Already have an account? sign in
Register for free to continue reading
Registration is a free and easy way to support our truly independent journalism
By registering, you will also enjoy limited access to Premium articles, exclusive newsletters, commenting, and virtual events with our leading journalists
Already have an account? sign in
Join our new commenting forum
Join thought-provoking conversations, follow other Independent readers and see their replies