TS Eliot: The pop star's poet
As Johnny Flynn a releases a new track, After Eliot, Chris Mugan traces the Modernist's longstanding influence on popular music
Chris Mugan
Friday 06 September 2013 16:59 Comments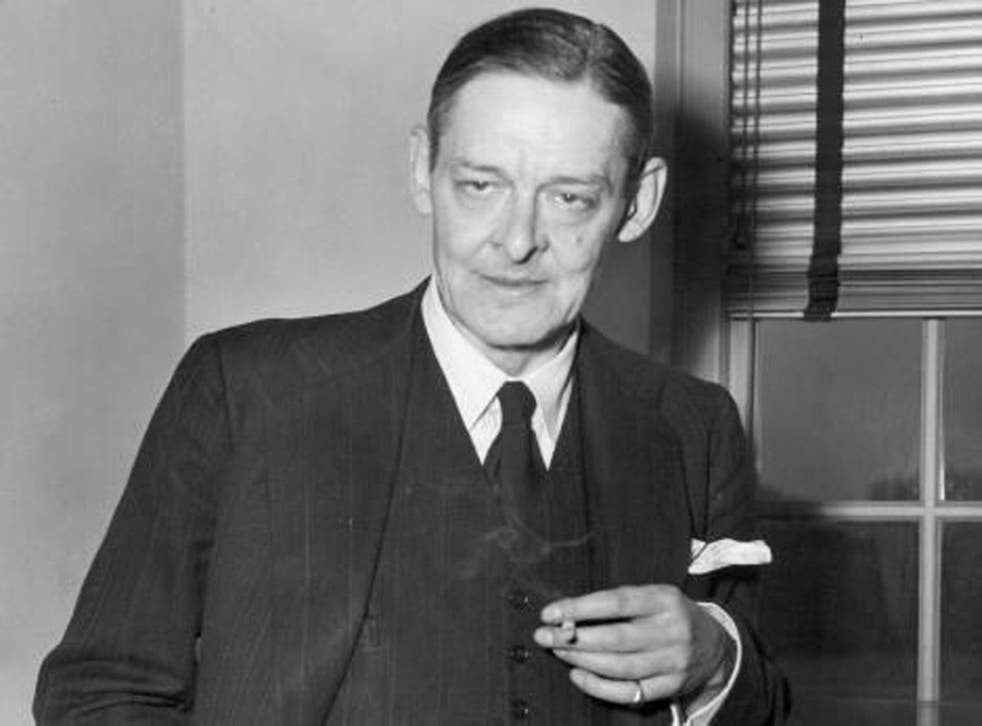 Nu-folk troubadour Johnny Flynn is back this month with a new album, Country Mile, and he is previewing its release by streaming the wistful track "After Eliot". The singer-songwriter has explained that the piece is inspired by none other than the modernist poet T S Eliot – something that will come as little surprise to students of literate songwriting.
Judging by the number of references and name-checks over the years, Eliot remains the number one poet for musicians seeking to deliver something more original or meaningful than just another girl-meets-boy scenario. It is an accolade that you can trace all the way back to the artist who has done more than anyone to ensure we take rock and pop seriously, Bob Dylan. It was not long after the poet's death in 1965 that Dylan wrote him into his epic "Desolation Row": "Ezra Pound and T S Eliot / Fighting in the captain's tower."
The manner in which the closing track to Highway 61 Revisited mixes historical figures and fictional characters in a surreal montage owes a debt to the beat movement's favoured stream of consciousness, but you cannot help but be reminded of Eliot's own variety of allusions.
Writers post-Dylan have referred more directly to these than the man himself. Genesis's "The Cinema Show", from 1973's Selling England by the Pound, adapts a scene from The Waste Land's "The Fire Sermon" segment, with only slight changes to some lines. Most artists, though, go for straightforward name-checks, as when Manic Street Preachers' James Dean Bradfield sings "Alfred J Prufrock would be proud of me" on "My Guernica".
Another favourite from Eliot's canon is "The Hollow Men", its doom-laden imagery especially popular with more goth-orientated rockers: see, for example, the Cult's "Hollow Man", from their 1985 hit album Love.
Allusions to Eliot continue today, with Arcade Fire's Win Butler, turned on to him by an inspirational teacher, inserting the line "Like a patient on a table" in "We Used To Wait", paraphrasing one from "The Love Song of J Alfred Prufrock". The Old Etonian Frank Turner, meanwhile, is a serial Eliot line-dropper. Not only has he described our civil liberty-eroding government as "hollow men" on "Sons of Liberty", but he has referenced the master's poems in two song titles, "Journey of the Magi" and "I Knew Prufrock Before He Got Famous". The former at least looks beyond Eliot's most iconic works to a poem he wrote about the New Testament's three wise men, having converted to Christianity and begun to dismiss The Waste Land.
A mainstay of the curriculum, Eliot's popularity relies in part upon sympathetic English tutors. His poems may not be easy to understand fully at first, with their abstract nature and oblique details, but he does make an immediate impact with those deathless lines: "This is the way the world ends / Not with a bang but a whimper." Such words full of import could have been designed to pique the interest of adolescents struggling to make sense of life.
Then there is Eliot's use of different voices in his work, and of demotic phrases then unfamiliar to poetry's hallowed portals – even going so far as to include gobbets of nursery rhymes and so forth, as an early form of sampling. By tearing up the style rule book when Modernism was railing against classical forms, he set an example that still resonates today. A fine recent example is PJ Harvey's album Let England Shake, a powerful work that references the First World War and throws together a variety of viewpoints in a manner familiar to readers of The Waste Land. In interviews, she admitted to reading Eliot as part of her research.
Eliot's work also benefits from being read aloud, so it is little wonder that he gets respect from the more intellectual rappers. Thus, the Public Enemy founder Chuck D has referenced Prufrock on "Niggativaty … Do I Dare Disturb the Universe?" from his solo album The Autobiography of Mistachuck. And the more underground Doomtree collective have the line "It goes thanks, T S, but the world ends like this / Not a bang, not a whimper, but a sibilant hiss", on their track "No Homeowners".
Enjoy unlimited access to 70 million ad-free songs and podcasts with Amazon Music Sign up now for a 30-day free trial
Sign up
Flynn, meanwhile, seems to be doing something slightly different on "After Eliot". Rather than referencing a particularpoem, the solo artist aims to capture a particular sense of disquiet, similar to Eliot's unease at progress in the early 20th century. Specifically, Flynn tells of an awkward encounter; a connection missed. Perhaps something that ends with a whimper? It is certainly a long way from girl-meets-boy.
Rhyming rockers: Pop inspired by verse
Fionn Regan: "Lord Help My Poor Soul" (inspired by Edgar Allan Poe)
"Lord help my poor soul
I'm down like Edgar Poe
Lord help my poor soul
I'm bound for Damascus"
Arctic Monkeys: "I Wanna Be Yours" (John Cooper Clarke)
"I wanna be your vacuum cleaner
Breathing in your dust
I wanna be your Ford Cortina
I will never rust"
Crash Test Dummies: "Afternoons and Coffeespoons" (TS Eliot)
"Afternoons will be measured out
Measured out, measured with
Coffee spoons and TS Eliot"
The Smiths: "Cemetry Gates" (John Keats and WB Yeats)
"A dreaded sunny day
So I meet you at the cemetery gates
Keats and Yeats are on your side
A dreaded sunny day"
Joni Mitchell: "Slouching Towards Bethlehem" (WB Yeats)
"Turning and turning
Within the widening gyre
The falcom cannot hear
the falconer
Things fall apart
The centre cannot hold
And a blood dimmed tide
Is loosed upon the world"
Register for free to continue reading
Registration is a free and easy way to support our truly independent journalism
By registering, you will also enjoy limited access to Premium articles, exclusive newsletters, commenting, and virtual events with our leading journalists
Already have an account? sign in
Join our new commenting forum
Join thought-provoking conversations, follow other Independent readers and see their replies