Tyler, the Creator appears to come out on new Flower Boy album track
'Next line will have 'em like 'Whoa' / I been kissing white boys since 2004'
Jack Shepherd
Monday 10 July 2017 15:36 Comments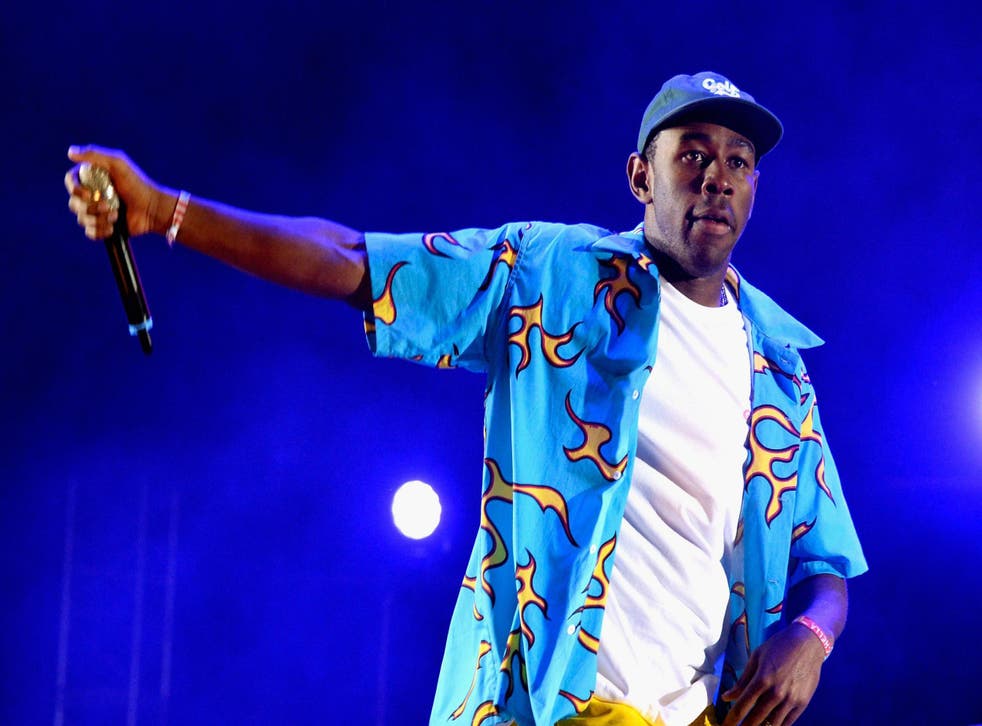 Over the weekend, Tyler, the Creator's new album Flower Boy leaked online, almost two weeks before being officially released.
Certain fans (unable to wait eleven days) began downloading the album, listening to every lyric intently.
As Uproxx points out, one line sees the rapper — real name Tyler Gregory Okonma — seemingly come out as gay or bisexual (though not necessarily for the first time).
"Next line will have 'em like 'Whoa' / I been kissing white boys since 2004," Tyler says during the bombastic track 'I Ain't Got Time!'
Of course, as with all Tyler's songs, it's difficult to tell whether this is a tongue-in-cheek remark or serious comment on his sexual orientation.
The publication also points to the new track 'Garden Shed' which discusses forbidden love and hiding things from friends.
"That was real love I was in, Ain't no reason to pretend" he raps, continuing: All my friends was lost / They couldn't read the signs / I didn't want to talk / I tell 'em my location and they ain't want to walk."
On numerous occasions Tyler has spoken about being gay on Twitter, something many people believed the artist to be joking about. "I tried to come out the damn closet like four days ago and no one cared," he wrote in April 2015.
When Kendall Jenner wrote on the social media platform "apparently we're dating," regarding a fake story online, Tyler responded: "Not possible, we're both gay."
Tyler has previously been criticised for his repeated use of the word "faggot" in songs. He previously defended himself, claiming, "I'm not homophobic, I just think 'faggot' hits and hurts people".
When fellow Odd Future member, and frequent collaborator, Frank Ocean came out as gay in 2012, Tyler tweeted: "My Big Brother Finally Fucking Did That. Proud Of That N***a Cause I Know That S**t Is Difficult Or Whatever. Anyway. Im A Toilet."
Flower Boy reaches streaming services and record stores 1 July.
Register for free to continue reading
Registration is a free and easy way to support our truly independent journalism
By registering, you will also enjoy limited access to Premium articles, exclusive newsletters, commenting, and virtual events with our leading journalists
Already have an account? sign in
Join our new commenting forum
Join thought-provoking conversations, follow other Independent readers and see their replies