U2's concert deal illustrates new face of music industry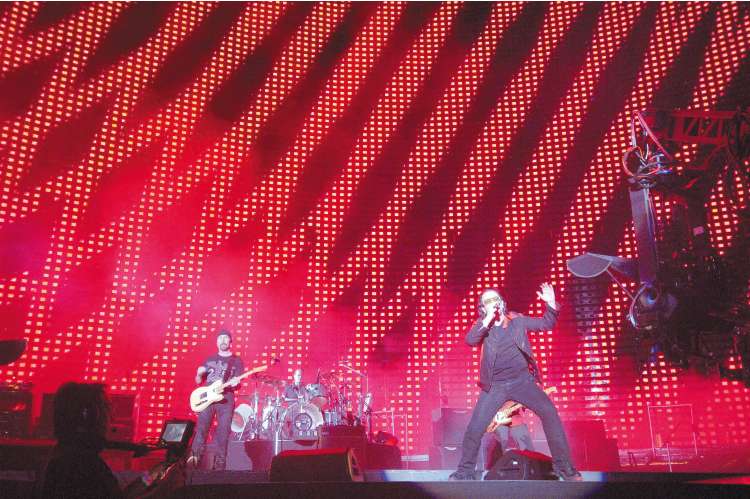 U2 have signed a 12-year deal with the world's biggest concert promoter, Live Nation, to handle the band's merchandising, digital and branding rights.
The move follows an agreement the company made with Madonna in October 2007 to look after all her rights with the exception of music publishing.
The contracts indicate the direction in which the music industry is heading. As income from CD sales declines and pirate downloads eat up profits, artists are starting to realise that the money lies in touring and merchandising. U2 will continue to release music through Universal Music.
The latest deal cements an already longstanding partnership between the rock group and Live Nation, which has managed U2's tours since 1980. A subsidiary of Live Nation already manages U2's website and fan club. The band's frontman Bono said: "We've been dating for over 20 years now. It's about time we tied the knot."
Live Nation signed a 10-year deal with Madonna, believed to be worth $120m (£60m). Financial details of the deal with U2 have not been disclosed, but the promoter is believed to have paid Madonna in the region of $70m (£35m) for similar rights, as part of its wider-ranging agreement. "U2 has created some of the greatest rock music of all time," said Live Nation chairman Michael Cohl. "It has long been our intention to consolidate and extend our relationship."
In 2007, Live Nation, which owns 170 venues of various sizes around the world, including 40 in the UK, made £2.2bn.
U2's manager Paul McGuinness said: "U2 are doing their best work right now, on record and in concert. The opportunity to integrate U2 and Live Nation's vision of the future is a great extension of our established business."
Live Nation promoted U2's most recent tour, which was the second highest-grossing concert tour in history, making $389.4m, according to data from Billboard magazine. The highest-grossing ever was the Rolling Stones' Bigger Bang tour in 2005 to 2007, which was also managed by Live Nation, earning $558.3m.
There has been speculation that Live Nation could also woo the Rolling Stones when their current contract with EMI expires in June.
Join our commenting forum
Join thought-provoking conversations, follow other Independent readers and see their replies