Lady Gaga accused of 'bulimia chic' as she gets skinny artist to vomit on her during SXSW set
Singer urged audience not to take pictures
Christopher Hooton
Friday 14 March 2014 12:59 Comments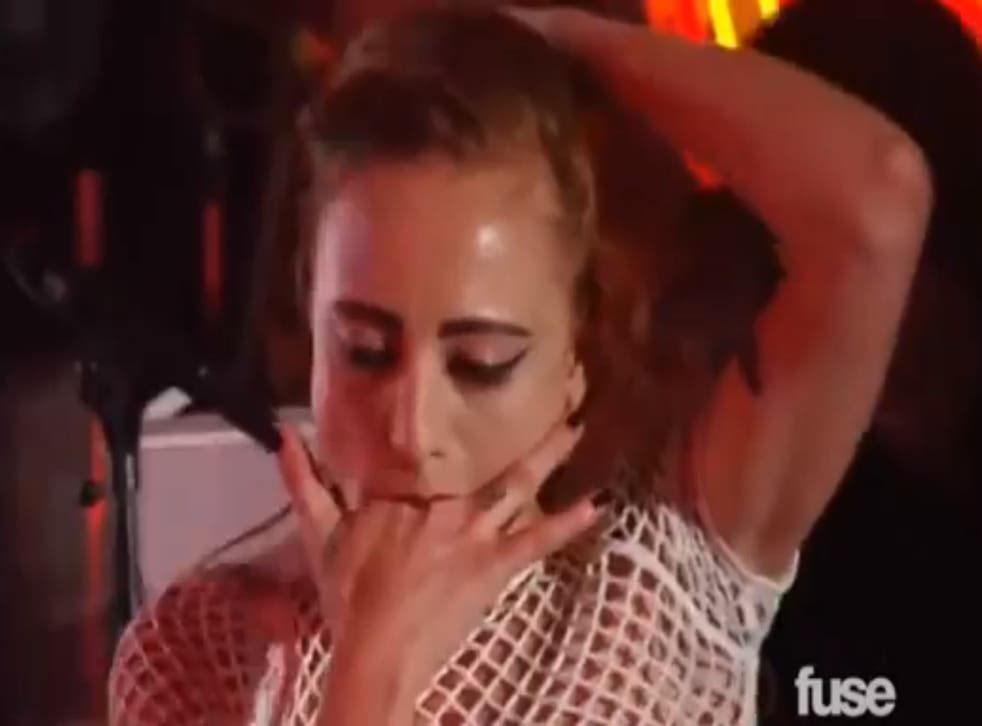 Lady Gaga has performed perhaps her most controversial stunt yet, getting artist friend Millie Brown to regurgitate green goo all over her as she drummed on stage at SXSW.
Scroll down for the video
Brown wandered the stage during a rendition of the track Swine at Stubb's in Austin, Texas, swigging from a green bottle before sticking her fingers down her throat and throwing up the contents of it over a whooping Gaga.
The artist is known for her vomit splatter painting style of art in which she spews coloured milk onto canvases - a technique which she says doesn't affect her health or diet.
The stunt is already proving as controversial as Gaga no doubt hoped it would, with one Twitter user writing: "bulimia chic isn't cool".
Earlier in the South by Southwest set, Lady Gaga was trussed up on stage and 'spit-roasted' as she sang "Aura".
The singer opened her show by being slowly rotated over a 'barbecue' as backing dancers prodded her with tongs and 'tenderised' her by grabbing her flesh.
The stunt seemed a logical progression from her infamous meat dress, and referenced Austin being known as the home of good bbq.
Gaga urged the audience to put their smartphones down for once and let the show go unphotographed.
"Do me a favour and don't take a picture," she said. "Put your f*cking phones down. F*ck your cell phones and f*ck your friends instead."
Gaga played an eight-track set at the arts and technology festival, mostly sticking to tracks from her new album ARTPOP, and tomorrow will deliver a keynote speech at the Hilton Austin Hotel.
Register for free to continue reading
Registration is a free and easy way to support our truly independent journalism
By registering, you will also enjoy limited access to Premium articles, exclusive newsletters, commenting, and virtual events with our leading journalists
Already have an account? sign in
Join our new commenting forum
Join thought-provoking conversations, follow other Independent readers and see their replies