Yahoo!/Mic 'accidentally publishes review of Rihanna's new album Anti before they've even heard it'
'A masterpiece of post-modern non-journalism'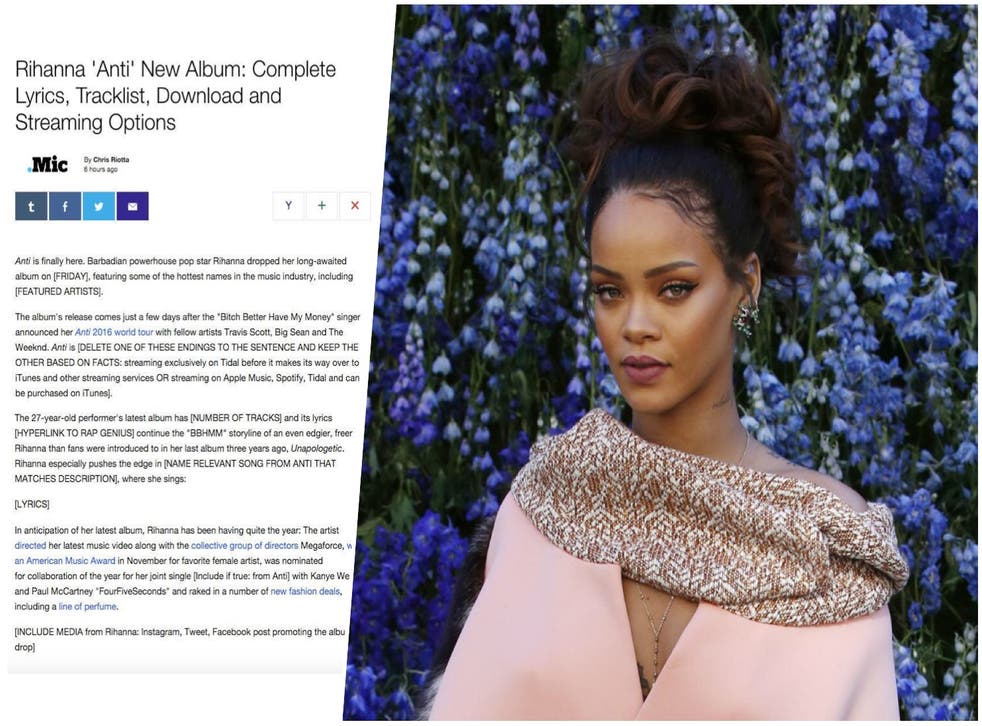 Yahoo! News has allegedly published a review of Rihanna's new album early, discussing its tracks and their tone, apparently without actually having heard it.
The drafted article, a screen grab of which has been retweeted over 7,500 times over the weekend, wouldn't have been so bad if it had just left space for the author to add in things like guest features and distribution method (iTunes, Spotify etc), but it appears to actually discuss the album's content too.
Anti "continues the 'BBHMM' storyline of an even edgier, freer Rihanna" it allegedly claimed, adding "Rihanna especially pushes the edge in [NAME RELEVANT SONG FROM ANTI THAT MATCHES DESCRIPTION], where she sings [LYRICS]."
While very embarassing, the review does, as author Ben Greenman noted, have a sort of post-modern charm about it - speaking to the disposibility of content that currently defines entertainment culture.
The URL for the review, filed by Mic. for Yahoo!, now directs to the homepage, and journalist Chris Riotta, who according to Vice's i-d site wrote the article, has since tweeted a photo of Rihanna with a shrugging emoticon and the words "sh*t happens".
A Yahoo spokesperson told Independent.co.uk: "Some stories on Yahoo, including this story by .MIC, are selected and published by an algorithm. The story was immediately removed after the error was flagged."
Join our new commenting forum
Join thought-provoking conversations, follow other Independent readers and see their replies