Nile Rodgers: The grandaddy of funk is thriving in his new role at Abbey Road
Jane Hall Wallace meets Nile Rodgers, the grandaddy of funk and multiple award-winning producer, guitarist, arranger and composer who recently landed the role of chief creative advisor to Abbey Road studios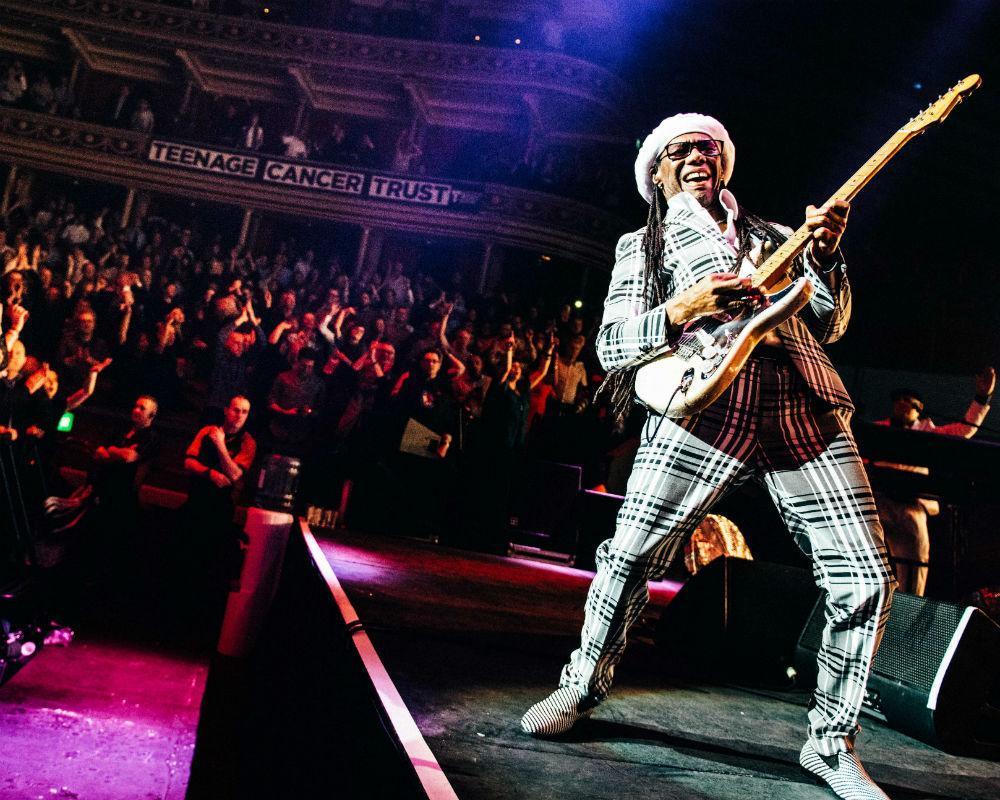 The past 40 years for Nile Rodgers is a continuing success story. A musical force of this magnitude is unmatched with the possible exception of Quincy Jones (but, even so, Quincy mainly produces other people's material with the exception of soundtracks). It is hard to think of many other record producers who've had such a sustained period of success, commencing with Nile's band Chic's "Le Freak" in 1978, coming bang up to date with Daft Punk's still hugely popular 2013 hit "Get Lucky", which he co-wrote with Pharrell Williams.
Things didn't start out this way, of course. It's well-documented that Rodgers grew up in somewhat unusual domestic circumstances. His mother became pregnant at 13 years of age. Both parents were drug-users – in spite of which, Nile says, there was a lot of love. As a child, Nile switched schools frequently, rarely commencing term on time or completing.
An insomniac since the age of seven, only managing two to three hours of sleep per night at best, in a twist of fate this mixed blessing has enabled him to compose, orchestrate and arrange at a fast pace.
Just very recently in London he composed three or four songs for the forthcoming Chic album. He is working with hotly tipped new artist on the scene Zak Abel – "very good-looking and a workaholic" according to Nile, chuckling; and JC Cooper too.
To be in a room with him... exotic quixotic in the dictionary definition of "caught up in the romance of noble deeds." To be at his shows... Incredible!
The atmosphere at the Royal Albert Teenage Cancer show in March was electrifying, with organisers remarking that in 105 shows this was the MOST amazing with the audience on their feet throughout. "Yeah the people in the private boxes stood up on the third number and danced all night." What would the notoriously conservative Prince Albert have thought – in whose memory Queen Victoria built the iconic concert hall in the leafy village of Kensington. On stage he jumps and skips with a lightness and joy that is awesome in a man of his years, especially one who has diabetes.
Funky it may be but we are talking rock-God status; something to do with his trust Fender Stratocaster. "It feels like a part of me, it's not heavy, it's light… incredible right? I move better at 65 than at 25!" Seasoned guitar players like Tom Petty and Prince both had very painful hip conditions from the strain of playing night after night.
''I am a two-time cancer survivor,'' he says, who only very recently got a new all clear from his doctor in London after a second problem creating pain in his upper left side leading him to not picking up the guitar in six weeks.
This is beating the odds in a very notable way. Although this meant postponing shows with Lionel Ritchie in Australia and some delay on the first new music from Chic in 25 years. The gig at Sydney's Bluesfest at Byron Bay on 2 April rocked the crowd who were awestruck as the hits just kept on coming.

Enjoy unlimited access to 70 million ad-free songs and podcasts with Amazon Music
Sign up now for a 30-day free trial
Sign up

Enjoy unlimited access to 70 million ad-free songs and podcasts with Amazon Music
Sign up now for a 30-day free trial
Sign up
On stage at BBC1's NYE in December, so super-rehearsed, sexy and energetic: the two singers, Kimberly Davis and Folami, and members of the band blowing their horns, emerged from the dressing room at Westminster Hall in London, looking magnificent and sounding even better, if it's possible, when they sang.
Shiny hair, tight dresses, rehearsed moves: this is entertainment at its best. So here's the rub: what producer can be in the studio with other artists alongside a 40-odd date international tour in 2018 in the US, Australia, Europe, and most importantly the UK, while writing and recording new material of his own? Nobody. Because when you've got the music in you – like Nile Rodgers has – anything is possible.
On a London spring day he talks about the forthcoming summer tour of the UK.
"It's my second tour of British castles," he grins with obvious pleasure. For sure, he will be dressed up to the nines for the occasion, most likely cutting a stylish figure in immaculately tailored suits, along with his trademark French beret and leather shoes. Picnic-loving Brits are going to feel happy under the stars with Nile Rodgers and Chic.
Social good
It's not all about glitz and glamour, however. Nile started the We Are Family Foundation in the wake of New York City's 9/11 tragedy to provide a voice for young people. The foundation creates and supports programmes that promote cultural diversity while nurturing the vision, talents and ideas of young people who are positively changing the world, connecting them to brands, mentors and partnerships: its motto is the song, the mission, the world – doing work as far afield as in Nicaragua, Mali, Malawi and Nepal.
The not-for-profit organisation is to host a We Are Family celebration gala in NYC on 27 April (dress style chic and hip, of course) – a tremendous evening honouring LL Cool J and Roger Daltrey who will be giving the US a taste of what happened in London in January when he too performed at the Albert Hall for Teenage Cancer Trust. Daltrey will be on fire on stage promoting The Who's Teen Cancer America initiative. (Previously Nelson Mandela and President Jimmy Carter were honoured.)
Doing something spiritual, giving something back may be the key to Nile's serendipity. June marks a year since the Grenfell Tower fire in west London, which killed 79 people and injured 70 more; a guy recorded his flight with his toddler son blindly stumbling down the stairwell with a wet towel slung around their heads. They survived but many others were less lucky.
Rodgers stepped in assisting in the voluntary operation personally handing out donations and packing clothes. Grenfell has since become a very volatile issue for the Royal London Borough of Kensington and Chelsea, not least because of the feeling that due to inner city overcrowding people are forced into substandard social housing (insulation being done on the cheap with flammable cladding allegedly).
Abbey Road Studios, famously the site of the Beatles' recordings with George Martin, just announced a specially created role for Nile – of chief creative adviser. He said: "I have been blessed with a career that has provided some of the highest highs an artist, writer and producer can experience.
Owner Universal has spent a lot of money creating not one but two new studios – the Gatehouse and the Front Room – as the veteran site has often seemed out of reach to some people.. Over the past year they've been nudging the doors open to reveal some of the magic that happens there. Noel Gallagher says it's his favourite studio of choice. Sam Smith too. Wanting to find someone with sufficient legacy and credibility, meeting Nile it was love at first sight – they both have history and share a vision for creative music.
Nile is unique for being primarily interested in the process of making music with emerging talent and in particular his commitment to new artists. Londoners better get used to seeing a lot more of this globetrotter. "I was just in Iceland. Have you ever been there? It's just like landing on the moon. They asked me to eat whale, though," says Nile looking puzzled.
Very chilled and relaxed Nile is dressed in a black polo neck cat suit complete with yellow and silver Lurex leggings giving the impression of a wasp in full flight as he flicks his long hair but his voice gentle like extra double cream no trace of a US nasal twang there is a gentleness in this gentleman.
Rodgers is best known for his collaboration with best friend Bernard Edwards, who died in 1996, and with whom he penned songs for bands such as Sister Sledge "Edwards taught me everything I know. He showed me how to develop and stick with my own style. Back in the day, when we went to the Fairmont Lounge in the Bronx, I had green hair that I had made with food dye and wasn't sure who I was. "
His fellow Chic co-founder said simply said "You gotta get a Strat", which Rodgers did – and it was life changing. The group went on to have the huge hit Le Freak featuring the lyric Lets Go down to 54 referencing the legendary club "When Bernard died unexpectedly in Japan in 1996 I cried like a baby and suffered intensely but eventually realised the best tribute to him would be to carry on and be the best I could be".
And best is what he is.
Join our commenting forum
Join thought-provoking conversations, follow other Independent readers and see their replies