Nils Frahm interview: Nonkeen announce new album Oddments of the Gamble and premiere first track 'Diving Platform'
Frahm explains how a 'spontaneous decision' has led to the band's second release in five months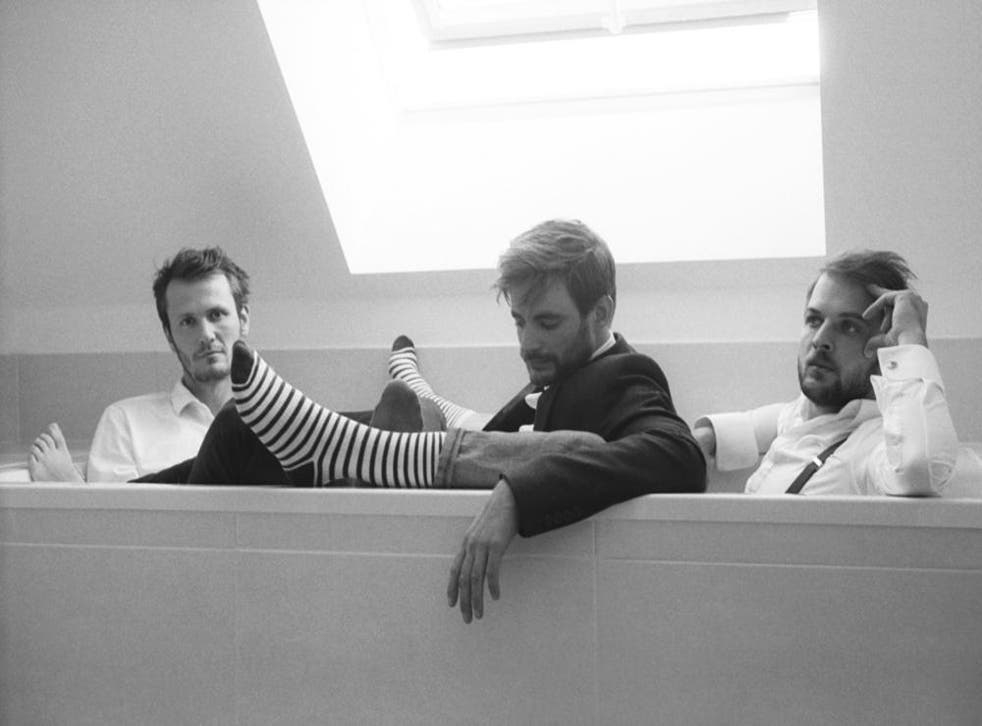 We're thrilled to announce that nonkeen will release their second album, Oddments of the Gamble, on 15 July via R&S records.
You can listen to the premiere of one of the album's standout tracks, 'Diving Platform', below:
The album originates from the same recording session as the band's first album Gamble, which was released in February of this year, but it feels like nonkeen - comprised of childhood friends Nils Frahm, Sebastian Singwald and Frederic Gmeiner - have used that as a… well, diving platform, to jump into a more developed, expressive sound on this new work.
As Frahm prepared for a gig at the Louvre's pyramid with longtime friend and collaborator Ólafur Arnalds, he told The Independent how the new album has come together.
"It was a very spontaneous decision," he says from his home in Berlin. "We [nonkeen] realised we just had so much material from rehearsals from the last couple of years that we thought, OK, we've got some stuff that could actually make a very different record with a different sound."
"I don't try to get inspiration from other music too much, it comes more from interesting instruments like the ones I've built. When I get inspiration from records they're usually older or forgotten or under the radar. I don't want to be a fanboy for someone else while I work my ass off trying to make something that sounds like me - I'm always afraid that if I do too much of that it would compromise my own ideas."
In 2014 it was announced that German-Latvian piano maker David Klavins had completed the Una Corda, a piano with just one string per note, which Frahm recorded his 2015 record Solo on.
It was built after Frahm described his idea for a lightweight piano (the Una Corda weights under 100kg), to Klavins, following his invitation for the pianist to try a 12-foot tall upright he had built in the 80s, called the M370.
The pair are now working on Klavin's dream of a 15-foot piano, the M450, which Frahm says will probably take another year to complete.
"I try to be creative at the source, be involved," he says. "I'd rather just see myself as a craftsman, building things, a little like a laboratory. You do your own work, then when everything is set up you start playing, and that is the fun part. I feel like I can only enjoy my own results when I put effort into it, and when I see that something special is happening which surprises me as well.
Enjoy unlimited access to 70 million ad-free songs and podcasts with Amazon Music Sign up now for a 30-day free trial
Sign up
There is definitely an element of 'mad scientist' to Frahm's work - the 33-year-old is incredibly experimental. You can hear this in Oddments, in the confidence in the band's performance - and the fact that they're known each other since childhood must surely play a part in this.
"Yeah, it stems from a decade or more of playing together," Frahm says. "It creates a bad sound when musicians meet for a few sessions before they start playing together - it can work but it's just difficult. There's a different feeling when you know the people you're playing with - and you can feel it in the music when people have a long history of playing together."
On the new record, nonkeen did one-take sessions so they didn't lose the energy they had, and you can really hear this in each track, through snatches of conversation heard on tracks such as 'Diving Platform', that recall one of Oscar Peterson's sessions for 'Summertime'.
Frahm and nonkeen sound best when they're clearly having having fun - "it's a personal thing," he says. "Like we're part of a moment."
Many people attempted to compare Gamble to Frahm's solo piano work; he sounds unsurpised that this is the case and says it's down to the fact that there's an expectation by some for artists to stay the same - all the time.
"That creates trust," he says. "When people are stable you like them because you can rely on them. When people change their ideas - imagine if a friend was doing that - you lose that trust.
"On the other hand people will bitch about artists staying the same… It's very ambivalent - people want progression, they want people not to repeat, and if you have an album that sounds like the last one, they'll say well the first one was better. And people compare things all the time - they compare your last work with this work - and I try to make it a little more difficult for them to do that.
"My projects always have a different story, a different theme. Some albums have more of a traditional albums, others are like projects with recordings on the side. I try to bend the form of what an album is - what an artist should and shouldn't do - I find it very interesting, and it amuses me a little to play with the expectations of the industry.
"I'm not particularly crazy about being commercially successful - so maybe this is good because it means I'm taking more risks. I have to like the music I put it out - it's always 100 per cent what I'm proud of. And it's very fun to watch what the world makes of that."
Oddments of the Gamble by nonkeen is released on 15 July - pre-order now. Nils Frahm performs at the Barbican Centre in London on 1 July, and his second volume of art and music - 'SHEETS - Zwei' - is out on 29 June.
Join our new commenting forum
Join thought-provoking conversations, follow other Independent readers and see their replies