Interview
Padam Padam: Kylie Minogue's dance-pop anthem was the song of the summer that radio didn't want to play
Kylie Minogue scored her first UK No 1 in a decade with the euphoric 'Padam Padam'. Lucy Anna Gray speaks with the song's producer and co-writers about the making of a summer smash hit – and why radio stations refused to play it
Thursday 31 August 2023 06:36 BST
Comments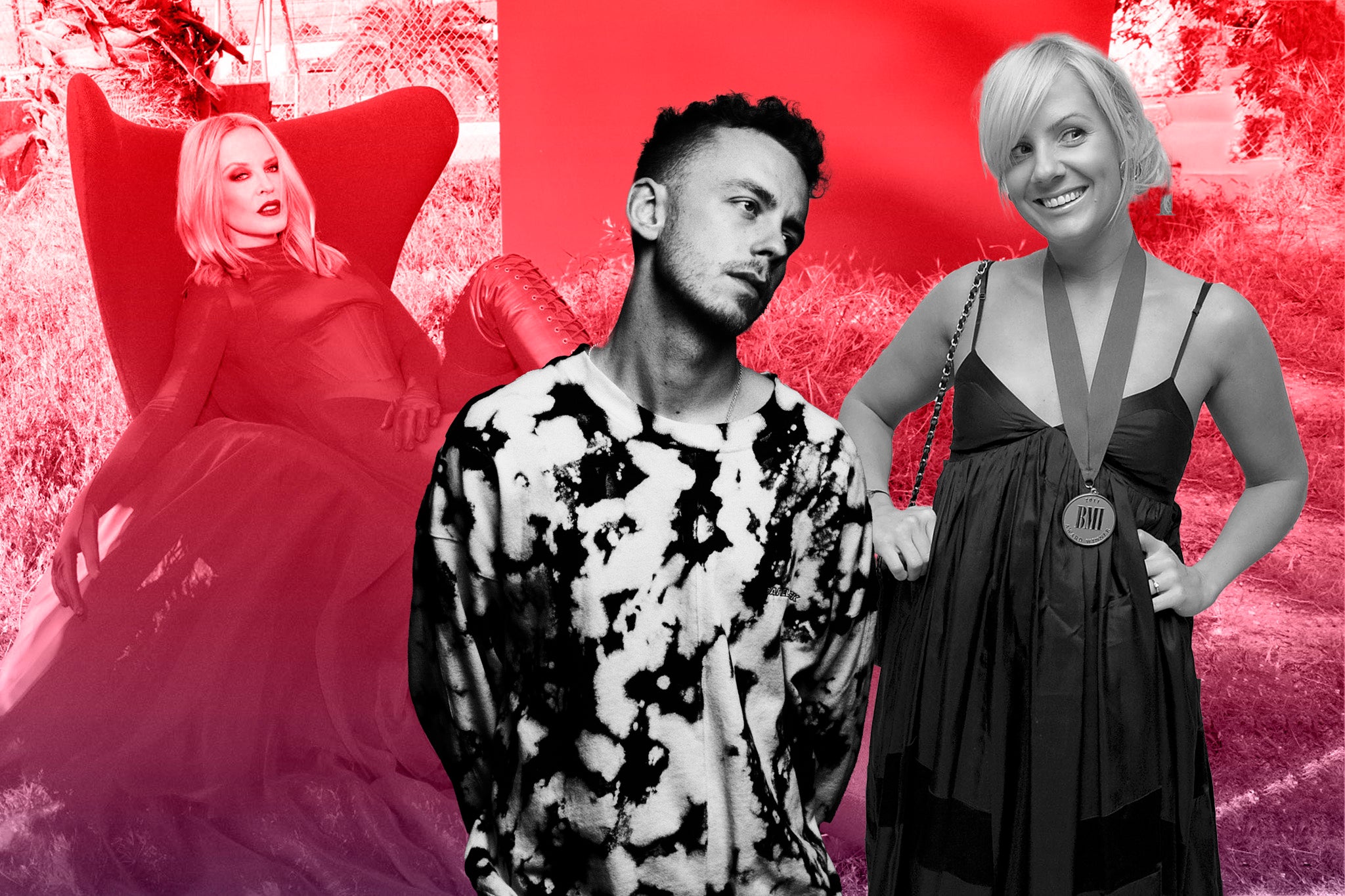 Pop music is a never-ending conveyor belt of offerings: some brilliant, some terrible, and plenty forgettable. "Padam Padam" is one of those unexpected, rare instances in the music milieu, meming and looping its way around to become the sound of summer 2023. Released in May, the Kylie track reached the top of the UK charts, securing the singer her first No 1 in over a decade. In the US, too, "Padam Padam" steadily ascended the Billboard dance chart. The road to pop domination was not without potholes, though. In many ways, the dance song is a mirror of its star: a fun, sparkly crowd-pleaser with a bubbly nature that belies perseverance, determination and hard-earned grit.
As is the case with most pop hits, behind the star is a cohort of smaller stars working equally hard in the shadows. In the case of "Padam", that cohort includes Lostboy – aka Pete Rycroft – who produced and co-wrote the track alongside Norwegian artist Ina Wroldsen, whose songwriting resumé reads like a veritable Who's Who of 21st-century pop: David Guetta, Britney Spears, Clean Bandit, Demi Lovato, Jess Glynne, and Shakira. Since dropping out of university as a teenager, Rycroft too, has worked with A-listers including Calvin Harris, Rita Ora, Little Mix, Ellie Goulding, Lewis Capaldi, Shawn Mendes, and Bebe Rexha.
Kylie Minogue is wooing Madonna for a collab
The birth of "Padam Padam" can be traced to a February afternoon in London last year, when Rycroft and Wroldsen first met. They ended up writing the thumping dance-pop bop in just two days. Contrary to popular belief, "Padam" – a word now truly in the gay lexicon – is not a homage to Edith Piaf's 1951 song of the same name (although both writers do admit Piaf's waltz had minor influences in the creative process, and Minogue has spoken of the connection between the two). The title itself is onomatopoeia for a heartbeat. Think Patrick Swayze tapping his chest in Dirty Dancing, chanting "gu-gung".
Speaking of the song's themes, Wroldsen tells me that people are "only really concerned with five things". One of those things is love. Wroldsen is constantly searching for new ways to describe those so-called shivers and butterflies. "I'm married to an Englishman, and my mother-in-law from north London would always go, 'Oh my heart's going ped-ou, ped-ou,'" she explains. "I went to the studio and it was in my head, but 'ped-ou' doesn't sound very nice. So we did 'padam'."
The earworm effect of "Padam" was no accident. Rycroft says writing pop music is a "delicate science of being interesting enough, but also that thing that makes you want to scream along at a festival without really thinking – and it's a lot harder than it looks". Once they had finished writing it, Wroldsen knew they had struck pop gold. Wroldsen compares songwriting to fishing, with musicians throwing their line in and hoping something big will bite. "Sometimes I get a little herring, sometimes I get a really good salmon. This was a salmon."
There was a long waiting period after making the demo, with a question mark hanging over which singer – if any – would take it. Wroldsen and Rycroft knew the track's cheesy, kitschy nature would suit only certain artists. The possibility of it going to a Eurovision performer or Rita Ora was floated. That was, of course, until Minogue heard the song. The Australian singer's team "didn't like it at first", but that wasn't stopping the Pop Princess. "She cut the vocals herself on logic, boss b****, and just did her thing," recalls Rycroft. The song debuted at No 26 in the UK charts, and very quickly found a very large – and very vocal – online fanbase.
The recipe for success was there: a catchy new song, great production, an eye-catching concept, huge online momentum, and, of course, The Kylie. Not everyone, however, wanted to take "Padam" home. "We were trying to get it played on the radio. It was everywhere, everyone was talking about it and it was at least top two in the charts – but Radio 1 and Capital were refusing to play it, essentially because she's an older woman," says Rycroft. A BBC Radio 1 spokesperson said at the time: "Each track is considered for the playlist based on its musical merit and whether it is right for our target audience, with decisions made on a case-by-case basis."
For Wroldsen, who is 39, working with Minogue was a bucket-list dream come true. "I'm a little older than these young kids who are coming up ... When I heard the demo, I thought no one [but her] could have done this song." The ageism and sexism surrounding such a glorious release, then, made the experience bittersweet – for both Wroldsen and Rycroft. The latter doesn't mince his words when reflecting on the reaction. "I could see it as clear as day; it was definitely a wake-up call," he says. "There are other 55-year-old artists, David Guetta for example, and he's all over the radio obviously, because he's a bloke and he's got some amazing tunes. 'Padam' should have been on there from the beginning and it's just a reflection on Radio 1."
Soon, though, radio stations were left with no choice. "Everyone, including her fans and Twitter, went a bit mad and started going at the stations," says Rycroft. "Eventually they caved and put it on their C list. I've had songs that were way less of a social phenomenon that were straight onto the A list. So C list feels like a bit of an insult, but it was a small victory for her." In the end, it was the public who championed this sex-positive, TikTok-able, middle-aged-icon anthem.
Wroldsen's teenage son had been the one to first tell her about the online conversation surrounding "Padam". Although Wroldsen had previously achieved massive hits with songs such as Calvin Harris's "How Deep Is Your Love" and Sean Paul's "Rockabye", it is "Padam" that has made her feel like part of a "cultural phenomenon".
Both Wroldsen and Rycroft credit the LGBT+ community for the song's success. "They wouldn't let up, and they just propelled it," she says. For Rycroft, having the song become the unofficial anthem for Pride 2023 was "a massive privilege". Despite not being the face of "Padam", the fandom that came of it was something of a bizarre experience for Rycroft, who has since heard his song played at weddings and even funerals.
As songwriters and producers, Rycroft and Wroldsen are used to being the unsung heroes behind everyone's favourite song of the moment. Anonymity is not only something they're familiar with – it's something they enjoy. "I don't want to have to go outside and be Kylie Minogue," says Rycroft. "Nothing necessarily wrong with being Kylie Minogue, I just don't really have time. The name Lostboy kinda comes from this idea ... I like being in an Uber and someone plays a song I made and no one knows."
Love it or hate it, "Padam Padam" has been the undeniable hit of the summer. Its easy-going club beat and touchy-feely subject matter may seem trivial, but perhaps a bit of feel-good frivolity is what we needed this year. "Basically, it had to be a nursery rhyme for adults," says Rycroft. "It's treading that line of, 'This is dumb as f***, but I can't help singing it.' So it works for the cool kids and the geeks, full circle."
Join our commenting forum
Join thought-provoking conversations, follow other Independent readers and see their replies