Playlist: Paul Simon's 12 greatest songs as a solo artist
One half of the celebrated Simon & Garfunkel, singer-songwriter Paul Simon is a meticulous craftsman who has countless classics in his solo canon. Graeme Ross takes his pick of the best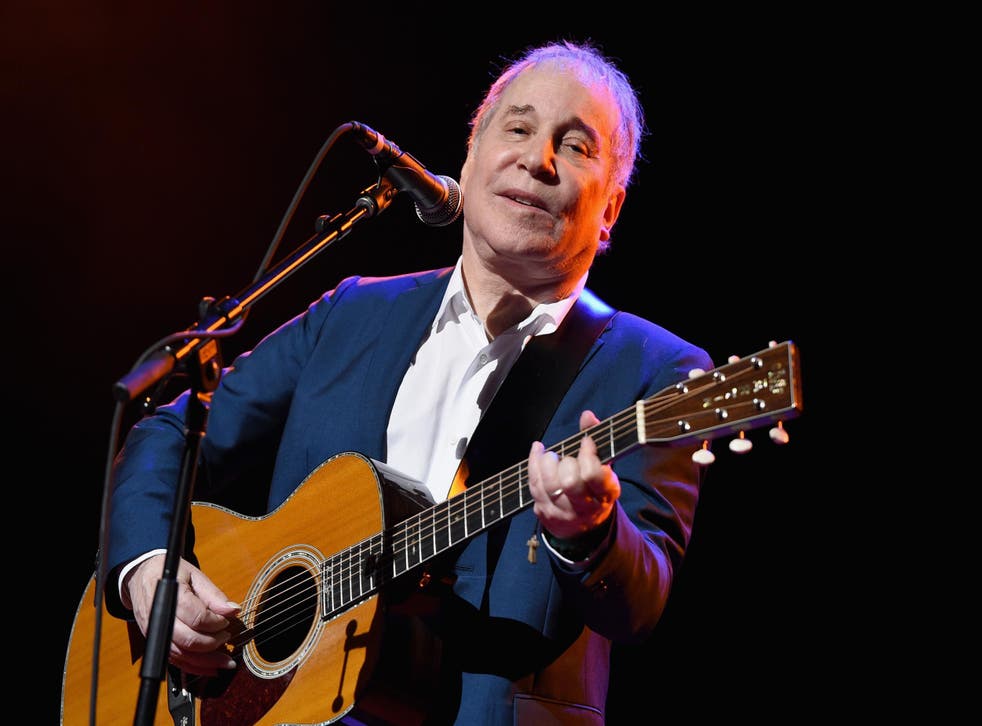 Earlier this year, Paul Simon, one of the great musical artists of our age, announced his retirement from performing with a final tour – The Homeward Bound Farewell Tour – which reaches these shores next week with gigs in Manchester, Glasgow, London and Dublin.
Since his rise to fame in the mid-1960s with boyhood friend Art Garfunkel, Simon has written and recorded some of the most thoughtful, literate and popular songs of the rock era. His beloved work as one half of Simon & Garfunkel virtually invented the soft rock genre and his solo work is arguably the most adventurous and groundbreaking in the entire singer-songwriter medium.
Because Simon is not just a talented wordsmith who sets his poetry to music. He is one of the few singer-songwriters of his era for whom the music in his songs is every bit as important as the lyrics, hence his career-spanning exploration of diverse musical cultures that positions him as a world music pioneer. Never what you could call prolific, Simon is a meticulous craftsman, a perfectionist for whom quality control is key. There's very little filler on a Paul Simon album, with the result that there's a heck of a lot of classics in his canon. In tribute to an artist whose songs have soundtracked so many people's lives, here is my choice of Paul Simon's dozen greatest songs as a solo artist.
12. Wristband (Stranger to Stranger, 2016)
Aged 74, and almost 60 years after he had his first hit ("Hey Schoolgirl") with Art Garfunkel under their Tom and Jerry moniker, Paul Simon proved that he was still vital, still relevant and still restlessly expanding his musical boundaries with Stranger to Stranger, his 13th studio album. Incorporating all manner of loops, samples, electronic beats and exotic rhythms into his long-established songwriting style, Stranger to Stranger garnered some of the best reviews of his career. On "Wristband" Simon showed he had lost none of the vivid imagination and social consciousness that have hallmarked his storied career as he turned the wristband he needs to gain entry to his own show into a metaphor for inequality. He may be retiring from performing, but when Simon is writing thought-provoking material such as this, we can only hope there are more great songs to come.
11. Father and Daughter (The Wild Thornberrys Movie Soundtrack, 2002)
A favourite choice for father and daughter dances at weddings, the original recording won a Golden Globe and was nominated for an Oscar with an alternative version included on 2006's Surprise and also released as a single. There's nothing profound going on here, just Paul Simon, the dad, expressing his love for his young daughter in song and also allowing his 10-year-old son to sing harmony on the record. Dads, eh! What are they like?
10. Mother and Child Reunion (Paul Simon, 1972)
After the breakup of Simon & Garfunkel, Simon, no longer burdened by the pressure of being part of the most successful duo in the world, felt free to explore new musical horizons. Paul Simon, his first solo album after the split, marked Simon's first steps as a world music pioneer with jaunty calypso ("Me and Julio Down by the Schoolyard"), a coming-of-age narrative backed by emotive Andean pipes ("Duncan"), and a top five single ("Mother and Child Reunion"), recorded in Jamaica with a crack team of local session musicians and one of the first incursions into reggae by a major white artist. The title came from a chicken and egg dish from a Chinese menu, but the heartfelt and haunting emotions behind the lyrics transcended such mundane beginnings as Simon turned the death of a beloved family dog into a moving meditation on the finality of death.
9. Loves Me Like a Rock (There Goes Rhymin' Simon, 1973)
For his next album, Simon drew on the music of his own country that he had listened to growing up. There was New Orleans jazz ("Take Me to the Mardi Gras"), great pop tunes like "Kodachrome", and this joyous, authentic slice of gospel with glorious backing from the Dixie Hummingbirds vocalists on which Simon celebrates a mother's love as he reminisces about his 1950s childhood.
8. Darling Lorraine (You're The One, 2000)
A humorous and poignant exploration of the ups and downs of a marriage covering a full range of powerful emotions. Simon typically injects little stabs of humour into the narrative ("What – you don't like the way I chew? Hey, let me tell you"), but when he reveals the death of "Darling Lorraine" at the song's end, it's like a dagger to the heart.
The 20 most ridiculous things superstar musicians have demanded at their concerts

Show all 20
7. Diamonds on the Soles of Her Shoes (Graceland, 1986)
Whole rainforests have been felled in documenting the controversy over Simon's supposed flaunting of the cultural boycott of apartheid-era South Africa, so let's leave that to one side and celebrate the wonderful music on Graceland. Simon has always resisted simply imitating musical forms, believing that a musician has to go to the source. That in essence is why, when his adventurous musical spirit was piqued by a bootleg cassette of indigenous South African music, Simon travelled to South Africa just as he had gone to Jamaica for "Mother and Child Reunion". The result was the modern classic Graceland, an album that brought South African township music to Western ears and in doing so focused long overdue international attention on the repressive apartheid regime. Track five, "Diamonds on the Soles of Her Shoes", and the equally striking "Homeless" introduced the world to the spine-tingling choral singing of Ladysmith Black Mambazo, with the former being a wonderful hybrid of western pop and South African sounds and rhythms.
Enjoy unlimited access to 70 million ad-free songs and podcasts with Amazon Music Sign up now for a 30-day free trial
Sign up
6.The Obvious Child (The Rhythm Of The Saints, 1990)
Simon followed Graceland with The Rhythm of the Saints, another successful cross-cultural exploration, this time marrying folk-rock and old time rock'n'roll with South American music and rhythms. On "The Obvious Child", a cacophony of percussion recorded live on the streets of Salvador, Brazil heralds the next stage of Simon's musical odyssey. Simon's elliptical lyrics are open to interpretation – they are probably semi-autobiographical but the music is undeniably compelling and ground-breaking.
5. 50 Ways to Leave Your Lover (Still Crazy After All These Years, 1975)
One of the best examples of Simon's dry wit as a military drumbeat leads into the deft wordplay of a mistress explaining to her lover how to break up with his wife. Perhaps only Simon could create a No1 single from a rhyming game he was teaching his infant son, but that's what he did with "50 Ways To Leave Your Lover", which topped the Billboard charts in the US for three weeks. It remains one of his most popular live songs.
4. You Can Call Me Al (Graceland, 1986)
The most commercial track on Graceland is clearly autobiographical, with Simon relating the story of a man going through a mid-life crisis asking for – and finding – redemption. Prior to the whole Graceland experience, Simon had endured a career slump and two divorces, but did indeed undergo an artistic and personal rebirth with what he described as his "extraordinary spiritual experience" in South Africa. The title comes from a misunderstanding at a party when the composer Pierre Boulez referred to Simon as "Al", and Simon then fashioned an incredibly catchy hit single with a great hook – a perfect marriage of those African influences and Simon's melodic and lyrical gifts that reached No4 in the UK charts.
3. Still Crazy After All These Years (Still Crazy After All These Years, 1975)
A jury of his peers awarded Simon a Grammy for best pop performance of the year for the melancholy title track of one of his finest albums, the bulk of which documented the breakup of his first marriage. Bittersweet lyrics are framed by shimmering strings, light-jazz piano and unpredictable time changes leading into a memorable saxophone solo. Simon's solo career had gradually gained momentum and the trilogy of albums he had recorded since his split from Garfunkel had earned nothing but critical praise and huge commercial success, yet at the peak of his career, he retreated from the spotlight and didn't release another studio album for eight years.
2. American Tune (There Goes Rhymin' Simon, 1973)
Simon's stirring state-of-the-nation address to a Watergate-era populace who had witnessed the American dream turning into a nightmare also works as an emotional tribute to the millions of migrants who had entered America in the shadow of the Statue of Liberty. Simon's understated and subtle lyrics add to the power of the sentiments of national pride which are never jingoistic or cloying in a perfect companion piece to Simon & Garfunkel's "America".
1. Graceland (Graceland, 1986)
For Paul Simon who had grown up in the 1950s just as rock'n'roll and Elvis Presley in particular was taking root, all roads led to Graceland, the home of his hero and the church of rock'n'roll where all true believers in Simon's words "will be received". In yet another autobiographical song, Simon charts his pilgrimage to Graceland after the breakdown of his marriage to Carrie Fisher and his subsequent spiritual awakening. The result is the most successful synthesis of the diverse musical strands that permeate the Graceland album. It's also somehow fitting that the Everly Brothers, whose ethereal vocals were a direct influence on the embryonic Simon & Garfunkel, sing harmony on a song that 20 years ago Simon described as "perfect" and the best song he had written. Simon has written a number of great songs since, so perhaps he doesn't hold the same opinion now, but it's hard to argue against "Graceland" as his greatest song.
Register for free to continue reading
Registration is a free and easy way to support our truly independent journalism
By registering, you will also enjoy limited access to Premium articles, exclusive newsletters, commenting, and virtual events with our leading journalists
Already have an account? sign in
Register for free to continue reading
Registration is a free and easy way to support our truly independent journalism
By registering, you will also enjoy limited access to Premium articles, exclusive newsletters, commenting, and virtual events with our leading journalists
Already have an account? sign in
Join our new commenting forum
Join thought-provoking conversations, follow other Independent readers and see their replies