'There's no Instagram filter on this album': Peace frontman Harry Koisser on fearlessly honest new record
The band escaped to a spooky farmhouse in the country to write 'Kindness is the New Rock and Roll' – a record that communes with nature and grapples with mental health issues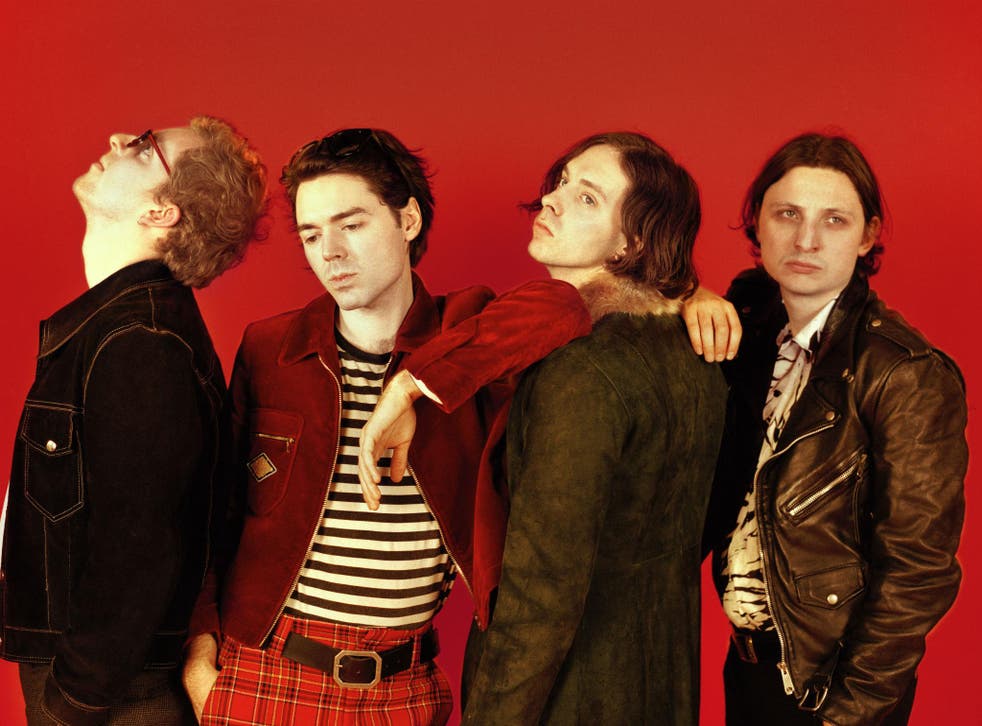 "I'm not sure why this shit interests me,' says Harry Koisser with a laugh. "But it does."
I'm taking a turn with Peace's frontman and singer about the Wallace Collection, a historic London town house filled floor to ceiling with ornately-framed French 18th-century paintings, furniture, porcelain, and swords.
"It's like an extreme version of a hoarder's clutter-filled place," he suggests. "You'll never get to the point where you seen all the bits, you can just keep going."
It's one of the more unusual spots to conduct an interview. But after a short time browsing its galleries, I understand its allure as a secret London escape. And as we settle onto a red velvet couch to discuss the band's third album, Kindness Is the New Rock and Roll, to the gentle chiming of a clock, the location seems surprisingly apt.
The Birmingham four-piece first roared onto the British indie scene in 2013 with debut album In Love and further cemented their place with 2015 follow-up Happy People. However, at the height of floor-filling, indie-anthem success, the band dropped off the radar.
"We went to a farmhouse. I love the National Trust, so we went and lived in one of their houses for six months," Koisser explains. Having ridden the wave of rock star popularity, old school style – sucked into a pattern of drinking and destroying his voice via heavy-partying on tours – it was time for a timeout for the singer.
"I'm not an outdoorsy person: I grew up in a town, moved to a city. Then I was living in this farmhouse in the middle of nowhere. It was super old, super spooky."
Essentially escaping real life for a period allowed Koisser and brother Sam, drummer Dom Boyce and guitarist Doug Castle, who dropped in periodically, space to recalibrate: "Everything became really extreme. I completely forgot about normal life. It was almost like being in a fantasy film. Just a really boring one that involves songwriting for eight hours a day for six months solid..." he adds.
The unconventional approach seemed to work: without phone signal, wifi or any other kind of distraction aside from meeting deer in the forest, the quartet forged a new bond and clocked up an incredible stock of sixty songs between them.
"It was quite liberating," he recalls. "Before I went, someone said: 'It's your third album. You've got to go electronic or back to your roots.' But we forgot about that. We just wrote freely."
Enjoy unlimited access to 70 million ad-free songs and podcasts with Amazon Music Sign up now for a 30-day free trial
Sign up
And the musicians went to places none of them had gone before: "I think when the parameters of existence are stretched so wide then so are the parameters of songwriting," Koisser reflects. "I started writing incredibly personal songs in a very fearless way. I became heavy-handed with words. Before I was quite cryptic, I loved a trendy metaphor. But [this time] I just didn't care what anyone thought anymore."
That sense of honesty is evident when you listen to the album. A move away from the upbeat, carefree vibes of Happy People, this third instalment reaches darker corners, with tracks such as "Magnificent" and "Angel" grappling with meaty personal issues such as anxiety and mental health.
On the intimate, introspective first single "From Under Liquid Glass", released in collaboration with mental health charity MQ, Koisser sings revealingly: "I'm scared to face the music alone/ In my big f***in' mental head."
That's not to say the tracks lack optimism, as with the opening "Power" – more closely reminiscent of their back catalogue's uplifting guitars – and in the title track "Kindness is the New Rock and Roll".
"The zone we were in polarised the extent that we looked outward and inward. The phrase 'kindness is the new rock and roll' came from the perspective of seeing greenness and nature and being like 'yeah, this is alright. We should preserve this, and each other.'"
And the songs seem to embrace an acceptance that not everyone can be happy, all of the time: "There's a weird duality I haven't really understood yet. A yin and yang, light and shade. To make a record that was wholly positive wouldn't really be a fair representation of me, or anyone. Everyone has things about themselves that are darker, confusing, and not necessarily positive. There's definitely no Instagram filter on this album."
What also kicked the album into a whole new gear was working with producer Simone Felice, a change up from what they had been used to with Jim Abbiss on the first two, and a man Koisser describes as something of a character: "I picked him from the airport and he was wearing a deer skin jacket and a hat and I thought, 'this is a really cool dude'..."
After a long and arduous process playing multiple versions of their new songs in different studios, finally spending a month in Woodstock recording with Felice was a "profound" experience: "He definitely massaged the spirituality out of the recording process. Sometimes physically, like holding your shoulders and whispering in your ear from behind: 'unlock your heart.' And I would say: 'ok, I'm going to try.'
"Or he would take us to the woods and say 'smell the pines.' And after he would be like, 'you're ready to do that vocal take now, bro'. At first I felt a little bit like Mr Bean but I found the whole thing quite magical."
The result is a masterful curation of the band's new material, with Felice's magic seeming to have unlocked a new range and quality in the singer's voice.
The 24-year-old sober, yoga-addicted vocalist is focused on trying to live in the present rather than making plans for the future. But this perceived lack of ambition has sometimes garnered him criticism: "Everyone else I know in the music industry has this expensive confidence: you gotta want to be the biggest band in the world. I've always been like 'we'll just go with the flow and see what happens.' I don't think it's a bad thing."
One downside to having created the new material in something of a nature bubble is a degree of nervousness regarding how it will be received: "I was quite worried whether it would resonate with our fan base. Which is very marketing speak but, I was thinking, 'are people going to get this?' Because we've always been very mysterious and this is more direct – intentionally so."
As a band committed to live performance, the upcoming tour and festival schedule is where they will really be testing the credibility of the fresh tracks. Though Koisser has a cunning back-up plan: "If the first night isn't going down, just when we play 'Power', we'll set off a confetti cannon and people will be like, 'that was amazing, that song rocked.' It's a bit devious but I think it would work…"
With a hardcore, young-leaning fanbase, among whom there is a trend of for getting tattoos of the band's lyrics and titles ("when we were deciding which tracks to keep we had to have "Silverlined" because a girl called Kate got it tattooed on her arm when I first wrote it back in 2015…"), the need for a backup plan seems unlikely.
Their dedicated following is perhaps symptomatic of a generation crying out for guitar bands they can live and die by, an increasingly rare phenomenon. "It's the economics involved," Koisser points out. "You can make electronic music in your bedroom and it will sound f***ing sick. You could buy a house for the amount it costs to record a band album. But that's what makes it exciting in way. It sounds dangerous because it's such a risk, it's a constant gamble with economic ruin."
But it does mean Peace feels a certain responsibility: "I don't know anyone who does music for money. We certainly don't. Music is just good. Music makes people feel good. People write us messages being like, 'I felt s*** and now I feel good because of this song or because of this live show.' So we have a duty now. You can't just f*** off, it means too much to people."
'Kindness Is the New Rock and Roll' is out on Ignition Records on 4 May
Join our new commenting forum
Join thought-provoking conversations, follow other Independent readers and see their replies