Pop review: The Kills, Roundhouse, London: a bigger sound but the duo's chemistry remains
Jamie Hince and Alison Mosshart are back and as intense as ever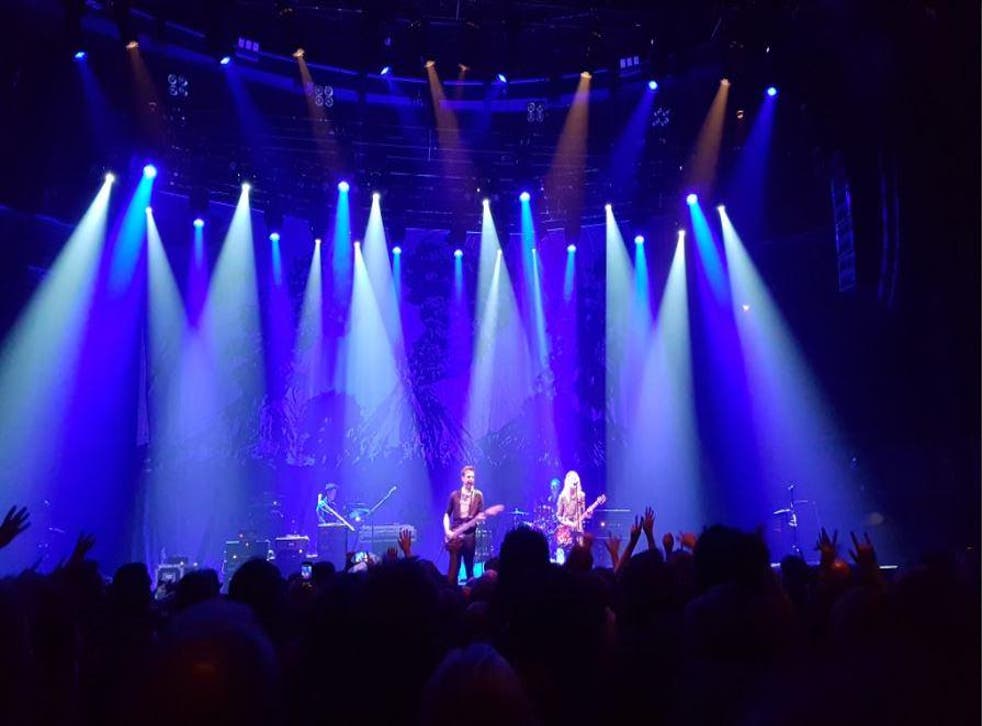 On the face of it, little has changed in the world of The Kills since their emergence in 2001. Back then, guitarist Jamie Hince and singer Alison Mosshart were the bizarro White Stripes: a boy-girl duo playing blues and garage rock, but with perfect hair, skinny jeans and all the added danger of someone likely to spill your drink and the steal your partner.
Save Hince's marriage to and subsequent split from Kate Moss, that is still more or less the case. Fifth album Ash and Ice, with its drum-machine patterns and taut riffs, widens their palette to a negligible degree. When they walk onstage at the Roundhouse tonight, Hince in trademark scarf, Mosshart in trademark leather trousers, they look remarkably unblemished from a decade of rock 'n' roll decadence and gossip-page notoriety.
But it soon becomes obvious that, onstage, The Kills have come alive. Mosshart remains a bundle of electric cool, ferociously whipping her bleached hair into a mass of blonde over her face, while Hince's fretwork still scorches. But this is The Kills 2.0. Pre-programmed rhythms have been replaced by real drums; synths have been added. No longer just a two-piece, everything is more: "Kissy Kissy", a country blues roll from 2003, mutates into a squall of Velvet Underground guitars, Hince, legs apart straddling the monitors, shredding nonchalantly. Equally "U.R.A. Fever" forgoes its slow seduction in favour of thumping drums that could crack a hole in the roof. "Hard Habit to Break", from Ash and Ice, takes its cue from a rattling drum beat to collapse in a frenzy of guitars.
There are defter touches, too: "That Love", Mosshart solo at the guitar scoffing out the line "it's over now/that love you're in is a f**king joke" (I wonder who she is on about?), adds some light to the dense riffage.
The sexual frisson between the pair that made their earlier shows so supercharged has receded, and Hince, perhaps thankful to be onstage at all following reconstructive hand surgery, is all smiles rather than snarls. But the intensity remains, and their chemistry is undeniable: at one point as Mosshart postures at the edge of the stage, Hince, like everyone else, looks on in admiration.
Register for free to continue reading
Registration is a free and easy way to support our truly independent journalism
By registering, you will also enjoy limited access to Premium articles, exclusive newsletters, commenting, and virtual events with our leading journalists
Already have an account? sign in
Register for free to continue reading
Registration is a free and easy way to support our truly independent journalism
By registering, you will also enjoy limited access to Premium articles, exclusive newsletters, commenting, and virtual events with our leading journalists
Already have an account? sign in
Join our new commenting forum
Join thought-provoking conversations, follow other Independent readers and see their replies