Prince dead: 6 of the iconic artist's most memorable performances
The American singer, songwriter and actor was a gargantuan figure in popular music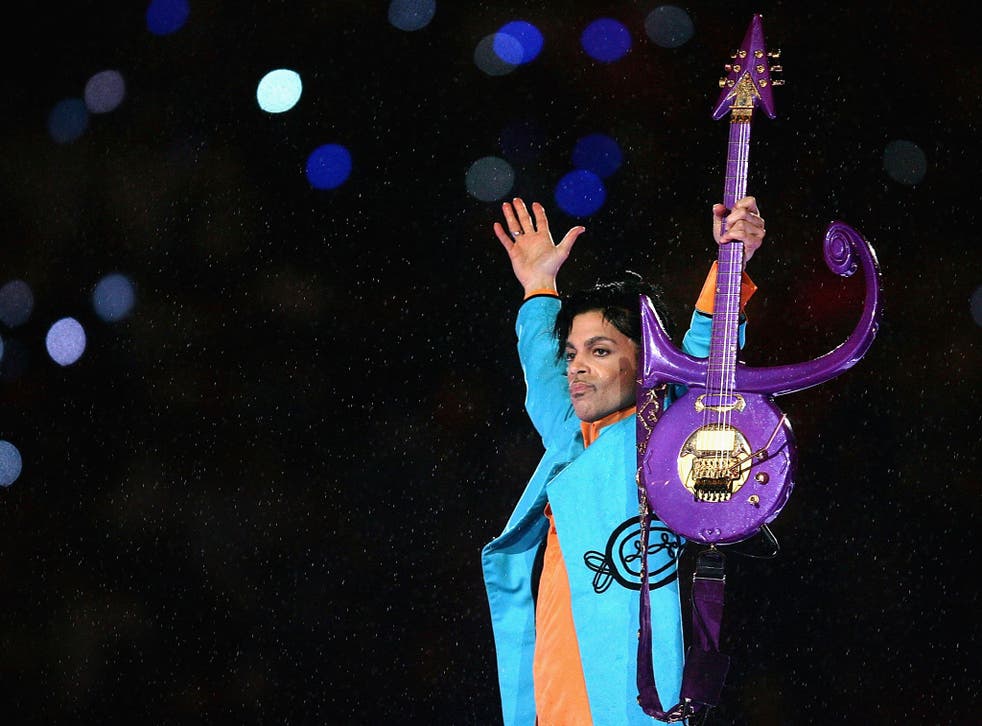 Legendary artist Prince has passed away aged 57, his publicist has confirmed.
The American singer, songwriter and actor had been a gargantuan figure in popular music for decades, and was known for his wide vocal range and outlandish stage presence.
Read more of The Independent's Prince coverage
Born in Minneapolis, he released 39 studio albums throughout his career, including two in 2015 - HITNRUN Phase One and Two - but perhaps unarguably his most iconic release was 1984's Purple Rain. The record sold more than 13 million copies.
Truly, though, no artist could quite match the mastery Prince had with his audience. He had the ability to mesmerise, captivate and astound; every detail, every movement was assured and thought through.
Here are 5 of Prince's most iconic and memorable performances:
6) 'While My Guitar Gently Weeps' - Tribute to George Harrison at the 2004 Hall of Fame Inductions with Tom Petty, Steve Winwood, Jeff Lynne etc.
There are music critics would flat-out state that Prince was the greatest guitar player on Earth and this performance wouldn't have done much to harm it. And he even tossed his guitar into the air at the end.
5) 'I Wanna Be Your Lover' and 'Why You Want To Treat Me So Bad' American Bandstand, 1980
This was one of Prince's earliest television performances and remains one of his most notorious. After his two track performance, there was an agonising interview segment with Dick Clark, who received one word replies for each question from the then-21-year-old. At the time people claimed it was a disaster, but really this was an event that contributed much to the Prince myth.
4) 'Baby I'm A Star' Grammy Awards 1985
Prince humped the microphone stand and dragged the Revolution through vibrant routines until the stage was invaded by screaming fans – at which point he stormed out. It was this year where Prince lost out on an Album of the Year Grammy for Purple Rain to Lionel Richie.
3) Super Bowl XLI halftime show, 2007
Widely considered one of the greatest Super Bowl half time shows in history, Prince put on a 12 minute extravaganza featuring his biggest hits and an apocalyptic rainstorm as a backdrop.
2) 'Piano and a Microphone' solo show, Paisley Park, January 2016
"Prince approached the piano, a purple baby grand. He landed a single chord, resonant and bassy. He stood. He walked away."
Prince - A Life in Pictures

Show all 10
Performing to just over a thousand fans in January 2016 at Paisley Park, this was a once in a life time event in an intimate setting – so intimate in fact that Prince performed in silk pyjamas.
1) 21 night residency at the 02 Arena, April 2007
There has been a wealth of famous rock residencies in London: Bob Dylan's five night stints, Pink Floyd at Earls Court, Eric Clapton at the Royal Albert Hall. But few are mentioned with quite the same rapture as Prince's 21 nights at London's 02 Arena in 2007.
It took place at a time when Prince was struggling to reignite his career – five years since his last performance in England. But in 52 and a half hours on stage, he played a total of 504 songs to a total audience of around half a million, and the rest was history.
Prince's most iconic looks
"Everything's changed this summer," Prince told the crowd. "It doesn't matter who came before or who comes after.
"From now on, the 02 is Prince's house."
Register for free to continue reading
Registration is a free and easy way to support our truly independent journalism
By registering, you will also enjoy limited access to Premium articles, exclusive newsletters, commenting, and virtual events with our leading journalists
Already have an account? sign in
Register for free to continue reading
Registration is a free and easy way to support our truly independent journalism
By registering, you will also enjoy limited access to Premium articles, exclusive newsletters, commenting, and virtual events with our leading journalists
Already have an account? sign in
Join our new commenting forum
Join thought-provoking conversations, follow other Independent readers and see their replies