Protoje interview: Reggae artist behind Ancient Future talks righteous anger, liberalism and Jamaica
Watch the video of new release "Criminal" exclusively below
Ian Burrell
Wednesday 30 September 2015 15:19 Comments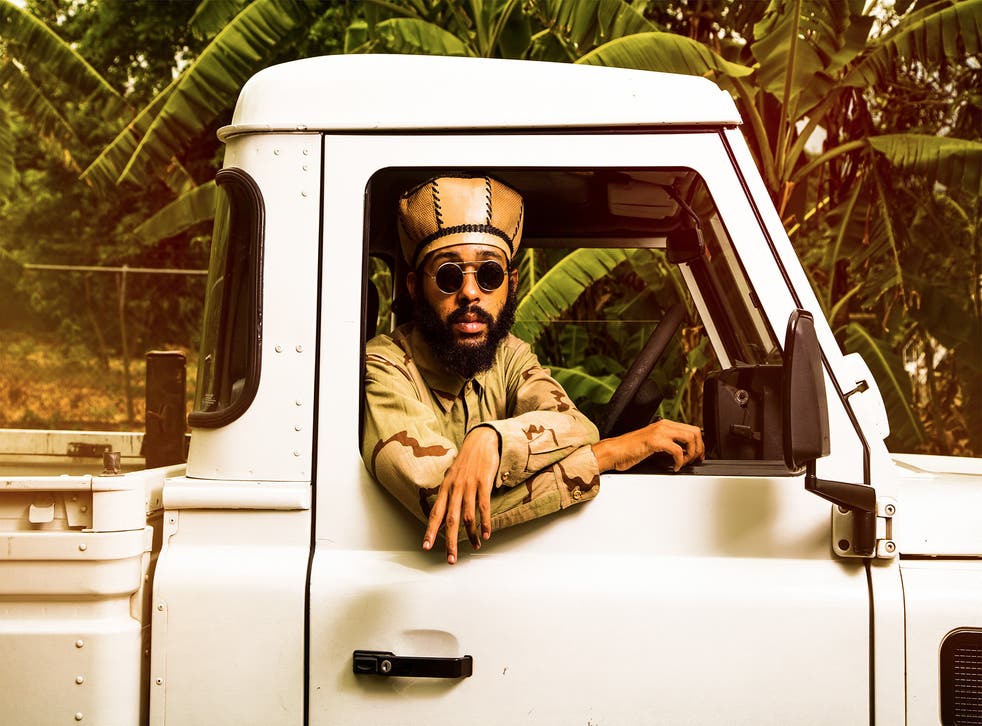 Rising reggae star Protoje's passionate live performances have marked him out as a fired-up warrior against social injustice.
In person he is thoughtful and polite. At the forefront of the new roots scene, his third album Ancient Future topped the Billboard reggae chart this year and brought fresh perspective to dub reggae while embracing the energy of contemporary dancehall.
Such eclecticism is typical of a well-travelled and open-minded performer who closely follows UK music scenes and who cites Ohio rockers The Black Keys as his favourite band. His work ethic was defined by a childhood spent in an around the athletics track.
His thunderous hit Kingston Be Wise, from his second album The 8 Year Affair, was featured on Grand Theft Auto V. BBC Radio1Xtra chose Protoje (real name Oje Ken Ollivierre) as an artist to watch for 2015 and Who Knows, a track with Chronixx, was an international hit this year.
The video for his new single "Criminal" – which references the 1987 murder of reggae great Peter Tosh - is premiered below.
The dreadlocked singer will shortly bring his accomplished live band to the UK for a seven-date tour. The Independent talked with him at a London hotel over plates of fried calamari, which he kindly paid for.
How would you describe your live performance?
It's unbridled enthusiasm. It's just raw emotion and feeling like I'm ten years old and standing in front of my mirror in my bedroom in Jamaica. We play very aggressively. My band is called Indiggnation(correct), which means righteous anger. The emotion that comes out captivates people. I feel very natural on stage. It's my domain and I'm in absolute control and most important I get to see the people listening to my music and look in their eyes.
You talk about righteous anger, what are you angry about?
My mentality is different from five years ago when I formed the band. I was very angry about the way people treat each other. Right now I don't have as much anger in me because I feel when you act, talk and reason out of anger you are not as rational as you could be. My thing is not to get other people angry but to get them to have an understanding. If you open up people's hearts you can make way more of a difference than if you just get them heated up too.
How are you finding London?
I think the UK [music] scene is reaching its point of exploding globally. You see what's happening with people like [grime artists] Skepta and Stormzy, they are really getting lots of traction globally. With our generation we have the Internet to see what's happening. London is my favourite city in the world. It has more of a culture to it and everybody expresses themselves freely - there's so many different scenes and sub-sets of scenes. Anywhere my foot touch ground I can be comfortable.
Enjoy unlimited access to 70 million ad-free songs and podcasts with Amazon Music Sign up now for a 30-day free trial
Sign up
Where does that being "comfortable" in all surroundings come from?
I think it has to do with the way I was brought up, to be open-minded. I was fortunate enough to be travelling when I was very young. My dad was a very accomplished track and field coach and would travel to lots of [international] meets. He worked with Winthrop Graham, the first Olympic medallist in hurdles for Jamaica. My parents have treated me like I was an adult since I was four or five years old. They taught me to always be respectful of other people's culture and what they do.
You're travelling on a St Vincent passport?
My father is from St Vincent. That's how I get to come to UK without a visa. Because you know how they treat this [Jamaican] passport in the UK? I guess they associate it with a lot of crime. To have colonised a country and then not allow them to come here without a visa, that to me is a bit hypocritical.
Jamaica is famed for athletics. What did growing up around track and field teach you?
I wanted to be a distance runner. What I learned most from track and field was discipline and hard work and being able to wait on your time. Some athletes would psychologically break down and I realised that the ones that were really dedicated to their craft, who knew it was about mastering what you do and not exactly [what place] you are coming, they would excel.
And your mother [former reggae singer Lorna Bennett]?
She is a lawyer and singer; she is also very much into fitness and was a conditioning coach; she is my co-manager and a director on my label. She's my world – a superwoman! Both my parents are very supportive of me.
You've had backing from the BBC, how important is that?
If you're being played on a radio station in Miami or New York it may not reach Atlanta. But if you get played on the BBC you are covering the entire country. [BBC Radio reggae presenter] David Rodigan is the important one. Every time I come to the UK I meet with David. Yesterday we had lunch. He is one of my mentors and has been supporting me when nobody else really was.
You've performed at festivals across Europe, both reggae and mainstream events?
In Montreux I played [ahead of] Lionel Ritchie and at Paleo, Switzerland, I played before Carlos Santana. It opens up the door for our music to be heard by audiences that generally wouldn't hear it. I am somebody from Jamaica who makes music - I don't just make Jamaican music. Never expect my fifth album to sound like my first, it's going to be different and people are going to have to deal with it. It's important to keep reinventing the sound. Bob Marley did that so much.
Why is it important to bring your band with you from Jamaica?
A lot of artists in the generation before us started to use bands in Europe on tour because you get to make way more money. But for me it's art first and money second. There are nine of us - five musicians, two singers, my engineer and myself. When I'm on stage with my band I have no worry in the world. I know it's me and my brothers up there going to war.
Register for free to continue reading
Registration is a free and easy way to support our truly independent journalism
By registering, you will also enjoy limited access to Premium articles, exclusive newsletters, commenting, and virtual events with our leading journalists
Already have an account? sign in
Join our new commenting forum
Join thought-provoking conversations, follow other Independent readers and see their replies