Public Service Broadcasting: 'Sputnik' video premiere
Roisin O'Connor
Wednesday 11 November 2015 13:03 Comments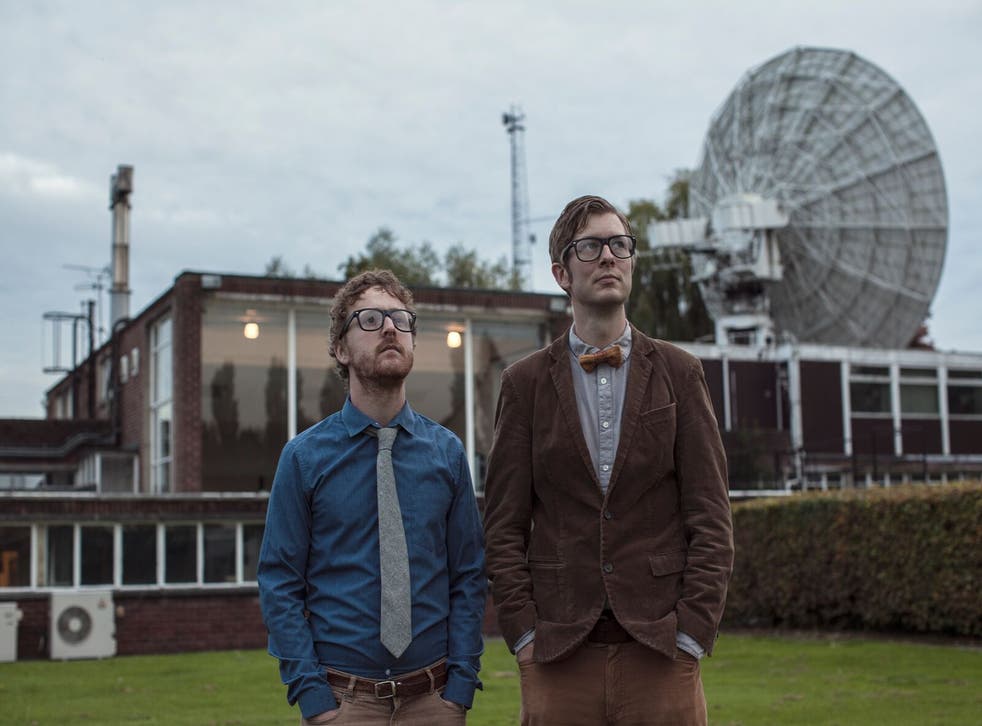 Public Service Broadcasting have produced the video for their new single "Sputnik", off their second LP The Race For Space - probably the most vibrant track off the record - and you can watch the exlusive premiere here.
They were granted rare permission to film at Jodrell Bank Observatory in Manchester, which suits their sound and narrative brilliantly. Take a look and let us know what you think.
Q&A with J Willgoose, Esq. of Public Service Broadcasting
How did it go opening for Editors in Amsterdam last week?
Playing to other bands' crowds is always a bit of a challenge, but we like that.. they seemed to respond fairly well to us. We're a bit odd though, so you never really know how it's going to go down! Still, playing a song about the Elfstedentocht in Dutch is a pretty good way to win people over.
Where do you source the archive footage for your music?
All sorts of ways but firstly (and fundamentally) via the internet - whether it's tracking down footage, rights holders, people of interest, phone numbers, anything really. Without the internet I think what we do would've been a lot harder. We've also had a lot of great help from the BFI who send along long lists of recommended titles when we badger them about specific topics - they're unbelievably helpful and supportive.
Which artists have you been listening to recently?
I've been listening to Francois and the Atlas Mountains a lot, as they're supporting us on our tour and I wanted to brush up on their back catalogue - Piano Ombre is one of my favourite albums of last year. Besides that I've been listening to Palace after seeing them at Green Man Festival - they're great and definitely going places. And I hadn't heard Editors' new album until we were asked to support them so I've been catching up with that. It's really interesting seeing where they've gone from album 1 to album 5. Not many bands get to stick around that long - there's normally a very good reason they have.
What's your favourite film soundtrack?
Probably Blade Runner. Or 2001. Or Edward Scissorhands. I really liked the very minimal music in All Is Lost, too.
What was your first gig, and what's been your best so far?
It was a solo show in The Selkirk pub in Tooting and it was terrifying. I owe a lot to Simon Ashley, who organised the free gigs there, for putting me on - it gave me the encouragement to take PSB out of the bedroom and into the live world. In terms of our best gig, it's hard to say really - we've had a lot of very memorable ones. I think in terms of sheer surprise and visceral whack it's going to be hard to beat our Glastonbury debut in 2013 on the Williams Green Stage. There was a lot of love in the room and it was an incredible feeling.
PSB play the following tour dates - tickets here. The Sputnik/Korolov EP is out on 20 November
26 November – Great Hall, Cardiff
27 November –02 Guildhall, Southampton
29 November – 02 Academy Brixton, London
7 February 2016 – Refectory, Leeds
8 February 2016 - Queen's Hall, Edinburgh Sold Out
10 February 2016 - O2 Academy, Liverpool
11 February 2016 - Rock City, Nottingham
12 February 2016 – OPEN, Norwich
Register for free to continue reading
Registration is a free and easy way to support our truly independent journalism
By registering, you will also enjoy limited access to Premium articles, exclusive newsletters, commenting, and virtual events with our leading journalists
Already have an account? sign in
Join our new commenting forum
Join thought-provoking conversations, follow other Independent readers and see their replies