Rap groups once reigned supreme - what happened?
Big-name rap groups have nearly vanished leaving the enduring De La Soul an anomaly in the hip-hop world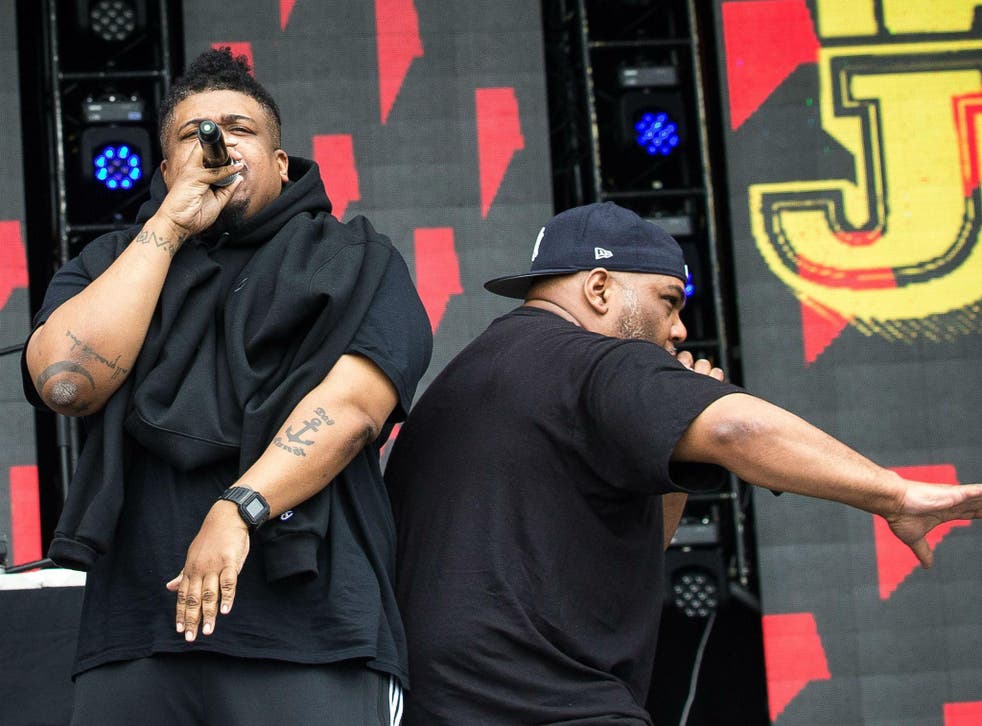 De La Soul have been together for nearly three decades and, with last month's release of And the Anonymous Nobody, are still releasing innovative and forward-looking work, rather than trying to rehash a previous sound. And they're doing it as a rap group.
Such hip-hop acts were once the norm, topping the charts and garnering critical acclaim. But by 2016, the big-name rap group has nearly vanished, a throwback to a bygone era. Gone are the days of NWA and A Tribe Called Quest dominating rap. We can only wait for reunion performances or the possibility of one final album (see: Bone Thugs-n-Harmony).
By its nature, hip hop has always been a collaborative art form. We still have labels (Young Money) and collectives (Odd Future), that have crew-affiliated artists. Some groups (Migos) still do come on the scene. But most of today's top rap artists are solo acts. Why don't we have major cohesive groups like those of the past?
The typical drama that breaks apart a music group in any genre -- money, drugs, ego, personality clashes -- has split up the most beloved rap groups. Last year's NWA biopic Straight Outta Compton dramatised many of those forces.
Just the logistics of getting a bunch of individuals, each with their own quirks, priorities and solo projects, can be a monumental task. Look at the 10-member Wu-Tang Clan, who spent years trying to corral everyone to make one last album.
Some groups, such as Public Enemy, have reincarnated with new members and continue to tour. Others, such as Outkast and A Tribe Called Quest, have had break-ups and hiatuses result in successful solo careers. As tempting as it is to recapture the magic of the past or satisfy nostalgic fans, it can feel gimmicky to get the band back together.
André 3000 -- who still puts out exhilarating raps, like the 78-second, rapid-fire track on Frank Ocean's new album -- didn't actually want to go on Outkast's reunion tour in 2014 and said he "felt like a sell-out".
"We hadn't performed in 10 years," he told Fader in 2014. "It was old songs. I'm like, How am I gonna present these songs? I don't have nothing new to say."
André 3000 said that he "felt weird about going out on stage and doing it again. I felt like people would be like, 'Y'all are doing all these festivals, y'all are just doing it for money'".
Enjoy unlimited access to 70 million ad-free songs and podcasts with Amazon Music Sign up now for a 30-day free trial
Sign up
Today, it's easier than ever for artists to collaborate remotely, exchanging verses or beats online. And there can be a monetary incentive for going it alone.
"It's more money in the solo play," Ice Cube, once a member of NWA, told the Wall Street Journal in 2015. "The royalties don't go up for how many members you have in the group."
It's in this climate that we have the beloved and revered Long Island trio, De La Soul. With each new album, Pos, Maseo and Dave push their work forward, presenting different and fresh concepts still laced with their trademark humor and introspection. While De La Soul may be most widely known for their 1989 debut, the Prince Paul-produced 3 Feet High and Rising, they followed up that "flower power" vibe with a harder and more mature album, De La Soul is Dead.
Throughout the years, they've evolved together and remained together, remarkably drama-free. How?
"I think a part of it is ... those groups, at one point, there was a disconnect," De La Soul's Dave told the Daily Beast in 2015. "Not to say a begrudging disconnect, but the Wu has always had the opportunity to break apart and each member become a solo artist. And maybe that kind of gets in the way."
De La Soul has never split and tried to reunite, perhaps sensing the limits of solo work.
"Through thick and thin, through good and bad – we've always been a unit," Dave said. "We could probably go out and do solo albums. I'm sure we can. But we don't feel that. We've recorded solo records, but we don't feel like that's as important as the unit. So it kind of gives us a beautiful place to work with."
The trio's friendship predates De La Soul's formation. They've learned to work with each other, and "understand each other's fault as well as strengths", Pos told the Daily Beast. "We've been blessed to be three individuals who don't let ego run who we are as individuals. We can do things without each other but it's with the respect and the support of the other members."
He added: "Sometimes individuals have their own agenda and saw being a group as an approach to get them closer to their own agenda, as far as solo records or whatever."
It's not that De La Soul hasn't been without challenges. Their most commercially successful work is owned by Warner Music and isn't available on digital streaming services or for purchase on iTunes. Prior to the new release, their most recent album was 2004's The Grind Date.
In making And the Anonymous Nobody, De La Soul turned to their fans, not record companies, and asked them to directly finance the project via Kickstarter. And in order to avoid having to pay for samples, which marked a lot of their previous music, they instead recorded more than 200 hours of live musicians jamming, and sampled from that.
The result is a 17-track record that may not be on Spotify's top streaming albums but is receiving critical acclaim and climbing international charts. An eclectic mix of artists that spans eras and genres make cameos (David Byrne, 2 Chainz, Snoop Dogg, Usher, Roc Marciano, Little Dragon and Damon Albarn all feature). "'Cause we're still here now," the trio proclaims on one track. And indeed, they still are.
© Washington Post
Register for free to continue reading
Registration is a free and easy way to support our truly independent journalism
By registering, you will also enjoy limited access to Premium articles, exclusive newsletters, commenting, and virtual events with our leading journalists
Already have an account? sign in
Register for free to continue reading
Registration is a free and easy way to support our truly independent journalism
By registering, you will also enjoy limited access to Premium articles, exclusive newsletters, commenting, and virtual events with our leading journalists
Already have an account? sign in
Join our new commenting forum
Join thought-provoking conversations, follow other Independent readers and see their replies