Album reviews: Franz Ferdinand - Always Ascending, Ezra Furman - Transangelic Exodus and more
Also:Richie Havens – Richard P. Havens, 1983, Susanna – Go Dig My Grave, Will Varley – Spirit Of Minnie, Mighty Mo Rodgers & Baba Sissoko – Griot Blues, and a compilation of tracks from 1965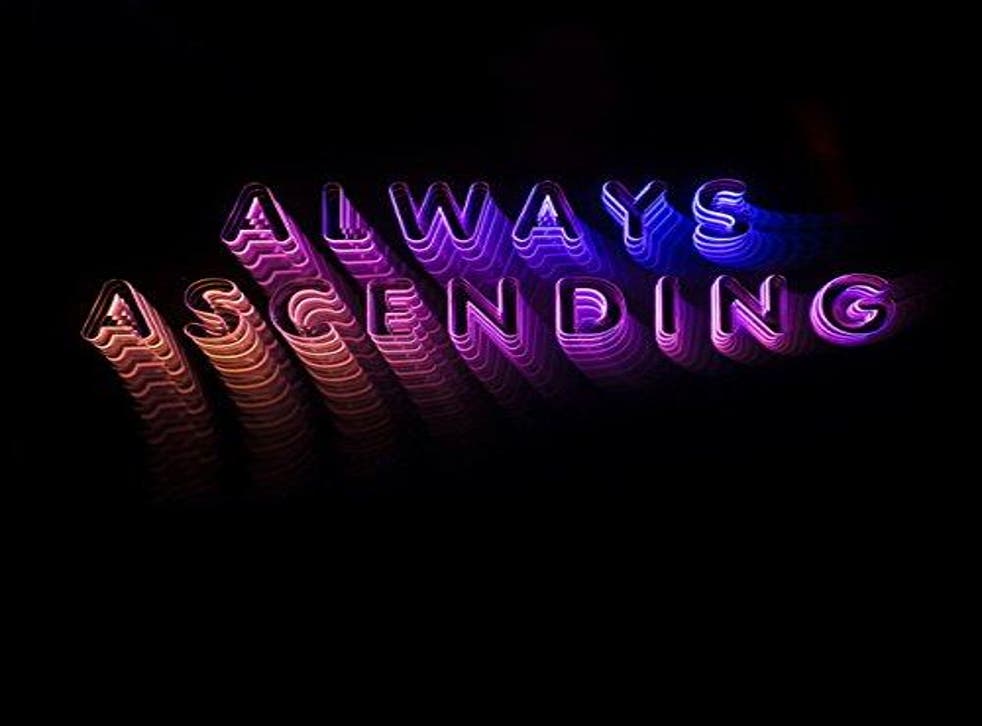 Franz Ferdinand, Always Ascending
★★★☆☆
Download: The Academy Award; Huck And Jim; Glimpse Of Love
Five years is a long time in pop, but Franz Ferdinand's artful, oblique take on the medium has allowed the band to negotiate the hiatus since 2013's Right Thoughts, Right Words, Right Action without too much difficulty, despite the departure of guitarist Nick McCarthy. Never having followed prevailing musical fashions means there's no pressure to tick current taste boxes with Always Ascending, which prances along in its own sweet ways.
There have been changes, of course: McCarthy's replacement, the omni-talented tonmeister Julian Corrie, has brought a more keyboard-oriented approach to the FF sound, and while vestiges of their old style remain, most notably in the spindly, stalking guitar stomp "Lazy Boy Edit View", the album explores the diverse possibilities of electropop more thoroughly than before. And thanks to the band's acclaimed collaboration with Sparks for FFS, some of the Mael brothers' droll piquancy has rubbed off onto Alex Kapranos's lyrical themes, which rarely tackle any subject without a double-edged blade cutting both ways. The approbation of "Lois Lane" as a strong, self-determining female role model, for instance, tempers the advice to "make good choices" with a rueful acknowledgement that for some it can be "bleak at the over-thirties singles nights".
Likewise, "Huck And Jim" offers a transatlantic comparison of "shallow bohemians, terminal chancers" from both sides of the pond, their anticipation of "hang[ing] out sipping '40s with Huck and Jim" reciprocated by a dubious offer to repay the favour by having the Americans come over to go "sippin' Bucky with the boys". But while the alliance may echo their own, one imagines both Franz Ferdinand and Sparks sharing a nice port, or possibly absinthe, rather than cheap blotto booze.
At their best, the band's eye for subtle shifts in cultural and personal behaviour remains as sharp as ever. It's most subtly employed on "The Academy Award", an account of the soulless world of online sexuality whose participants are just "starring in the movies of our lives", with "the glamour of applause in every mind". As the acoustic guitar-led intimacy of the verses swells with strings and keyboards through the choruses, the deeper melancholy of the voyeuristic "laptop predator, hunter-gatherer" becomes sadly evident.
Elsewhere, the scudding electropop disco of "Glimpse Of Love" provides a perfectly somatic backdrop for its tragic, lonely search for emotional connection in a culture of "body transformation": if someone's that self-obsessed and physically deceptive, how reliable can they be on any deeper level? As if in answer, the next track "Feel The Love Go" extends that notion of existential "bad faith" to its logical conclusion, a relationship eroded by creeping disaffection because "the things that you do are not who you are".
Overall, Always Ascending offers an intelligent survey of our era's pervasive world of appearances, but sometimes fails to heed its own warnings. Though sharp and sly, too often here there's a shortfall of melodic potency, and an over-reliance on structures that are methodical rather than marvellous, torpedoed by their own cleverness.
Ezra Furman, Transangelic Exodus
★★★★☆
Download: Suck The Blood From My Wound; Driving Down To LA; No Place; Compulsive Liar; Maraschino-Red Dress $8.99 At Goodwill
There's always been an element of Springsteen street opera to Ezra Furman's work, and on Transangelic Exodus he takes it to another level entirely, with what is effectively an audio road movie in which fugitive gay angels flee brutish oppression, forced to disguise their true nature by amputating their wings. It's utterly confusing to begin with, as "Suck The Blood From My Wound" finds a couple escaping frantically in a vehicle of robust, trundling drums and predatory guitar. But as montages of warped electronica, wistful cello, prickly percussion and brooding bassoon impose a startling, idiosyncratic character to subsequent tracks, the story becomes a brave, ambitious metaphor for Furman's own journey out of the closet. In songs like "Come Here Get Away From Me" and "Compulsive Liar", he explains how a life driven by fear of exposure fractured his attitude, leaving him forever "negotiating with the truth" as a first resort. Equal parts Jean Genet and Hellboy, it's a magnificent oddity, exultant in its uniqueness, both personally and musically.
Richie Havens, Richard P. Havens, 1983
★★★★☆
Download: Stop Pulling And Pushing Me; For Haven's Sake; What More Can I Say John?; Lady Madonna; She's Leaving Home
Enjoy unlimited access to 70 million ad-free songs and podcasts with Amazon Music Sign up now for a 30-day free trial
Sign up
Recorded in 1968 in a deepening atmosphere of disillusion, violence and assassination, this double album captures the ambivalent mood of the times in a manner only surpassed by Forever Changes. The apocalyptic tone hinted at in the title (being the brink of 1984) is evoked in the frantic, fractured opener "Stop Pulling And Pushing Me", before the more reflective "For Haven's Sake" skilfully charts recurrent surges of hope foundering back into melancholy. The full-band backing, subtly blending elements of rock and jazz, provides a resilient foundation for Havens's passionate, sepia-tone folk-soul vocals here and on similarly philosophical musings like "What More Can I Say John?" and "Putting Out The Vibration, And Hoping It Comes Home", where tabla and sitar support its hope for "brighter days ahead". Alongside his own material, a handful of contemporary covers confirms Havens's reputation as a soulful interpreter, particularly his exuberant "Lady Madonna" and aching "She's Leaving Home".
Susanna, Go Dig My Grave
★★★★☆
Download: Freight Train; Cold Song; Go Dig My Grave; Wilderness; Perfect Day
There's a chill melancholy to Susanna Wallumrod's vocal delivery that's quintessentially Scandinavian, but which matches perfectly most of the material on this slim anthology of covers. In the case of "Freight Train" – best known in Nancy Friday's jaunty skiffle version – she coolly relocates the theme of death and burial, as harp, accordion and Hardanger fiddle wrap slowly whirling drones around her voice, while Purcell's setting of Dryden's "Cold Song" features her voice mirroring the hypnotic, pulsing measure of the mournful drone-chords. The distinctive, sparse trio settings afford a surprising diversity of emotive intimacy, with a statuesque version of Joy Division's "Wilderness" set to suitably bleak, scarified bow scrapes, and the father's discovery of his daughter's lovelorn suicide in the traditional folk tragedy "Go Dig My Grave" evoked in a nightmarish howl of accordion and fiddle. It's a thematically consistent (albeit gloomy) set, to which Susanna's emotionally drained delivery brings a calm, numbed conclusion in a "Perfect Day" of delicate kalimba and drones.
Will Varley, Spirit Of Minnie
★★★☆☆
Download: Screenplays; Statues; Postman
For this follow-up to the excellent Kingsdown Sundown, Will Varley expands his solo folkie approach with inventive band settings, ranging from the wave-like lilt of strings and steel guitar that makes "Statues" move, to the keening intensity visited upon "The Postman". But it's Varley's lyrical voice that comes through stronger than ever, as the wearied outsider "looking for another kind of dream" in "All Those Stars", and in the deftly sketched tableau of confused millennials in chaotic search of their own "screenplays in the sky" in "Screenplays". There's youthful inquisitiveness and sense of betrayal in the concluding "Insect" that recalls early Roy Harper; elsewhere, Varley's knack for crystallising glimmers of insight in resonant apothegms is more reminiscent of Dylan or Cohen, as he ponders whether "maybe time is a statue, not a river" and decides that "all the things that hold you back are the things that make you great". Debatable, perhaps, but indicative of the questing spirit behind Spirit Of Minnie.
Various Artists, Jon Savage's 1965: The Year The Sixties Ignited
★★★★☆​
Download: That's The Way It's Got To Be; You've Got What I Want; Incense; Boss Hoss; Feel A Whole Lot Better; From A Buick 6
This latest instalment in Jon Savage's survey of the mid-Sixties follows the idiosyncratic approach of his 1966 and 1967 compilations. It takes some nerve, for instance, to include Dylan's rocking "From A Buick 6" rather than "Like A Rolling Stone", and likewise overlook "My Generation" and "We Gotta Get Out Of This Place" in favour of less feted cuts; but there are enough classics here to compensate, from "Heart Full Of Soul" to "Papa's Got A Brand New Bag" and "In The Midnight Hour". But as ever, it's Savage's more outre inclusions that give this 2CD set its deeper appeal: proto-garage rave-ups like The Sonics' "Boss Hoss"; long-lost beat-boom rarities like The Poets' "That's The Way It's Got To Be", The Sorrows' spiky "You've Got What I Want", and "Leaving Here" by Ronnie Wood's tyro combo The Birds; enduring club classics like The Anglos' exuberant "Incense"; and engagingly naive, attitudinal folk-rock, most notably in The Gas Co's "Blow Your Mind".
Mighty Mo Rodgers & Baba Sissoko, Griot Blues
★★★☆☆​
Download: Shake 'Em Up Charlie; Mali To Mississippi; The Blues Went To Africa; Djeli/Griot/Storyteller
Griot Blues offers a timely affirmation of the principles of musical fellowship, with a Malian griot and an American bluesman – neither speaking the other's language – backed by an Italian trio, and recorded in Lithuania. It risks being a patchwork of confused signals and styles, but the various elements slot together with a warmth and smoothness that speaks loudly of shared musical instincts. Indeed, when Sissoko's lyrics were translated, it transpired that he and Rodgers had been individually singing about the same subjects. In opener "Shake 'Em Up Charlie", it's matters of privilege and corruption, respect and redemption, set to a reggae groove with Sissoko's sparkling ngoni runs underpinned by burbling clavinet. The manifesto "Mali To Mississippi" is a loping bluesharp boogie stippled with Sissoko's dextrous talking-drum, while the same theme of African/American interaction is most engagingly outlined in "The Blues Went To Africa", on which Rodgers' genial, weathered tones ride a rolling groove in the relaxed manner of Gil Scott-Heron.
Register for free to continue reading
Registration is a free and easy way to support our truly independent journalism
By registering, you will also enjoy limited access to Premium articles, exclusive newsletters, commenting, and virtual events with our leading journalists
Already have an account? sign in
Register for free to continue reading
Registration is a free and easy way to support our truly independent journalism
By registering, you will also enjoy limited access to Premium articles, exclusive newsletters, commenting, and virtual events with our leading journalists
Already have an account? sign in
Join our new commenting forum
Join thought-provoking conversations, follow other Independent readers and see their replies