Album reviews: Jim James – Tribute to 2, Chris Stapleton – From a Room: V2, Belle and Sebastian – How to Solve Our Human Problems (Part 1), and more
Clarence Carter – Testifyin' & Patches, Robert Finley – Goin' Platinum!, and Charles Hayward & Thurston Moore – Improvisations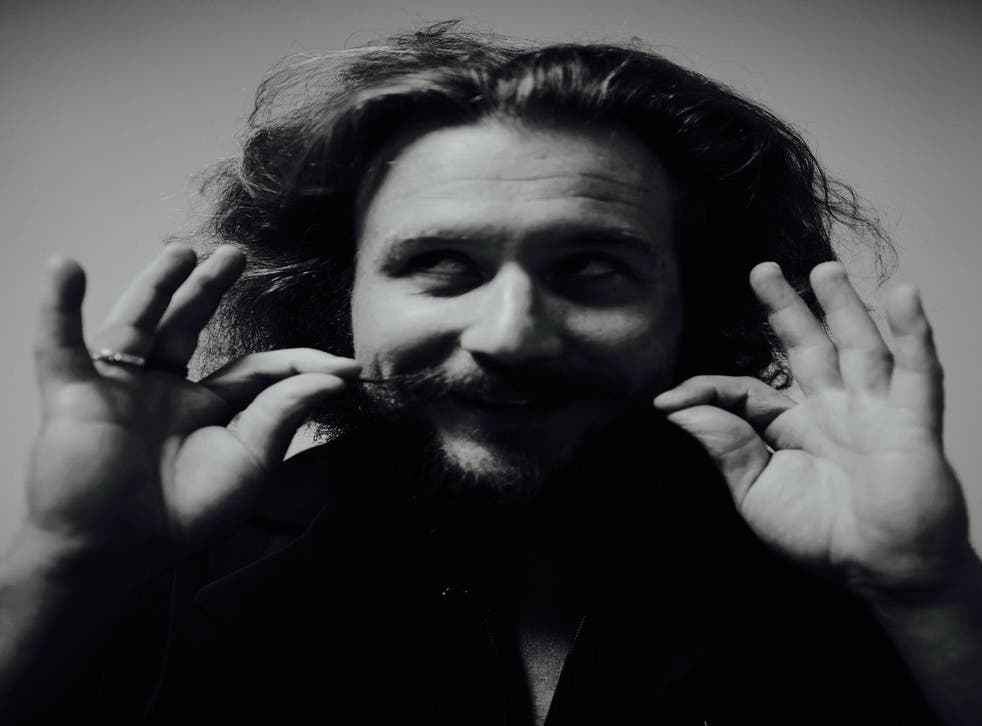 Jim James, Tribute To 2
★★★★☆
Download: I Just Wasn't Made For These Times; Love Is The Sweetest Thing; Midnight, The Stars And You; Baby Don't Go; Funny How Time Slips Away
Cover albums come in a variety of forms, depending on a mix of intention and invention. Some, like Todd Rundgren's aptly-titled Faithful, are breathtaking replications of the original recordings; others, like the Easy Star All-Stars' reggae re-creations of classic albums like Dark Side Of The Moon and OK Computer, engagingly re-tool the material in another genre. Jim James's Tribute To 2, however, is more in keeping with the cover collections of Bowie and Ferry, gently tweaking beloved songs to reflect more personal relationships with sometimes obscure pieces.
Who, for instance, remembers Sonny & Cher's "Baby Don't Go", the accidental source of that duo's inverted harmony style? Here, James, also frontman with My Morning Jacket, contributes both parts, his plaintive lead vocal caressed with harmonies over a sparse piano setting: simple but sound, the obvious respect in which he holds it amplifies the song's quiet impact. Likewise, a version of "Funny How Time Slips Away" featuring just his intimate vocal and basic arpeggiated guitar wrapped in reverb drains away the surfeit of resignation usually anchoring the song; the bare, lonely solitude that remains seems to take on a melancholy purity from somewhere way beyond the barstool.
The album opens with a version of The Beach Boys' "I Just Wasn't Made For These Times" which makes full use of the vulnerable edge to James's high register. Taken slower than the original, it's set to a pared-down arrangement of ticking hi-hat, almost subliminal organ pad and strings, bolstered with brass at the climaxes. It's all about restraint, though comes across as less resolute; and in places, there seem to be slight shifts in the melody which seem inexplicable until one learns the track was constructed from parts of Isaac Hayes' "By The Time I Get To Phoenix". Listening to Hayes's epic one night, James found himself singing along with Brian Wilson's soul-baring lyrics; later, lent the multi-track tapes to "…Phoenix" when writing a reissue sleevenote, he was able to cannibalise the individual parts for this recording.
It's the obvious standout track here, though the mood of alienated isolation evoked by songs like this and "Funny How Time Slips Away" is balanced by the genial warmth James brings to songs by crooner Al Bowlly, "Love Is The Sweetest Thing" and "Midnight, The Stars And You". With his lowest register swathed in cavernous reverb over a quaint barroom piano in the latter, the fragility of his voice is slightly dispelled; until, that is, he applies a weird, wailing mid-song break of wordless keening. It's strange, but sort of works.
Elsewhere, Dylan's "I'll Be Your Baby Tonight" takes a languid tour of the boudoir, while a completely refurbished, folksy version of "Lucky Man" reminds one that lurking somewhere beyond the wall of prog bombast, there was once a tender heart beating in the breast of ELP. Which, you have to admit, is quite some achievement.
Chris Stapleton, From A Room: Volume 2
★★★☆☆
Download: Hard Livin'; Scarecrow In The Garden; A Simple Song; Drunkard's Prayer
While this partner set doesn't have quite the sustained quality of the preceding album released six months ago, it still affirms the value of spiking country music with a strong shot of rhythm & blues. It's a natural call for Stapleton's sepia rasp of a voice: allied to the funky country-rock and waspish flanged guitar of "Hard Livin'", the result recalls the outlaw strut of Waylon Jennings; while in a more pared-down solo setting, it underscores the pained regret of the barfly talking to God in "Drunkard's Prayer". He overdoes it slightly with the heartland rock of "Midnight Train To Memphis", coming across like a bargain-basement Bob Seger, but elsewhere Stapleton's lyrical manner skillfully allows dark clouds to shadow "A Simple Song" (which rhymes "laid off last fall" with "cholesterol") and especially "Scarecrow In The Garden", the grim testament of a beaten man portentously gripping "a Bible in my left hand, and a pistol in my right".
Belle And Sebastian, How To Solve Our Human Problems (Part 1)
★★★☆☆
Download: Sweet Dew Lee; We Were Beautiful; The Girl Doesn't Get It
The first of three EPs released in successive months, How To Solve Our Human Problems (Part 1) extends in condensed fashion the eclecticism of 2015's Girls In Peacetime Want To Dance, darting at will from the acoustic delicacy of "Fickle Season", its quiet charm akin to the third Velvets album, to the bustling electropop of "The Girl Doesn't Get It", a whimsical refutation of "the myth that they're selling that there's one perfect fella". The EP opens with the lovely "Sweet Dew Lee", a genial pop strummer in the manner of early Orange Juice, its buoyant melody evoking a hill climb to an urban vista as the protagonist daydreams of a parallel world in which he and his departed lover are still an item. Perhaps it's the same lover addressed in "We Were Beautiful", a quirky indie-rap confection set to an odd blend of scuttling shuffle-beat, synth pad and pedal steel guitar exemplifying its call to "rise above the present day, rise above the popular melee".
Clarence Carter, Testifyin' & Patches
★★★★☆
Download: Patches; Bad News; You Can't Miss What You Can't Measure; Getting The Bills (But No Merchandise)
Enjoy unlimited access to 70 million ad-free songs and podcasts with Amazon Music Sign up now for a 30-day free trial
Sign up
Though vanishingly rare in white pop, blindness was an unusually significant characteristic of black music through the last century, from the blind schools that produced gospel groups like the Five Blind Boys of both Mississippi and Alabama to soul geniuses Stevie Wonder and Ray Charles, the latter of whom explicitly ascribed his musical sensitivity in part to his disablement. Clarence Carter's achievements rarely rivalled theirs, but the greatest of his Atlantic recordings on the two albums compiled here remain superb examples of Southern soul's ability to convey deep emotion in a relaxed, conversational manner that bestows authenticity – even when, as with the huge hit "Patches", he initially baulked at the song's rustic artifice. Carter was a brilliant interpreter of country-soul crossovers – his laconic version of John D. Loudermilk's "Bad News" is a delight – though his forte was perhaps the kind of down-home sermonising reflected in catchphrase titles like "You Can't Miss What You Can't Measure" and "Getting The Bills (But No Merchandise)".
Robert Finley, Goin' Platinum!
★★★★☆
Download: Get It While You Can; If You Forget My Love; Three Jumpers; Honey, Let Me Stay The Night; You Don't Have To Do Right
Robert Finley's story offers a different slant on the theme of blind black musicians. Following service as a helicopter technician and army bandleader, his failing eyesight reduced Finley to busking; with charitable assistance from the Music Maker Relief Foundation, he caught the ear of The Black Keys' Dan Auerbach, who used a top session crew to create the crisp, punchy funk, loping boogies and brooding soul-blues grooves capable of bringing out the full extent of Finley's talents on Goin' Platinum!. It needs that level of attention, too: Finley's majestic gospel-blues voice, rich and powerful, brings to mind an American Tom Jones, boasting a comparably persuasive blend of authority and charm. One can't imagine his plea to "Honey, Let Me Stay The Night" being turned down, for instance, while elsewhere his observation that "You don't have to do right to know somebody's doin' you wrong" acquires the ring of authentic soul wisdom. It's a wonderful album, and further proof that you're never too old, if you're good enough.
Charles Hayward & Thurston Moore, Improvisations
★★★☆☆
Download: A1; A3; B2
Improvised music involves a broad range of approaches, from the spontaneous juxtapositions of complete strangers to the more coded developments of frequent collaborators. As the third time that This Heat drummer Charles Hayward and Sonic Youth guitarist Thurston Moore had played together, the sessions that produced Improvisations occupy various points along that scale, often within a single piece. "A1", for instance, floats in on a breeze of soft guitar sussurus, before Hayward sets up a monumental, Bonham-esque beat that pushes Moore into darker territory, cutting jagged shapes and clouds of guitar noise which in turn tempt the drummer into furious polyrhythmic flurries, the clotted texture eventually subsiding into a monotone feedback whine. Though just a duo, they make a huge noise, with Hayward's jazz and avant-rock chops providing a dazzling platform of mutating grooves for Moore's blizzards of serrated guitar noise and piquant discordancy. The results are often enjoyable and always interesting, with the 11-minute journey of "A3", in particular, navigating an angular, monochromatic turmoil akin to an Arctic ice field.
Various Artists, Habibi Funk
★★★☆☆​
Download: Bsslama Hbibti; Wang Dang; Irkosh Farfesh; La Coladera
Subtitled "An eclectic selection of music from the Arab world", Habibi Funk deals not in the indigenous strains that occupy the main focus of world music reissues, but rather local crossovers that slipped between the cracks, reflecting outside influences from the Caribbean, Cape Verde, and overwhelmingly, Western funk, soul and disco. Covers of "Harlem Shuffle" and Serge Gainsbourg's "Mirza" are attacked with gusto, and there's even an Arabised adaptation of Beethoven's "Für Elise" featuring shrill backing vocals behind a guttural lead, while originals like Fadoul's "Bsslama Hbibti" evoke the feral passion of James Brown. Sharhabeel Ahmed's "Irkosh Farfesh" is another standout, the Arabic phrasing of the sax part imparting a unique flavour to its romping soul groove. As with Anglo-American pop, the more recent examples are somewhat diluted by developments in technology: certainly, none challenges the outlandish abandonment of transplanted New Orleanian scat-man Bob Destiny, whose berserk babble on "Wang Dang" is as atavistic as anything by Little Richard or Sam The Sham.
Register for free to continue reading
Registration is a free and easy way to support our truly independent journalism
By registering, you will also enjoy limited access to Premium articles, exclusive newsletters, commenting, and virtual events with our leading journalists
Already have an account? sign in
Register for free to continue reading
Registration is a free and easy way to support our truly independent journalism
By registering, you will also enjoy limited access to Premium articles, exclusive newsletters, commenting, and virtual events with our leading journalists
Already have an account? sign in
Join our new commenting forum
Join thought-provoking conversations, follow other Independent readers and see their replies