Album reviews: Laura Marling – Semper Femina, Grandaddy – Last Place, Alison Krauss – Windy City and more
Also: Nadia Reid – Preservation, Chicano Batman – Freedom Is Free, Blanck Mass – World Eater, and Temples – Volcano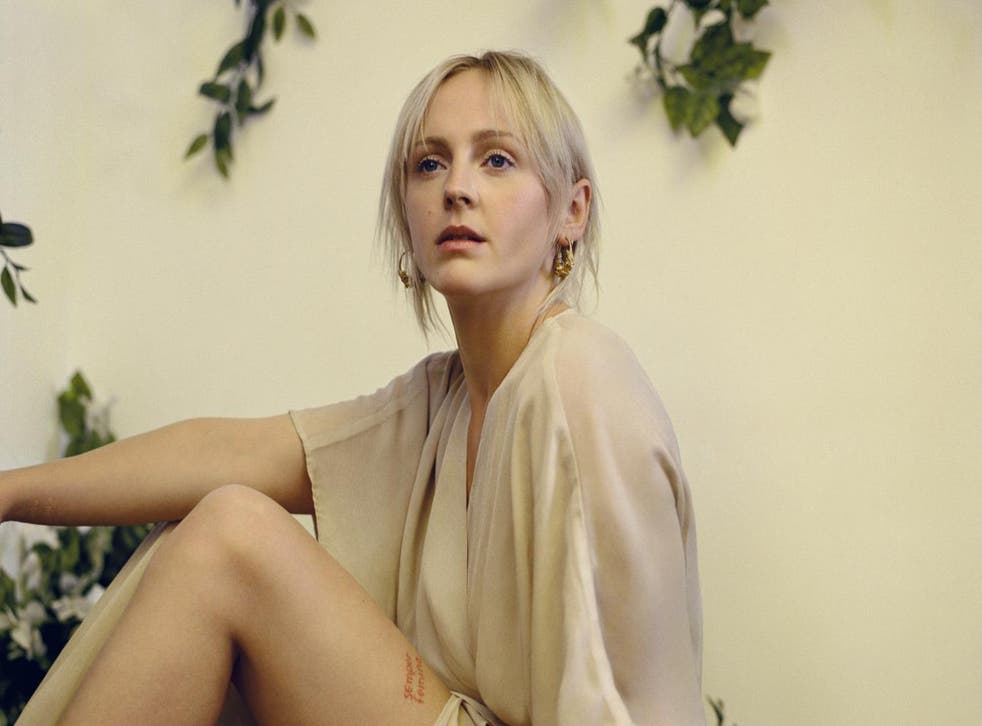 Laura Marling, Semper Femina – 5/5
Download this: Soothing; Don't Pass Me By; Always This Way; Nothing, Not Nearly
There's a moment, almost exactly midway through her sixth album, when Laura Marling asks herself, "Lately I'm wondering if all my pondering is taking up too much ground". It's hardly an impertinent query – after all, her career so far has been the polar opposite of an unexamined life, full of gentle but intense fretting over motives and mistakes, relationships and responsibilities, often cleverly refracted through metaphor and archetype to offer more general reflections on humanity. And when pondering gets this skilled, and this fruitful, the dividends far outweigh the misgivings.
But how best to present these ponderings? Having expressed dissatisfaction with the self-produced Short Movie, Marling has this time engaged Blake Mills to oversee the recording. Mills, whose diverse credits include recent albums from John Legend and Jim James, specialises in the spaces and textures of sound, something immediately apparent as hand-drum and double bass establish the grounded, jazzy tone of "Soothing", its limping groove draped with whirring keyboard drones and swelling strings, offset by the dull tinkle of thumb-piano. It's a gripping opener that captures Marling's ambivalent attitude – at once demanding and banishing – with idiosyncratic grace. Arranger Rob Moose proves equally attuned to her subtleties: his strings shroud "The Valley" in a darkly pastoral manner akin to Robert Kirby's work with Nick Drake; while the obtuse angle at which the shivering strings collide with the scrawling vibrato lead guitar line of "Don't Pass Me By" irresistibly recalls Portishead.
As the title suggests, Semper Femina is more gender-specific than before, with "The Valley" reflecting on a fractured female relationship – possibly the one featured in "Nouel", whose simple guitar and vocal setting summons pristine echoes of Joan and Judy and Joni. "I do well to serve Nouel, whatever service I may be," sings Marling, "Fickle and changeable, weighing down on me" – an acknowledgement, perhaps, of the baton she's effectively been forced to take from that generation, however unwelcome a burden it may be. Certainly, as "Wild Once" confirms, she's already hankering for less dutiful times. "I was wild once, and I can't forget it / Wild, chasing stones," she sings over descending arpeggios, glancing back to a less fettered youth.
Thankfully, the closing "Nothing, Not Nearly" suggests a spirited determination to impose that freedom on her future. A sort of garbled monotone talking-blues punctuated with dark smears of electric guitar, it finds her musing over another mislaid relationship, but with greater equanimity: "We've not got long, you know, to bask in the afterglow / Once it's gone it's gone, love waits for no one," she sings, as the song dissolves away, a door opens and she's off out, into the birdsong.
Grandaddy, Last Place – 4/5
Download this: The Boat Is In The Barn; Evermore; Lost Machine; Way We Won't
This week's break-up album is Grandaddy's first release in eleven years, though it's effectively the work of Jason Lytle, beavering away in his new studio in Portland even as his relationship collapses around him. "I just moved here, and I don't wanna live here any more," he laments, and no wonder; while the appearance among his lyrics of phrases like "delete, delete, delete" and "that's how it goes, so copy and save" speak loudly of a studioholic loner seeking solace among his machines. Which, it must be said, he wields with sumptuous beauty, from the Floyd-like swathes of mellotron and piano carrying "The Boat Is In The Barn" and the stately "Lost Machine", to the implacable electropop fizz of "Evermore". There's still an element of slacker redux about Lytle's manner – though relocating back to California for the closing track, there's a low-key resolution of sorts, as he decides "that is the way we won't".
Alison Krauss, Windy City – 3/5
Download this: Losing You; You Don't Know Me; I Never Cared For You
Alison Krauss's first solo album in 17 years eschews the feisty band interplay of her Union Station releases in favour of venerable country standards chosen with Willie Nelson's current favoured producer Buddy Cannon. Save for a couple of uptempo trotters like the jaunty kiss-off "It's Goodbye And So Long To You", it's mostly melancholy fare, with Krauss's voice unerringly seeking out the despair in songs such as the Brenda Lee hits "Losing You" and "All Alone Am I", and most heartbreakingly of all in a quietly effective interpolation of the Ray Charles tearjerker "You Don't Know Me". Elsewhere, her overdubbed harmony leads are best employed on Nelson's "I Never Cared For You", a classic of bogus self-denial: "The sun is filled with ice and gives no warmth at all / The sky was never blue … and I never cared for you".
Nadia Reid, Preservation – 4/5
Download this: Preservation; I Come Home To You; Right On Time; The Arrow And The Aim
Nadia Reid's 2015 debut Listen To Formation, Look For The Signs heralded the arrival of a prodigious talent, the young New Zealand singer-songwriter's confessional material embodying an emotional intelligence and honesty akin to Laura Marling and Judee Sill, her folk leanings tempered by languid jazz inflections set among a patina of subtle sonic textures. Preservation continues in like manner, with the title track's rippling waves of chorus-effect guitar burnished by ambient tints, as Reid's amorous doubts and hopes track an enigmatic melody in Neko Case style. The rolling folk-rocker "The Arrow And The Aim" presents a more assertive side to her work, its dense web of voices, guitars and keyboards bowling along with sluggish charm; but her most impressive achievement here concerns the ambivalent push and pull of conflicting emotions in "I Come Home To You": "We see things in a different light / I'm looking outward into the night / I wanted to be like you / Take me home, smoke me out".
Chicano Batman, Freedom Is Free – 4/5
Download this: Passed You By; Friendship (Is A Small Boat In A Storm); The Taker Story; Freedom Is Free
Known for their idiosyncratic sense of style – a sort of ruffle-shirt retro – Los Angeles' Latino quartet Chicano Batman have devised a comparably throwback musical sound which blends elements of Sixties psychedelia, soul, funk and Tropicalia in various ways. The result is a sort of laidback, sun-kissed retro-futurism through which they're able to address dark matters – genocide, slavery, betrayal – alongside gentler themes, with no shortfall of pop charm, rather in the manner of legendary Brazilian outfit Os Mutantes. With Bardo Martinez's reedy organ and pop-soul guitar grooves providing a languidly appealing bed for his falsetto vocals, songs such as "Passed You By" and "Friendship (Is A Small Boat In A Storm)" offer small increments of wisdom in engaging manner; while the addition of stabbing horn punctuation and female backing singers chanting "Mass killings and mass graves / Globalisation of slaves / Genocide and extinction / Are the functions of civilisation" gives "The Taker Story" the infectious indignation of a Latino Fela Kuti.
Blanck Mass, World Eater – 3/5
Download this: Rhesus Negative; Minnesota/Eas Fors/Naked; Hive Mind
Wreathed in loops and samples, swaddled in stacked vocal sounds, World Eater is former Fuck Button John Power's response to the turbulence of 2016, and what he regards as "the inner beast inside human beings". Unsurprisingly, it's not a pretty sound, though there are moments of transcendent grace, such as the oriental-flavoured keyboard figure bringing hope to "Hive Mind". But "Rhesus Negative" is more typical, a pummelling drum'n'bass avalanche bearing a bricolage of sequenced sonic fragments and keening massed vocal parts, which manages to yoke together Nine Inch Nails-style howling despair with salvatory tints of melody and charm. Elsewhere, a low organ drone and what sounds like rubble being poured down a metal chute lends an evocative industrial mood to "Minnesota/Eas Fors/Naked", perfect for a dystopian sci-fi soundtrack. It's hard to discern any actual lyrics, but Power's delivery leaves few doubts: the sequenced chorale of "Please" sounds like gospel galley-slaves from another world.
Temples, Volcano – 1/5
Download this: Born Into The Sunset
Crikey, what happened to this lot? A few years ago, Temples' Sun Structures debut heralded a promising addition to the UK indie scene, their skirling guitars hinting at deep immersion in psych-rock forebears like Traffic and The Pretty Things. But with the toothless Volcano, they've abandoned that path in favour of a wheedling, keyboard-heavy electropop sound with much less bite, pock-marked with dubious stylistic potholes. At their best, there's a sleek charm to "Born Into The Sunset" reminiscent of Metronomy, but elsewhere they drift via over-egged, Klaxons-esque confections like "All Join In" into unalloyed disasters such as "(I Want To Be Your) Mirror", where a growing tendency towards proggy noodling combines with James Bagshaw's impermeable high-register vocal in a manner which recalls Yes – whose excesses are elsewhere echoed in the ponderous presumption (and singularly dreadful lyrics) of "Oh The Saviour" and "How Would You Like To Go?". Not like this, that's for sure.
Register for free to continue reading
Registration is a free and easy way to support our truly independent journalism
By registering, you will also enjoy limited access to Premium articles, exclusive newsletters, commenting, and virtual events with our leading journalists
Already have an account? sign in
Register for free to continue reading
Registration is a free and easy way to support our truly independent journalism
By registering, you will also enjoy limited access to Premium articles, exclusive newsletters, commenting, and virtual events with our leading journalists
Already have an account? sign in
Join our new commenting forum
Join thought-provoking conversations, follow other Independent readers and see their replies