Album reviews: Randy Newman – Dark Matter, Blake Grape – Pop Voodoo, The Isley Brothers & Santana – Power of Peace
Plus Brian Eno – Here Come the Warm Jets, James Vincent McMorrow – True Care, The Last Dinosaur – The Nothing, Ben Lukas Boysen and Sebastian Plano – Everything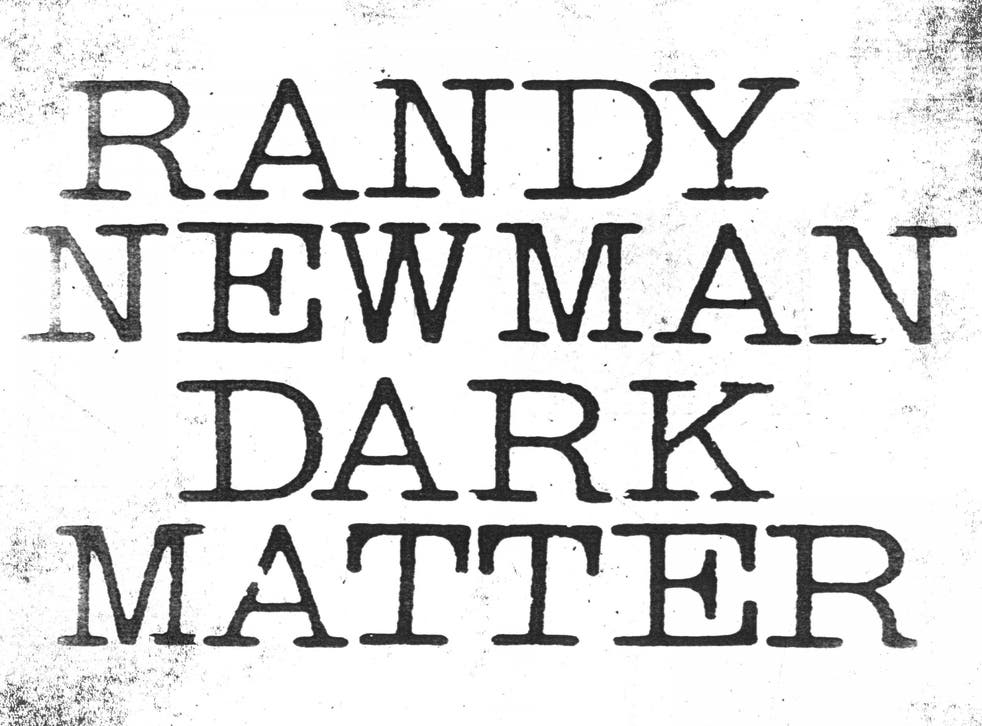 Randy Newman, Dark Matter
★★★★☆
Download: She Chose Me; Lost Without You; The Great Debate; Sonny Boy; Wandering Boy
Randy Newman is most often celebrated for his devious political commentaries, often voiced through characters of questionable virtue or reliability. And while there are plenty further examples on the bitterly disillusioned Dark Matter, the most effective songs here are those which pack a more personal and emotional punch, echoing the solitary desolation he's mined throughout his career, from early classics like "Living Without You" and "I Think It's Going To Rain Today" all the way through to "Losing You" from 2008's Harps And Angels, his last album of new material.
Call me a sentimental old fool, but there are at least two songs here which, like that latter example, had me in floods of tears each time I listened to them. In a culture driven by reckless immediacy and emotional disposability, it takes a rare talent to come up with something like "She Chose Me", a gentle construction of piano, strings and plaintive French horn, in which Newman portrays a lonely, painfully introverted man undemonstratively exulting in finding a partner late in life. "I'm not much to talk to, and I know how I look; what I know about life comes out of a book," he concedes, "but of all of the people there are in the world, she chose me." It's entirely free of the hysterical, emotionally amplified notion of love-at-first-sight that underpins pop romance, and while the young may struggle to empathise – hey, get over it, grandad! – there's a dignity to its quiet amazement that will strip bare the emotional armour accrued by more mature listeners.
As will the plight of the ageing couple in "Lost Without You", the slowly dying wife reluctantly giving in to their children's request to put her dementia-damaged husband in a care home. It's a deeply moving testament to enduring love, as she tells them, "I was young when we met, and afraid of the world/Now it's he who's afraid, and I'm leaving", and instructing them to hold his hand if he offers it, however much it embarrasses them. Just writing about it I'm tearing up again, so I won't go too deeply into "Wandering Boy", in which a grandad waits vainly for his wayward grandson to meet him: "If you see him, push him towards the light".
Its solo piano setting contrasts with the more elaborate antique arrangements used elsewhere, which give Newman's blend of period music and satire the character of a Californian Weimar cabaret performance, delivered in the lengthening shadow of another populist demagogue. The serio-comic tone of his frivolous depiction of "Putin" is established in the opening line, "Putin puttin' his pants on, one leg at a time", while the weary aria "Brothers", about JFK and Bobby Kennedy cooking up the Bay of Pigs fiasco, is fatally wounded by the shift to salsa for the President's concluding appreciation of Celia Cruz.
This post-modern aspect to Newman's political songs, with them sabotaged by self-awareness, watching their own every move, is most indulged on the eight-minute opener "The Great Debate". Pitching Christians against scientists, it rehearses arguments about evolution, theology and dark matter, with Newman commenting on the song as it proceeds – "nice space music, Georgie!" – before one of the characters actually steps up to denounce the songwriter as a straw man, a device neatly analogising notions of creation, atheism and intelligent design.
Finally, the song metamorphoses into clap-along choral gospel for its "somebody's watching me" finale. Though aptly for an album which so deftly balances comedy and tragedy, cynicism and sentimentality, one's never sure whether it's God, Newman's own characters, or the government that's watching. Or maybe himself.
Black Grape, Pop Voodoo
★★★☆☆
Download: Whiskey, Wine And Ham; String Theory; Pop Voodoo
Two decades on since the limp Stupid Stupid Stupid, producer Martin "Youth" Glover helps restore some of the verve and panache of Black Grape's glorious debut album, as immediately discernible on the funky "Everything You Know Is Wrong", a platform for Shaun Ryder's hardly insightful views on US politics. Though to be honest, he's usually better served by mystery and confusion rather than weary platitudes such as the claim in "Money Burns" that "so will your soul". Happily, the best lyrics here accompany the best grooves, with "Whiskey, Wine And Ham" using a "Funky Drummer" beat, electric piano and woodwind samples to carry baffling observations like "Butchers chasing doctors, followed by helicopters, you're all just obnoxious", while the mystifying babble of "String Theory" is underpinned by a groove in which itchy guitar and bluesy harmonica lines recall the rolling momentum of "Reverend Black Grape". It's not a bad album, but you still get the feeling that, as Ryder notes elsewhere, "someone who looks like me is living in my skin".
The Isley Brothers and Santana, Power Of Peace
★★★☆☆
Download: Gypsy Woman; Total Destruction To Your Mind; I Just Want To Make Love To You; God Bless The Child
While not entirely successful, this high-level summit meeting of two giant talents from half a century ago confirms that neither of the principals' distinctive talents has suffered serious decline. Save for one new song sung by Carlos's wife, drummer Cindy Blackman Santana, the album features retreads of soul covers, with varying degrees of success. Their version of "Higher Ground", for instance, is slower and heavier than Stevie Wonder's original, and lacks its loping swing, but Swamp Dogg's "Total Destruction To Your Mind", swathed in wah-wah licks and stinging lead guitar, proves a great vehicle for Ronald Isley's soulful delivery. Elsewhere, Hendrix's "Foxy Lady" riff is ingeniously grafted onto a steamy cover of Muddy Waters' "I Just Want To Make Love To You", while Santana's elegant solo illuminates an emotional "God Bless The Child". Best of all, though, is their take on Curtis Mayfield's "Gypsy Woman": re-tooled with a sort of unhurried flamenco-reggae groove, it's simply exquisite, and aptly capped with Ronald Isley's most sublimely measured performance.
Enjoy unlimited access to 70 million ad-free songs and podcasts with Amazon Music Sign up now for a 30-day free trial
Sign up
Brian Eno, Here Come The Warm Jets
★★★★☆
Download: Needle In The Camel's Eye; Baby's On Fire; The Paw Paw Negro Blowtorch; On Some Faraway Beach
Upon leaving Roxy Music back in 1973, Brian Eno scored a unique solo deal allowing him to curate the avant-garde label Obscure alongside his own releases. With Obscure not only offering rare opportunities to hear the likes of Michael Nyman and Gavin Bryars, but also giving advance notice, via Discreet Music, of his own ambient ambitions, Eno's "mainstream" debut Here Come The Warm Jets was more playful, containing uniquely zesty, diversely eclectic music, and some of the silliest lyrics committed to vinyl. It's reissued here (along with three subsequent albums) in a half-speed, 45rpm double-album format, well suited to revealing the texture of such intensely dense productions as the euphoric opener "Needles In The Camel's Eye" and ludicrous "The Paw Paw Negro Blowtorch", with its absurdist synth break mocking prog-rock pretentions. "Baby's On Fire", blessed by one of Robert Fripp's most splenetic guitar solos, is another highlight, while the lovely "On Some Faraway Beach" provided early evidence of Eno's genius for emotionally impactful melody.
James Vincent McMorrow, True Care
★★☆☆☆
Download: Thank You; Bears
In emulating the vulnerability of glitch-soul stylists like James Blake and Bon Iver, James Vincent McMorrow has saddled True Care with a perilous fragility. "The atmosphere is paper-thin," he sings in the opener "December 2914", a recollection that casts an apt shadow over the whole album. It's an accretion of intimacies, often in the form of rhetorical questions, delivered in a high, hoarse murmur that quickly becomes tiresome, conveying the impression that McMorrow can barely be bothered to address his concerns. "What is it that I want?" he asks in one song; in another, "How do we go on?" and of the title "True Care", he ponders, "What does that even mean?" Well, if he doesn't know… With a few exceptions – "Glad It's Raining", notably, apes the piano stomp of "Bennie And The Jets" – the songs are mostly set to fashionably ticking beats, ambient pads, synth and piano motifs, with backing singers chipping in to underscore the "soulful" nature of proceedings. But there's nothing here remotely moving.
The Last Dinosaur, The Nothing
★★★★☆
Download: Atoms; Grow; We'll Greet Death
As a teenager, Jamie Cameron (aka The Last Dinosaur) was in a car crash which claimed the life of his best friend, a trauma which he's only managed to address many years later with The Nothing, an extended meditation on life, death and memory (but mainly death). It's a public catharsis which succeeds through a combination of subtlety and the determination to derive general observations from personal experience. These can be as simple as the salvatory power of love in "All My Faith", or as abstract as the anticipation of non-corporeality in "Atoms", as Cameron imagines his dust blown to the wind. The songs are tastefully realised: there are echoes of Sufjan Stevens in "We'll Greet Death", while "Grow" is a Talk Talk-ish assemblage of piano notes, muffled beats and drones, with strings imposing shape. But it's all held together by the wave-like nature of the music, underpinning the songs with a momentum that speaks, albeit gently, of Cameron's acceptance of the ultimate destination.
Ben Lukas Boysen and Sebastian Plano, Everything
★★★☆☆
Download: We're Here; Eisenach; Inside Air
Over the last decade, Robert Raths' label Erased Tapes has developed a sonic profile perfectly in step with the growing taste for quiet, meditative works on the cusp of ambient and chamber music, through releases by the likes of Olafur Arnalds, Nils Frahm and Ben Lukas Boysen. The latter is featured here with Sebastian Plano on the soundtrack to an apparently passive computer game whose distance from the usual whizz-bang shoot-em-ups can be gauged by its inclusion of pronouncements by the late Zen populariser Alan Watts. He's not featured on this 10-track sequence (the full 43-track score is available as a download), but his presence can be felt, lurking in the shadows of these drifting keyboard and violin pieces as they swell and ebb amongst tasteful ambient drones and hisses. The pervasive air of misty European weltschmerz is only briefly dispelled by the occasional shaft of blissful light, but it's a pleasurable, albeit somewhat soporific, experience overall.
Register for free to continue reading
Registration is a free and easy way to support our truly independent journalism
By registering, you will also enjoy limited access to Premium articles, exclusive newsletters, commenting, and virtual events with our leading journalists
Already have an account? sign in
Join our new commenting forum
Join thought-provoking conversations, follow other Independent readers and see their replies