The Independent's journalism is supported by our readers. When you purchase through links on our site, we may earn commission.
Album reviews: Sparks, Neil Young, The National, The Waterboys and more
A glorious and inventive return from the Mael brothers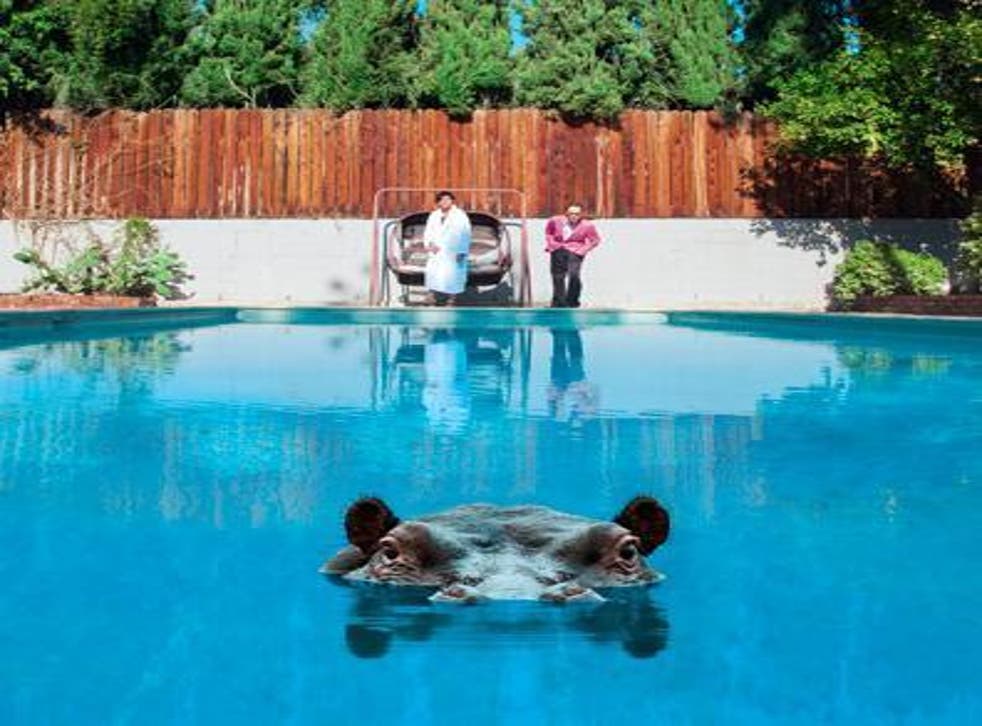 Sparks, Hippopotamus
★★★★★
Download this: Missionary Position; Scandinavian Design; What The Hell Is It This Time?; I Wish You Were Fun; Edith Piaf (Said It Better Than Me); Life With The Macbeths
In a week which saw the loss of Walter Becker, it's perhaps worth being grateful that another droll duo, likewise imaginatively inventive since the early Seventies, is still fully operational – and on this showing, smarter and more satisfying than ever.
Having spent recent years creating their musical radio play The Seduction Of Ingmar Bergman and collaborating with Franz Ferdinand on FFS, Hippopotamus is the first "proper" Sparks album – ie one stuffed with short, literate, witty pop songs – in almost a decade. Never knowingly following the well-trodden path, their attentions are directed here towards such matters as the tedium of funeral orations; envy of a newborn baby's blissful ignorance of insignificant information; vanilla sexual satisfaction; the minimalist purity of Scandinavian design as lifestyle ("Every line, every shape/Sculptural, no escape"); and, in the brief opener "Probably Nothing", the point at which short-term memory loss triggers Alzheimer anxiety.
All human life is here, and some superhuman, too: the brilliant single "What The Hell Is It This Time?" warns about not petitioning the Lord with petty prayers, as he's a bit short-tempered, "and when he gets peeved, it's not to be believed". It's a signature slice of Sparks' surging electropop, chugging along busily to reflect the deity's industrious schedule and irritation with trivialities like heaven-pointing footballers: "His plate is filled with famine, and with clean wholesome air/If Arsenal wins, he really don't care".
Like Randy Newman, the Mael brothers have a knack for voicing the hopes and regrets of diverse, sometimes unsympathetic characters; and the latitude afforded by their operatic arrangements allows them to add commentary in real time, like an instrumental Greek chorus.
In "Edith Piaf (Said It Better Than Me)", the protagonist's rueful musing on a life bereft of risk or remarkability ("a pretty song, but not intended for me", he observes of Piaf's classic) is set to a huge baroque-rock band backing which itself mocks the thwarted desire of its hapless subject. Elsewhere, their Leos Carax-assisted reflection on auteurs, "When You're A French Director", comes with a suitably Gallic oompah-calliope setting; and the deep, booming bass disturbing the guitar and tambourine groove of "Unaware" is like a looming harbinger of awareness, about to ruin the baby's blissful, untroubled wonderment.
It's not all chin-stroking big issues and thought-provoking ruminations, of course. "Life With The Macbeths", on which Russell Mael duets with soprano Rebecca Sjowall, treats Shakespeare's epic tragedy like a reality TV show – "each murder, the ratings soar" – while the quirky title track is a problematic aria in which Russell muses quizzically about the things mysteriously cluttering his swimming pool, including the titular hippo, a Bosch painting, an abacus-toting woman and a hippy in a VW microbus.
One treats high art as nonsense, the other treats nonsense as high art: a perfect description, perhaps, of the cultural dialectic which drives Sparks' protean creativity.
Neil Young, Hitchhiker
★★★★☆
Download this: Pocahontas; Powderfinger; Give Me Strength; Hawaii
Another unearthing from Neil Young's seemingly bottomless archive of unissued albums, Hitchhiker is a 1976 solo acoustic recording mostly comprised of songs that subsequently trickled out on other albums, notably the monumental Rust Never Sleeps.
Enjoy unlimited access to 70 million ad-free songs and podcasts with Amazon Music Sign up now for a 30-day free trial
Sign up
Here, deprived of Crazy Horse and Young's tectonic lead guitar, "Powderfinger" assumes its natural form as an antique folk ballad, while the haunting "Pocahontas", minus overdubs, is likewise more nakedly vulnerable. It's an album of myths and mangled daydreams, from the fatalistic underpinnings of family and duty, respect and regret driving "Captain Kennedy", and the idealistic dream in "Campaigner" of a place where "even Richard Nixon has got soul", to the frail back-to-the-land fantasy of "Hitchhiker" itself.
The two previously unreleased tracks are "Give Me Strength", a moving reflection on despair and petrification, and "Hawaii", where Young's keening delivery of the title evokes the character's yearning to return: but ending almost before it's begun, it seems only half a song.
The National, Sleep Well Beast
★★★☆☆
Download this: The System Only Dreams In Total Darkness; Day I Die; Turtleneck
Sleep Well Beast, like all The National's albums, occupies troubled territory. These are songs about the fleeting impermanence of joy, compared to the lingering bruise of despair, and how hard it is to live in this unfairly weighted emotional space. It's a struggle embodied in Matt Berninger's enervated, murmurous baritone: there's a brooding, anhedonic anxiety to songs like "Walk It Back" and "Day I Die", which taints the prospect of sustained, romantic satisfaction with melancholy musing on mortality.
But the likelihood of break-up is a more persistent worry, as witness lines like "I don't think we'll be getting anywhere anytime soon" and "It's nobody's fault, no guilty party, we just got nothing left to say". Or at least, nothing cheerful. His bandmates skilfully swathe Berninger's gloom in blue tones and cloudy washes, but there are hints of repressed exuberance in the spikily serrated, urgent guitars of "Turtleneck" and "The System Only Dreams In Total Darkness", and in the way Bryan Devendorf's inventive drums seem keen to bustle their way out of "Guilty Party".
[Subscribe to our weekly new music playlist on Spotify]
Alister Spence Trio, Not Everything But Enough
★★★★☆
Download this: Not Everything But Enough; As True; Time And Place; Room 8; Room 13
Given the presence in both trios of double bassist Lloyd Swanton, it's perhaps unsurprising that there should be similarities between the Alister Spence Trio and their Australian colleagues The Necks. Both groups play a form of jazz in which improvisation, repetition and melodic development are kept in subtle suspension; although admittedly, there are moments here when Swanton, pianist Spence and percussionist Toby Hall have a quizzical, exploratory interplay more akin to Keith Jarrett's trio work with Gary Peacock and Jack DeJohnette, as on "Time And Place".
It's absorbing stuff: the 12-minute title-track, for instance, opens like improvised gamelan, all tinklings and scrapes, before piano and bass impose a firmer sense of order a few minutes in, cycling a sequence of pulsing ostinatos in Necks style. The more developed, orderly compositions of the first CD are complemented on disc two by 21 shorter, more speculative "Rooms" exploring the sonic boundaries of the instruments, with keening bowed drones, shimmering cymbals and shakers, and scuttling prepared-piano parts.
The Waterboys, Out Of All This Blue
★★★★☆
Download this: Do We Choose Who We Love; If I Was Your Boyfriend; Kinky's History Lesson; Didn't We Walk On Water
On this double album, the self-proclaimed "one part psychedelic gypsy, three parts blue-eyed refugee" Mike Scott continues the funkier direction taken on 2015's Modern Blues. Muscle Shoals bass legend David Hood is again on hand to crisply pump along the grooves, and Spacebomb Collective's Trey Pollard brings his unique touch to the horn and string arrangements of tracks including the engaging "If I Was Your Boyfriend", an idyllic bohemian daydream on which Scott plays everything else. Scott's "refugee" status is reflected in the album's peripatetic scope, with songs set in Nashville, London, Tokyo and New York – the latter borrowing the Velvets' classic "Sweet Jane" riff – while the overall Detroit/Memphis tone is tempered somewhat on the second CD, where Steve Wickham's fiddle is featured more prominently. Scott's amorous enthusiasm can be a tad gauche at times, but the languidity of his riposte, in "Kinky's History Lesson", to an ill-judged slur on British courage during World War Two, is belied by its razoring impact.
Various Artists, Sounds Of The Unexpected
★★★★★
Download this: Watusi Zombie; Mad Train; Funky Me; Flameout; Waltz In Orbit; Hot Pot
Until her recent passing, Vicki Fox was a versatile cog in the Ace Records machine, handling artwork and compiling several theme-based compilations. This anthology of bizarre instrumentals was her final work for the label, its enthusiastic diversity and effusive character making for an apt tribute. Tribal drums, twangy guitars, spooky organs and synths abound, often in unusual combinations: Jan Davis's "Watusi Zombie" yokes together horror, exotica and rockabilly, while Ray Ellis's "The Sheik" is an unfeasibly ambitious exercise in cod-Arabic go-go harpsichord and horns.
Outre FX are littered throughout, from quirky guitar noises and animal shrieks to the (apparently real) puking sounds heralding The Martinis' Memphis soul groove "Hung Over". But it's the unearthed rarities that delight most, from Sixties space oddities like The 101 Strings' eerie "Flameout" and "Waltz In Orbit" by Ray Cathode (aka The Radiophonic Workshop), to the Tornadoes obscurity "Hot Pot" and the lovely dry, tribal drum-machine workout "Funky Me", the B-side of Timmy Thomas's "Why Can't We Live Together?".
Tori Amos, Native Invader
★★☆☆☆
Download this: Up The Creek; Wings
Tori Amos's 15th album was intended, at least in part, as a response to recent American political upheavals.
But having spent so long exploring the intensely personal, she struggles here to find the right tone for more public matters. "Broken Arrow", for instance, clumsily uses Native American references ("the broken arrow needs healing", etc) to chastise the "rash and reckless" nature of the US government, while "Bang" tries giving voice to a bomb through elemental imagery and first-person structure. Both lack potency and enough melodic appeal to induce empathy.
"Up The Creek" is better: an eco-rallying-cry for a dubious-sounding "militia of the mind" to rise against "climate blind" despoilers, it features some nice, snarling guitar work. Elsewhere though, Amos reverts to type on "Bats" and "Wildwood", the latter a particularly grating slice of aerie-faerie rustic witchy magick nonsense that comes across like something Bat For Lashes decided was too gauche for comfort.
Follow Independent Culture on Facebook for the latest news, reviews, features and video
Register for free to continue reading
Registration is a free and easy way to support our truly independent journalism
By registering, you will also enjoy limited access to Premium articles, exclusive newsletters, commenting, and virtual events with our leading journalists
Already have an account? sign in
Register for free to continue reading
Registration is a free and easy way to support our truly independent journalism
By registering, you will also enjoy limited access to Premium articles, exclusive newsletters, commenting, and virtual events with our leading journalists
Already have an account? sign in
Join our new commenting forum
Join thought-provoking conversations, follow other Independent readers and see their replies