Album reviews: Tyler, The Creator - Flower Boy, Nine Inch Nails - Add Violence, Arcade Fire - Everything Now
Also Alice Cooper - Paranormal, Binker & Moses - Journey To The Mountain Of Forever, and Fairport Convention - Come All Ye: The First Ten Years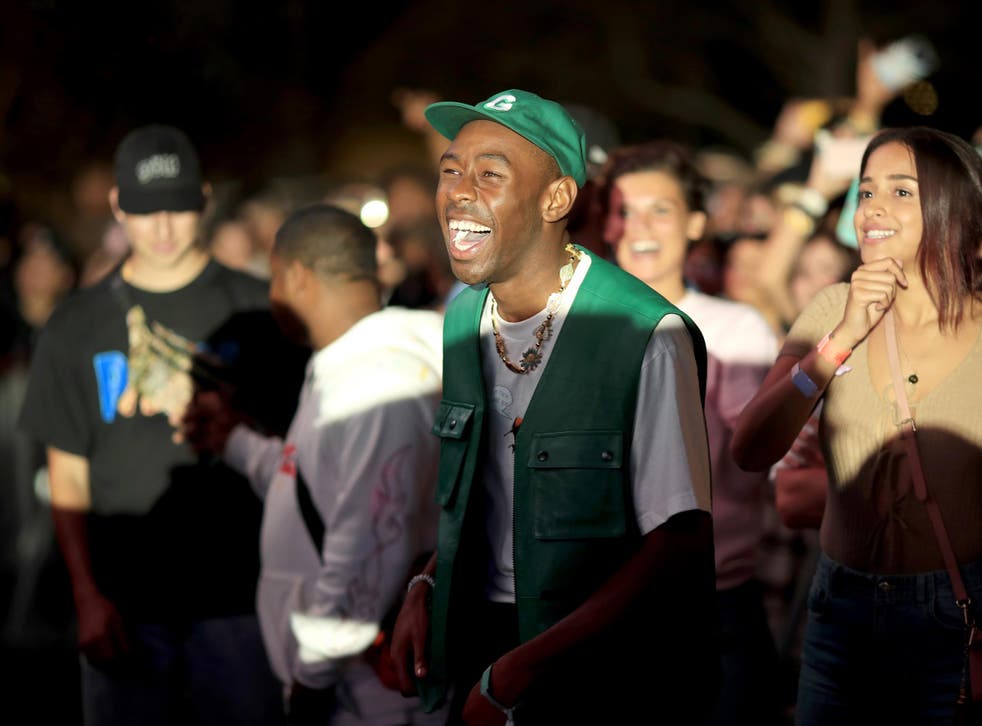 Arcade Fire, Everything Now
★★★★☆
Download: Everything Now; Signs Of Life; Creature Comfort; Infinite Content; Good God Damn
Like animals sniffing the air for information, Arcade Fire have always been keenly alert to the shifting tides and currents of that most unfairly traduced term, the zeitgeist. From the post-millennial dread of Neon Bible to the ruminations on memory and loss of Reflektor, Win Butler appears driven to reflect upon socio-cultural mores that seem to seep, almost hormonally, into his consciousness. With Everything Now, he confronts his most pertinent target so far, the impact of digital technology on culture and character – the way that the more we have, the less satisfied we get.
This is directly addressed in the title-track, which appears three times – first as a faltering, haunted pre-echo, immediately followed by the song proper, and then again at the end as a brief bleed of sad resignation, capped by an elegiac string coda. The multiple versions accentuate its ubiquity, which is exactly what the song is about: cultural overload, and the downside to having immediate access to almost everything. "Every film that you've ever seen/Fills the spaces up in your dreams," he sings, over a cute disco shuffle and perkily engaging piano melody that at some point becomes a communal "la-la-la" singalong hook, easily read as a parody of pop's overweening desire to infiltrate by anthem. By the end, the payoff is more personal: "Every inch of space in my heart/Is filled with something I'll never start" - not just, one suspects, the endless backlog of box sets occupying expanding tranches of one's life, but the creative impulses stifled by consumption saturation.
It's a bold, almost self-defeating start which sets the course of subsequent tracks like "Signs Of Life", where the futility of endless sensation is borne with tragic euphoria on a retro-'70s funk groove with echoes of Curtis Mayfield. It's a lush profusion of synths, strings, horns and percussion, that whisks along blithely, followed by the equally spry dystopia of "Creature Comfort", which hints at the links between unrequited celebrity and self-harm: "God, make me famous/If you can't, just make it painless". Its pulsing electropop buzz is doubtless aided by Daft Punk's Thomas Bangalter, one of a host of producers crowding the control room, along with Pulp's Steve Mackey, Portishead's Geoff Barrow, long-time AF handler Markus Dravs, and the band themselves. The song's linking of disillusion and drastic reaction is paralleled in "Good God Damn", whose predatory guitar riff and wheedling synth soundtracks someone's preparation for a night out: the prospect of searching out thrills seems tempered by the prospect of suicide if simpler thrills aren't enough.
Several other pairs of tracks seem to echo or reflect each other. In "Electric Blue", the android attraction of a world where everyone looks like you finds its complementary notion in the juddering charm of "Peter Pan", featuring a couple who've "grown so close, we're growing apart". The brace of "Infinite Content" and "Infinite_Content" at the album's heart, meanwhile – the first a headlong stomper whose thick mix seems to soak into all available areas of the sonic spectrum, the second a laidback Laurel Canyon-style country-rock drawl – suggests an amorphous ubiquity accessible via all genres of the music spectrum. As the song claims, "with infinite content, we're infinitely content". But it's the air of morbid melancholy an unfulfillment detectable behind the album's mood of bogus cheer that carries its most enduring message, and it's far from contentment.
Alice Cooper, Paranormal
★★★☆☆
Download: Paranormal; Paranoiac Personality; Dynamite Road
Whether it's the energetic apocalyptism of "Fireball", or the snarling exultation in his "Paranoiac Personality", Alice Cooper knows what he does well, and sees no reason, on this evidence, to change. But his dark missives are always spiked with a twist of humour: on "Dynamite Road", the limo full of women he's racing turns out to be driven by the devil; and the "bona fide beauty in an ugly world" celebrated in "Genuine American Girl" is clearly cosmetically-constructed. Humour's there right from the off, when the tentative arpeggios of the title-track are butchered by gory power chords: is Alice's claim that he's so dark his "shadow has night of its own" anything more than a poetic version of Spinal Tap's "none more black"? Musically, you know what to expect when Cooper and producer Bob Ezrin join forces: metal turmoil, churning beats and slashing guitar flourishes, letting up only for Ezrin to indulge his Pink Floyd heritage with the ponderous "The Sound Of A", with its apt message, "Meaningless noise is everybody's toys". Quite.
Tyler, The Creator, Flower Boy
★★★★☆
Download: Foreword; Where This Flower Blooms; Who Dat Boy; Boredom; 911/Mr Lonely
His latest album's alternative title Scum Fuck Flower Boy epitomises the nice'n'nasty dichotomy driving rapper Tyler, The Creator's work. Although, for a man banned by Theresa May from entering Britain because of the misogynist tone of some early lyrics, Flower Boy presents a surprisingly sensitive, thoughtful, even pleasant personality. Revealing reflections on loneliness and ennui rub shoulders with teasing hints about his seemingly equal-opportunity sexuality in tracks like "Garden Shed" and "I Ain't Got Time!", where he describes himself riding around with a boy who looks like River Phoenix, and admits "I been kissing white boys since 2004". Musically, opener "Foreword", built around a sample of Can's "Spoon", sets the tone, with a warm, languid groove that suits Tyler's laidback flow; strings, synth washes, electric piano and occasional tart guitar interjections are subtly sculpted into complex but soothing backdrops which, on "Where This Flower Blooms", resemble a trip-hop version of a Brian Wilson production. As he suggests, this is a new, mature Tyler at work: "I rock, I roll, I bloom, I grow".
Nine Inch Nails, Add Violence EP
★★★☆☆
Download: Less Than; The Lovers; The Background World
Since 2013's Hesitation Marks, Nine Inch Nails have applied themselves instead to EPs, a form in which their brutalised anguish is more palatable: this one, the follow-up to last December's Not The Actual Events, is the central part of a trilogy to be completed within the year. The cycling electropop synths of "Less Than" open proceedings, bursting into distorted guitar-noise on choruses as Reznor fulminates at how "Sirens/Add a little violence/In a film pretending to defend and demand our compliance" – basically, another broadside about control and complicity in the entertainment industry, followed by his fretful murmurs over the calm but itchy bleepscape of "The Lovers". The EP becomes more industrial as it progresses, with vocal hums, instrumental drones and dark ambiences fractured by progressive dissonance and the occasional brutal howl. "Are you sure this is what you want?" enquires Reznor on the 11-minute closer "The Background World": as its plodding, portentous chords become ever more scarified by distortion, until one's left with a wall of noise, it's a moot point.
Binker & Moses, Journey To The Mountain Of Forever
★★★☆☆
Download: The Departure; Valley Of The Ultra Blacks; Gifts From The Vibrations Of Light; Reverse Genesis
Compared to pop and rock, jazz remains a field where constant collaboration and cross-fertilisation sustains the genre's aesthetic health. Saxophonist Binker Golding and drummer Moses Boyd both run several bands of their own as well as working with artists as varied as Steve Williamson, Four Tet, Sampha and Kano, but for this double album, they perform as a duo on the first disc ("The Realm Of Now"), before being joined by other musicians, including free-jazz legend Evan Parker, for the second disc. With Golding's expansive, questing lines riding Boyd's rolling, polyrhythmic funk, the duo set displays a focused musical intimacy, while the band set is immediately more incendiary, thanks to Parker wailing wild over Golding's more rooted part in "Valley Of The Ultra Blacks". Elsewhere, the duo are in more reflective mood accompanied by Tori Handsley's delicate harp and Sarathy Korwar's tabla for a couple of tracks, while "Reverse Genesis" finds Golding and Parker interlacing lines of similar tone and timbre over Boyd's subdued tom-tom rolls and cymbals.
Enjoy unlimited access to 70 million ad-free songs and podcasts with Amazon Music Sign up now for a 30-day free trial
Sign up
Fairport Convention, Come All Ye: The First Ten Years
★★★★★
Download: Nottamun Town; Meet On The Ledge; A Sailor's Life; Who Knows Where The Time Goes?; Come All Ye; Matty Groves
It says much about having roots in the earthy mulch of folk music that Fairport Convention should be one of the few late-'60s bands still operating half a century later, and virtually the only one unsupported by the lucrative appeal of a Stones or a Who. This generous 7CD set covers the band's most innovative and productive period, when they changed from being an English equivalent of Jefferson Airplane, to something more like an English equivalent of The Band, by applying rock dynamics to traditional folk material. The metamorphosis was both brilliant and sudden: in the space of one year, 1969, they released three albums that transformed folk music, including the epochal Unhalfbricking and Liege & Lief. Of course, it helped having two such gifted talents as Sandy Denny and Richard Thompson in their ranks; but by the time both had departed, the band's position, and style, were well established. Bulging with 55 previously unreleased outtakes, Come All Ye is an education, and as entertaining as it gets.
Various Artists, Noise Reduction System
★★★☆☆
Download: Ich Will; NY NY; Tanzen & Singen
Towards the end of the '70s, the can-do attitude of punk combined with the availability of cheap synthesiser technology to produce a wave of young electronic artists keen on pushing the boundaries of pop. The likes of The Human League, Gary Numan and Cabaret Voltaire quickly established the UK's early dominance, but as this 4CD compilation shows, the revolution was happening everywhere across Europe, from Sweden to Slovenia, mostly circulating on homemade cassettes. It's a fascinating journey, presaged by Cluster's 1974 shift from avant-garde to pop with "Caramel", taking in the pulsing minimalism of Monoton's "Tanzen & Singen", the simplistic electropop of Die Gesunden's "Die Gesunden Kommen" and the more sophisticated soundscapes of Yello, Vangelis and Klaus Schulze. Some seemed almost to stumble upon something special, as with the minimal bleeps and murmured travelogue of Truus de Groot's "NY NY"; others, like DAF, had focus and ambition on another level: their lean, sternly propulsive "Ich Will" sounds like a Teutonic adaptation of Suicide's backstreet, flick-knife soul.
Register for free to continue reading
Registration is a free and easy way to support our truly independent journalism
By registering, you will also enjoy limited access to Premium articles, exclusive newsletters, commenting, and virtual events with our leading journalists
Already have an account? sign in
Register for free to continue reading
Registration is a free and easy way to support our truly independent journalism
By registering, you will also enjoy limited access to Premium articles, exclusive newsletters, commenting, and virtual events with our leading journalists
Already have an account? sign in
Join our new commenting forum
Join thought-provoking conversations, follow other Independent readers and see their replies