Arcade Fire Earl's Court gig review: Fan favourites bring out a few surprises to fill the gaps between 'Funeral' classics
Rob Hastings
Sunday 08 June 2014 05:50 Comments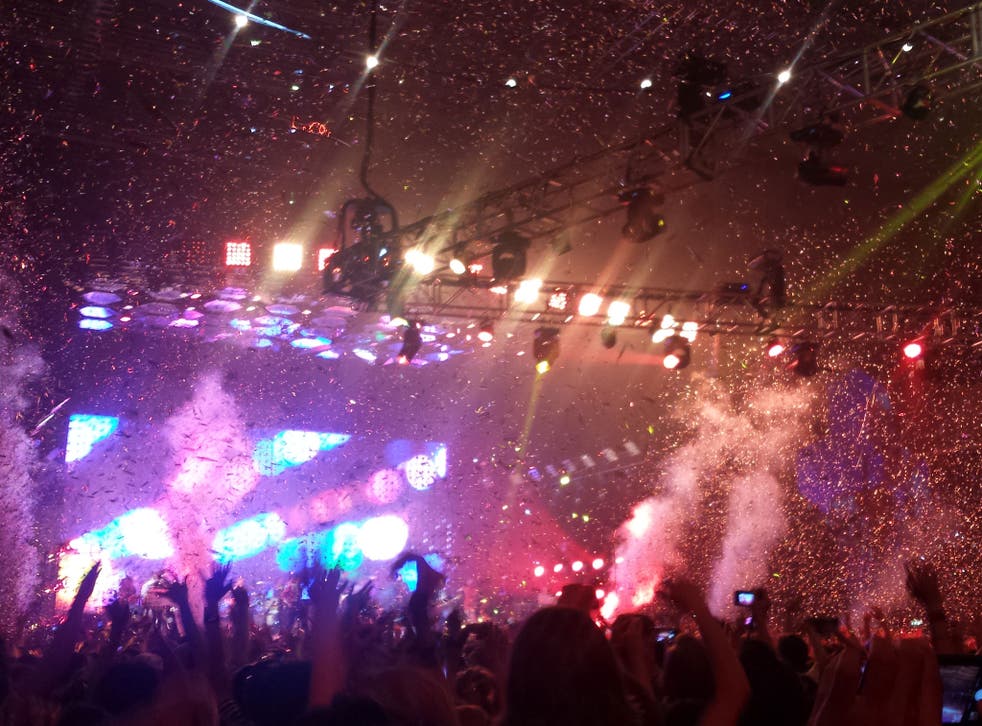 Few gig reviews require spoiler alerts. But then few bands take over a huge arena in style quite like this.
Here, turning a massive building that feels more like an aircraft hangar than a concert venue - a space more suited for hosting zeppelins than rock bands - into one vast sea of outstretched arms above mouths open wide, bellowing another chorus, is some accomplishment. Lead singer Win Butler bemoans the fact Earl's Court is about to be torn down and replaced with "condos", but it's a tough place to play. Arcade Fire know they can't do it simply with big songs beneath big lights if they're to reach out to all of us in a room this... big. They need some surprises too.
Ok, some key aspects of their show are predictable enough. Four albums into their careers, it's still the tracks from their first, Funeral, that make their devotional fans clap and cheer and cry like no others can quite manage. Early on, the now familiar crescendo that forms the cacophonous segue between Power Out and Rebellion hits us - like it always does - with the excitement of hearing that emerging drum beat. And drizzling the setlist with Tunnels, Laika and Haiti too means there's never a long wait for a fan favourite.
Equally, however, when the uninspiring Flashbulb Eyes is aired as their second song of the night - following an ominously bass-heavy rumble from opening track Reflektor - any prediction that Arcade Fire's new songs will prove too cold and difficult to love seems likely to be proved correct.
So what turns the night into a triumph - rather than merely moments of nostalgic euphoria over songs that we first heard ten years ago, interspersed with the need for patience while they play the new stuff?
There's the band's unyielding energy and their musicianship. But what really keeps us on edge is how we're kept guessing. First Ian McCulloch appears for a cover of Echo & The Bunnymen's The Cutter. Then a huge set of lights is lowered from the ceiling high above to within just a few feet of the crowd's heads, to create a disco dancefloor effect that feels perfect for the Michael Jackson-esque groove of We Exist. Then a second stage is raised amid the crowd for dancers and a human disco ball, and then bandmate Régine Chassagne herself suddenly appears up there to sing across the crowd to Win, backed by a bunch of skeletons. We don't know where to look. It keeps us not just engaged with the lesser-loved material, but wowed by it. And then there's the showers of shiny confetti. So, so much sparkly confetti. It just keeps on coming.
Like a hall of mirrors, it's disorientating, but delightfully so. Gigs this size aren't just about the music. This was an experience. And yes, the music was excellent too. After the chants of Wake Up provide a final uproarious celebration, people are literally dancing out of the venue.
Headlining Glastonbury later in June will be a different challenge altogether for Arcade Fire. They'll have just a single stage to play with, fewer props, and the chances of rain soddening their sparkly outfits will be high. But here we saw the showmanship, the ambition and the imagination that they'll need to win over Worthy Farm.
On a final note: in place of McCulloch, might there be a similar role to play at Glastonbury for another of the band's previous collaborators and biggest fans, David Bowie? We can but wish.
Register for free to continue reading
Registration is a free and easy way to support our truly independent journalism
By registering, you will also enjoy limited access to Premium articles, exclusive newsletters, commenting, and virtual events with our leading journalists
Already have an account? sign in
Join our new commenting forum
Join thought-provoking conversations, follow other Independent readers and see their replies