Review: Arcade Fire's 'Everything Now' album feels like staggering through a disco with a dagger in your side
An eclectic album of multifarious joys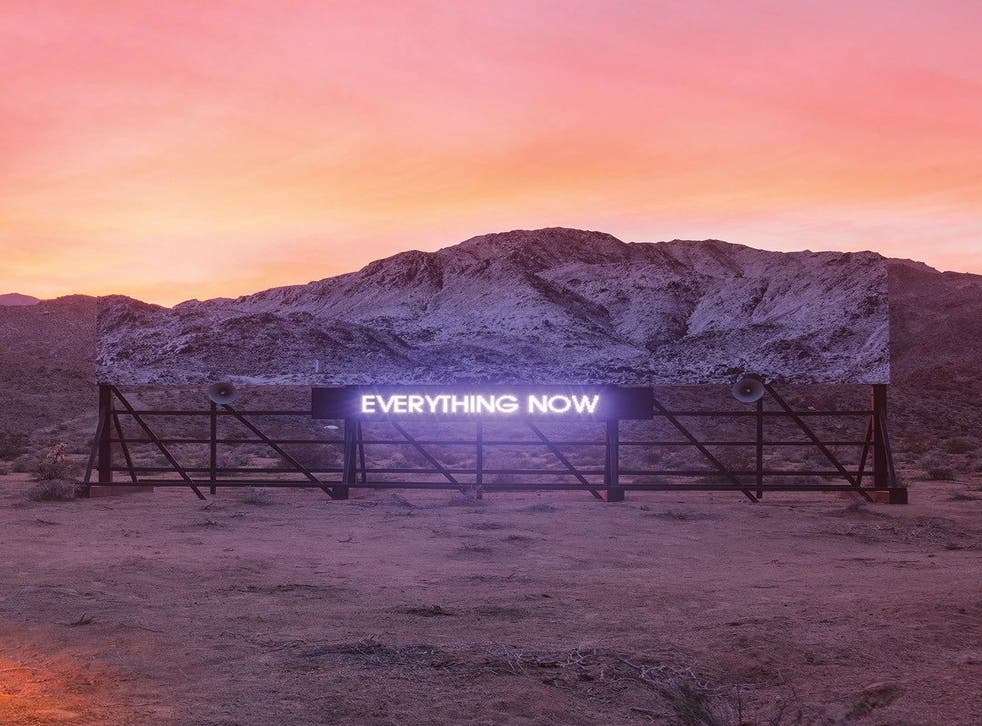 Filing a review of Arcade Fire's new album, one that will be aggregated with myriad others, is really antithetical to the whole point of it, i.e. that we're so overwhelmed with thoughts, feelings, opinions - "content" - in 2017, that the meaning of words is diminishing at a rate of terabytes-per-second. This palpable modern information overload has been niggling at the band for years, but Everything Now is their fullest expression of it yet.
Here's frontman Win Butler on the matter recently:
"There's sort of an everything-nowness to life. I feel like almost every event and everything that happens surrounds you on all sides. Some of it is fake and some of it is real and some of it is trying to sell you something and some of it is profound. Every moment of everything refracts into a thousand different things. It's trying to capture some of the experiences of being alive now in all its flaws and all its glory.
"I remember being in a cafe once and I was overhearing this woman talking about watching The Sopranos and they had just finished watching The Sopranos, like they kind of binge-watched The Sopranos over a weekend. One of them was saying, "Oh, it's so annoying that there's no more Sopranos. I guess I'm gonna have to find something else to watch." This was maybe six years ago–five years ago and it just hit me that this thing that took ten years to make someone watched in a weekend and was annoyed there wasn't more. I was like whoa; I feel like culturally the moment and this kind of era that we've entered into of kind of everything-nowness has positive and negative sides to it but it's definitely a new way of being."
The torrent of content we absorb on a daily basis is a topic ripe for art that has been largely been under-explored in music thus far, but Arcade Fire don't do it in sombre and morbid fashion, Everything Now being their most upbeat, joyful album to date. It's like they've chopped up a bunch of Abba tracks with this album, tenderised them, sprinkled them with glitter and reassembled them into something a little more subtle and insouciant.
'Everything_Now (Continued)' is the opener (one of several tracks given a witheringly file name-esque title), an immediate and alluring blast of bleary synth, with Butler introducing the Everything Now moniker that the band have playfully turned into a sort of pseudo-capitalist conglomerate on Twitter.
'Everything Now' follows, the album's most natural single, a dazzling pop track that's equal parts Gloria Gaynor and Toto and could pass as happy and ecstatic if you managed to ignore the bleak lyrics.
'Signs of Life' continues the disco vibe but shimmies towards funk, a simultaneous obituary and christening for Saturday nights which the band sardonically described as being "either about the futility of seeking meaning in a meaningless world or a celebration of a bangin' night in the club."
The tone starts to shift with 'Creature Comfort', the closest the album wants to come to that classic 'big' Arcade Fire sound, an anthem about not killing yourself with a synth line so fuzzy it feels about 15 feet thick. "God, make me famous," Butler pines, "If you can't, just make it painless." Its maniacally euphoric and yet wounded feel typifies the album, bringing to mind someone straining to dance their way through a disco, no-one noticing the dagger sticking out of them and the trail of blood on the dancefloor behind them.
'Chemistry' is one of the album's finest gems, its opening sounding like a street parade and its chorus introducing a guttural guitar riff reminiscent of No Doubt. 'Infinite Content' is the album's most succinct (though not exactly subtle) examination of its central theme - intentionally in your face and kind of punk, embodying the feeling of opening a browser window to hundreds of tabs as Butler shouts: "Infinite content! Infinite content! We're infinitely content!"
Enjoy unlimited access to 70 million ad-free songs and podcasts with Amazon Music Sign up now for a 30-day free trial
Sign up
A straight up reprise follows, 'Infinite_Content', but in a folk style - perhaps alluding to the millions of cover versions of songs that litter the internet - and evoking a sense of digital mania.
'Electric Blue' is creeping up on 'Creature Comfort' as my favourite song on the LP, revolving around a shimmering synth and vocal that sounds like it circles so high in the atmosphere it's brushing frost of itself. Combined with wistful lyrics, it embodies the almost dream-like quality of the grief that comes post-break-up. This is a Régine Chassagne-centric track, which is always welcome and she proves time and time again to just be the perfect foil to husband Butler's lead vocal.
Track 11, 'Put Your Money on Me', is the album's grower, seeing a simple, tender vocal balancing on a pulsing bass line, while the bowing, discordant 'We Don't Deserve Love' straight up sounds like sunrise on a far away planet.
'Everything Now (continued)' mercifully provides us with more of the album's moreish opening melody, the vocal line from 'Everything Now' being worked in as a string part. It's a self-referential finish that ends the album where it begins, demanding a repeat listen and speaking to that recyclable nature of content it's been obsessed with throughout.
Arcade Fire's fifth studio album doesn't have the sprawling nature of The Suburbs or Reflektor nor the cacophonic intensity of Funeral, but the sequin-festooned, disco-ish Everything Now is every bit as good as these albums in its own right. Departures in sound are often unwelcome when we're already so happy with where a beloved band are, but, in this case, their experiments are a complete success.
Join our new commenting forum
Join thought-provoking conversations, follow other Independent readers and see their replies