Arcade Fire, Castlefield Bowl, gig review: Triumphant concert leaves more than a few people misty-eyed
'Truly something to behold'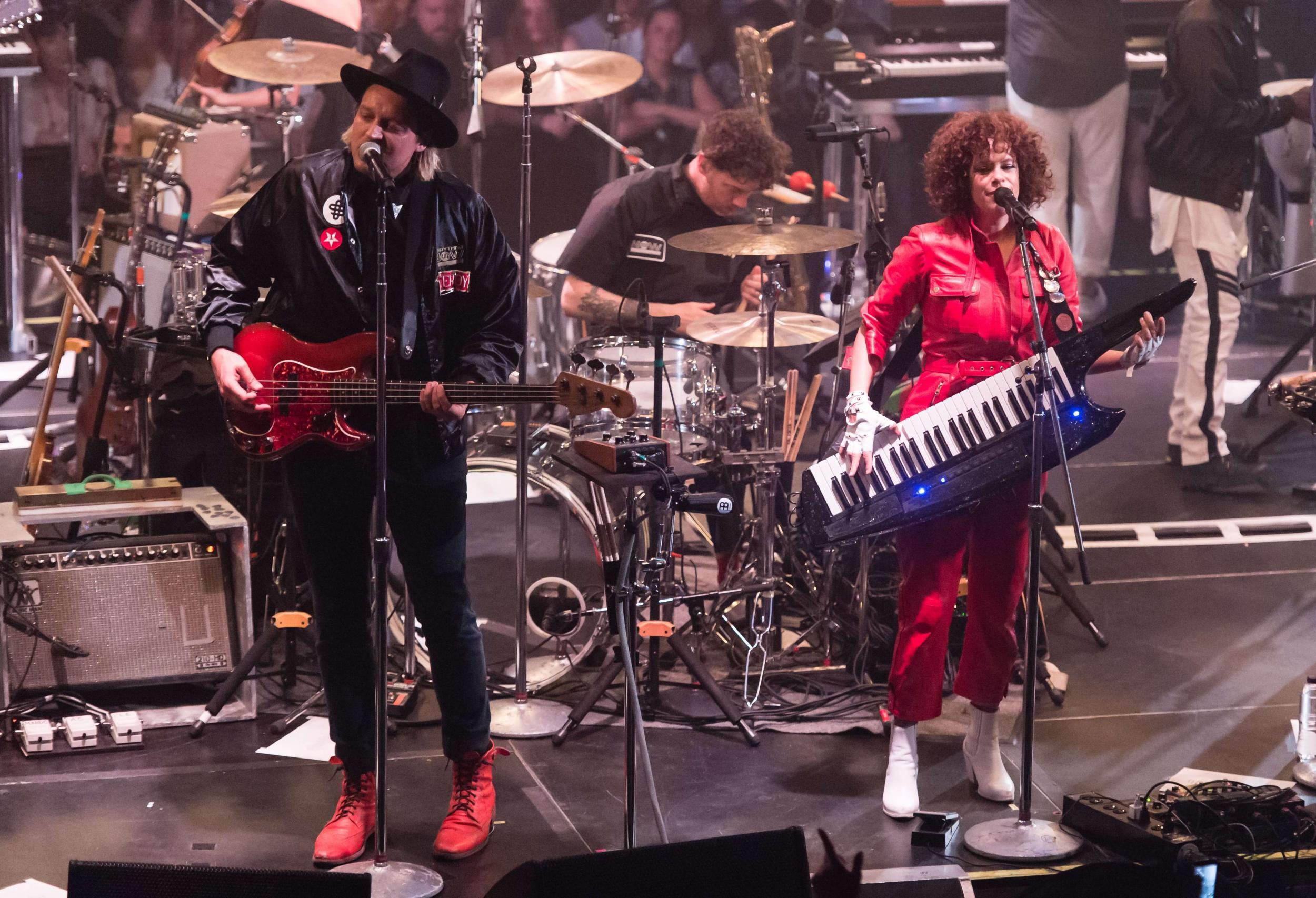 "That is the best we've ever played that song" beams Arcade Fire frontman Win Butler at the conclusion of the calypso funk of "Here Comes the Night Time", smile visible from every vantage point in tonight's makeshift inner city venue. The Grammy-winning Montreal collective have often made being in the world's biggest indie-rock band look like terribly hard work, but having loosened up as much as their sound in recent years, it seems the joy is being felt onstage as well as off it.
And what joy. Their stirring shows, from basement clubs to the top of festival bills, are often more akin to a spiritual experience than mere pop gig. Tonight was one of those nights.
The ungainly Butler and wife Régine Chassagne lead a nine-strong troupe of multi-instrumentalists who at various points swap roles, climb monitors, edge into the crowd and even wander offstage (several times Butler's brother Will plays behind a screen, his outline a silhouette). It looks like chaos about to collapse in on itself. It is utterly electrifying.
Their early anthemic indie rock remains a touchstone, but it's still startling to see the juxtaposition between the themes Arcade Fire delve - outsiderdom, adolescence, suburban struggle, the fear of a dystopian society - and the inclusivity of the songs. Sometimes it stops you in your tracks: it is truly subversive to get 8,000 people to bellow "working for the church while your family dies" at the top of their lungs, as happens during 2007's "Intervention".
But then that's the visceral instinct Arcade Fire stir. This is serious music, played with adrenalin shot intensity by a would-be rabble of eccentrics. It is truly something to behold. Songs like early single "No Cars Go" sweep you up; simple wordless refrains, the oldest trick in the pop manual, sound so euphoric as if to make you feel 10ft tall when deployed on "Tunnels" and "Wake Up", the highlights from 2004's unimpeachable debut Funeral.
New songs from forthcoming fifth album Everything Now show their songwriting chops remain intact. Continuing on from the James Murphy-produced, dance-inflected sound of 2013's Reflektor, opener "Everything Now" - the sound of Abba reimagining "Can't Take My Eyes Off You" - forgoes their usual bombast for a lighter touch. "Creature Comforts" might have a slightly queasy lyric about their own music saving somebody from suicide, but tonight it grooves like LCD Soundsystem jamming with Trent Reznor.
Having grown into their festival headliner status, Arcade Fire retain an acute sense of occasion: Butler couldn't be more effusive towards Manchester if he was directly quoting Tony Wilson. He praises the crowd for "not being scared" in the face of the recent terror attack. By way of appreciation, they slip a snippet of New Order's "Temptation" into the already New Order-y "Afterlife" before closing with a beautifully slight take on Joy Division's "Love Will Tear Us Apart", letting the synth line drift airlessly into the night. Coming after the emotional wallop of the main set, it left more than a few people misty-eyed.

Join our commenting forum
Join thought-provoking conversations, follow other Independent readers and see their replies