Aziza Brahim, Union Chapel, gig review: 'A textured and commanding voice of the Saharawi people'
Pain and hope intertwine in music which reflects the life of a refugee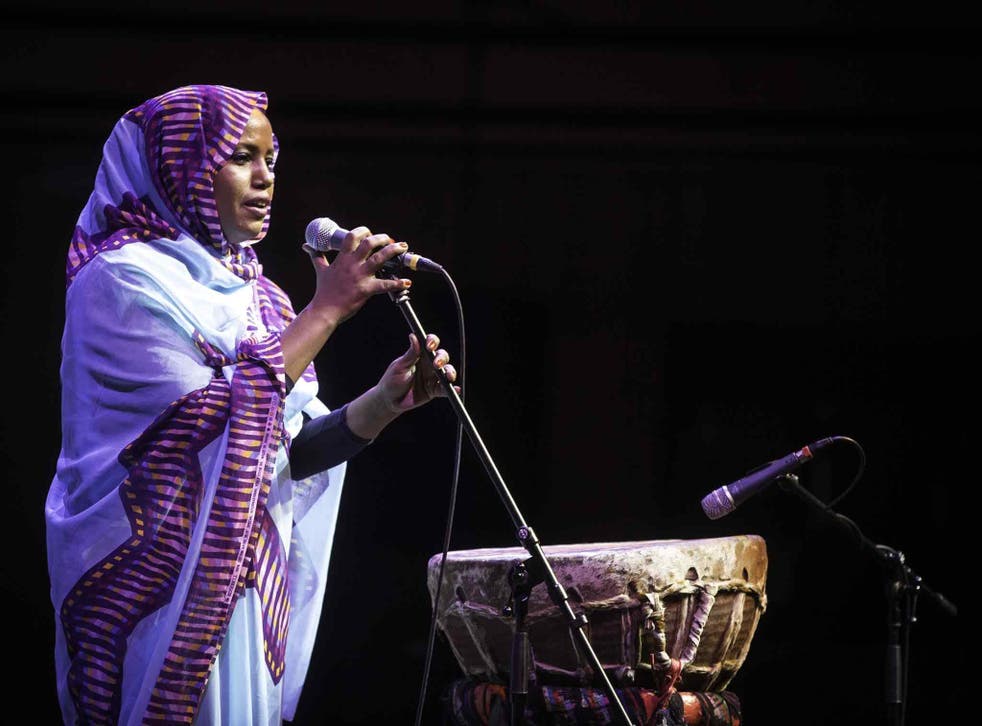 It's no small thing to be deemed the voice of a people, but it's something which happens to Aziza Brahim all the time.
In the mid-Seventies, her pregnant mother fled the Moroccan occupation of Western Sahara alongside tens of thousands of Saharawi people, ultimately settling in a refugee camp in the Tindouf region of Algeria. It was here that Brahim was born.
At 11-years-old, she travelled to study in Cuba on a scholarship, returning to the camps a decade later. She then rose to prominence in the West African music scene, before moving to Europe to tour with a number of other musicians, eventually emerging as a solo voice in the late Noughties.
Such a varied upbringing, both geographically and culturally, naturally informs Brahim's musical outlook today. She still takes much from her roots – the repetitive, hooky grooves which define the guitar rock of West Africa are certainly there, but without that angular rigidity. Instead, there's a Latin fluidity which sculpts those edges into something distinctively beautiful. It's expertly translated into the live setting and then enhanced by Brahim and her backing band. On "Baraka", a song from the acclaimed album Abbar el Hamada, released last March, the percussive element – comprising a drum kit as well as instruments from Senegal and Mali – is arresting, but tempered by the acoustic guitar.
And then there's that voice. It's so commanding and textured that often Brahim's one voice almost seems choral as it floats and echoes around this North London chapel. It is at times haunting, like during an intro to "Lagi", in which we go back and forth between her voice and a wandering guitar, and at others it is tranquil. Her lyrics speak for the displaced Saharawi people, often lamenting the 1,700-mile, minefield-laden wall which prevents them travelling back into their homeland, but also offering words of hope – on the celebratory groove of "Calles de Dajla", she imagines liberation in the Western Saharan city of Dajla. Of course, it's all sung in a mix of Hassaniya Arabic and Spanish, so you'd expect the majority of those in attendance can't understand precisely what she's saying, but Brahim's emotion is so viscerally obvious here that her sentiment isn't lost. And so it doesn't seem undue to say that Brahim is the voice of the Saharawi people, especially in this part of the world – the intertwining of hurt and searching optimism which run throughout tonight's performance poignantly define the life of a refugee.
Register for free to continue reading
Registration is a free and easy way to support our truly independent journalism
By registering, you will also enjoy limited access to Premium articles, exclusive newsletters, commenting, and virtual events with our leading journalists
Already have an account? sign in
Register for free to continue reading
Registration is a free and easy way to support our truly independent journalism
By registering, you will also enjoy limited access to Premium articles, exclusive newsletters, commenting, and virtual events with our leading journalists
Already have an account? sign in
Join our new commenting forum
Join thought-provoking conversations, follow other Independent readers and see their replies