Peter Doherty at the Bataclan, Paris: Libertines frontman brings life back to a venue still scarred by the Paris attacks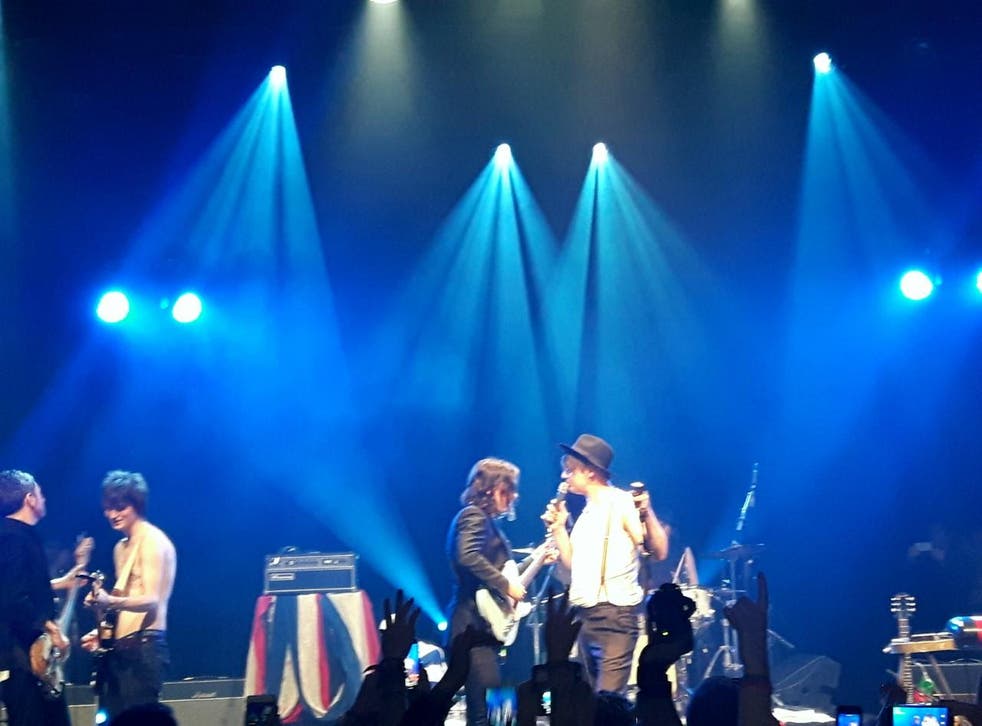 I didn't think I'd be crying quite so soon into this performance.
But Peter Doherty conducting a roaring, defiant rendition of 'La Marseillaise' in the Bataclan, barely a year after the Paris attacks, will do that to a person.
Not unexpectedly, the crowd - mostly Parisians and just a couple of English voices - are jittery before the main event. There are mutters from a couple about whether they should stay; another group in front of them jumps as a crew member does soundcheck on the drums. Everyone is all-too aware of what took place in this hall.
Opening the night is Swansea's finest, the sickeningly talented Jack Jones (of Trampolene and recently appointed Pete Doherty guitarist), who has Nick Alexander's name written on his chest.
Jones performs a set of his poetry and Trampolene songs - the line 'silence is the darkest sound' feels particularly poignant tonight; it's exactly what everyone is here to fight against.
When it was announced that Sting, not Doherty, would be performing the first show at the Bataclan since the attack, there was some confusion at the last-minute switch up. Doherty felt like the perfect choice: his bands' history, that rebellious, defiant streak, and their music. Sting may have been the first to perform there, however, but Doherty brought back the Bataclan's spirit.
On 'You're My Waterloo', of course Carl Barat appears onstage to perform his guitar solo, and the energy in the room, the camaraderie, is a joyous thing to witness. Audience members try out some good-natured moshing on 'Time For Heroes', and a couple even get some decent crowd surfing in on 'Up The Bracket'.
Doherty is a good guitar player but he's a better frontman when he leaves it to Jones and Barat. Stumbling around the stage, knocking his mic stand over again and again, he makes a few disastrous attempts to speak to his audience in French, but it only seems to endear him more to his most loyal fans.
He throws his guitar into the crowd. Then a harmonica. A tambourine. Then a mic stand. A long-suffering crew member retrieves one piece of kit after another.
As the opening riff grinds out on Babyshamble's 'Fuck Forever' the roars grow louder as the band close to a rousing, crashing finish. Despite the strict curfew people linger a moment, staring around the venue as the lights turn back on, looking strangers in the eye as if to say, 'we did it, we're here, they haven't won'.
Join our new commenting forum
Join thought-provoking conversations, follow other Independent readers and see their replies