Beyoncé, Lemonade review: Fiery, insurgent, fiercely proud, sprawling and sharply focused
Sometimes it feels like Beyoncé is determined to pick up the mantles of both Prince and Nina Simone.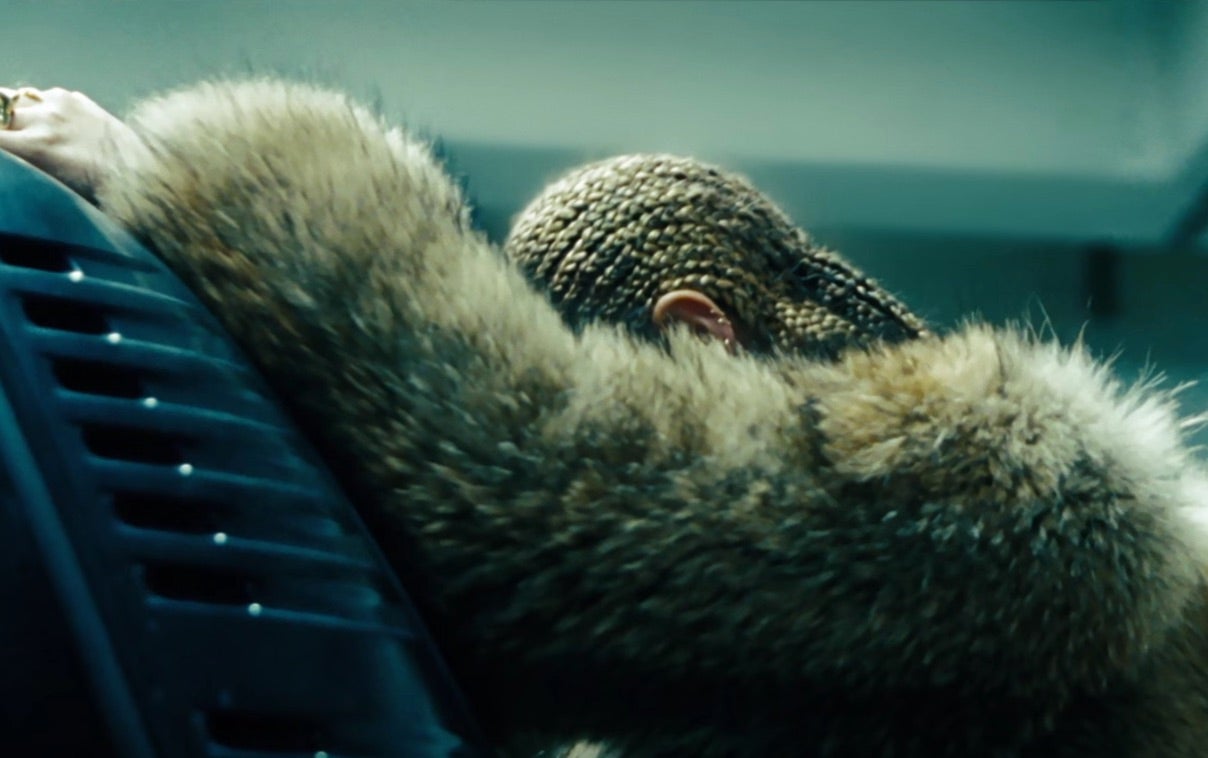 If life gives you lemons, make lemonade.
"You can taste the dishonesty, it's all over your breath," croons Beyoncé beautifully at the start of Pray You Catch Me on her sixth album Lemonade. The music is stately, intense and secret – there is just the occasional throb of bass and softened beat to accentuate her message. With other lyrics, this could be a love song.
This is not a love song. This is Queen Bey. You do not cheat on Queen Bey, or if you do you'd better hide because you can rest assured of one thing. She will come for you. Lemonade bristles with fury, revenge fantasies, political dissatisfaction, inward-turned questions and noise, but even so it is a break-up album. At least, it certainly takes on every appearance of being one. It is far more (Marvin Gaye's infamous divorce settlement album) There, My Dear than (Coldplay's sorrowful post-Gwyneth record) Ghost Stories, though.
"Looking at my watch, he shoulda been home," she spits on Sorry. "Today I regret the night I put that ring on. He always got them fucking excuses." "Hold up," she sings on the woozily catchy Hold Up as klaxons blare in the background, "they don't love you like I love you. Slow down, they don't love you like I love you." "Such a shame you let this good love go to waste," she comments shortly afterwards, almost to herself.
Since Beyoncé released Lemonade, the Internet has been awash with rumours about a marital rift between her and Jay-Z. Certainly, the album suggests as much. Every other lyric appears to be a bitter recrimination, no quarter taken. This, despite the presence of Formation, a song that once again realigned preconceptions about Beyoncé's focus with its scintillating #blacklivesmatter performance at the Superbowl. This, despite the presence of Kendrick Lamar on the psychedelic and often bewildering soul churner Freedom – a song that roars like thunder, and threatens to topple governments in its wake.
Every cameo in Beyoncé's Lemonade
Show all 16
Lemonade is fiery, insurgent, fiercely proud, sprawling and sharply focused in its dissatisfaction. Its dissatisfaction includes her husband's alleged infidelities (one should remember that music is a representation of reality, not reality itself) and also perceived sexism. From the sound of Freedom and the closing so-is-everything-all-right-after-all? song All Night, Beyoncé is still fully in control of whatever happens around her. However the world dissolves around her, she is continuing her steps towards fully-fledged feminist and activist. Maybe it helps her sell records? Who cares when it results in music this tumultuous and inspirational?
"They say true love is the great weapon/To end the war caused by pain," she sings on All Night, supported by a gospel chorus, as upbeat instrumentation add affirmation. Perhaps this is all another pretend heartbreak love story? Possibly, but it sounds unlikely. And if so, it is in stark contrast to the driven sexualised extolling of the virtues of monogamy on her previous album.
The personal cannot help but overshadow the political when dealt with so forcefully. On the film released on HBO to coincide with this album, Beyoncé does not pull her punches: throwing away her wedding ring, wielding a baseball bat with venom, committing suicide, dripping water, destroying cars… all of this is nothing next to the venom exhibited in the music, and songs.
"So what are you going to say at my funeral now that you've killed me?" she asks. "Here lies the body of the love of my life whose heart I broke without a gun to my head. Here lies the mother of my children both living and dead. Rest in peace, my true love, who I took for granted."
The culmination of the spooked Pray You Catch Me and Hurt Me, Don't Hurt Yourself features licks from rock stalwart Jack White. The distortion and fury, and occasional breaks of restraint from White work, brutally and wonderfully.
Elsewhere, Daddy Lessons mixes New Orleans jazz with a country beat for reasons best known to itself, and swings like Boris Johnston hanging from a telegraph wire. Sandcastles, meanwhile, sounds like another Coldplay-collaboration-in-waiting (fortunately bereft of Coldplay), not bad as such – actually, really good. It feels a little obligatory, like every Beyoncé album has to contain one or two torch ballads (the other is Forward, featuring James Blake). Her voice though, in its rawness of emotion and tear duct-filling emotion, pushes at the boundaries of what is considered acceptable. Likewise, 6 Inch where her voice starts to crack and falter, sounding oddly vulnerable.
In a week where we have has to come to terms with the loss of one more explosive and unpredictable and talented and genius pop star, it is so reassuring to know that Beyoncé is still among us – and from the sounds of this – has still yet to reach her peak. Both Prince and Nina Simone (whose voice also features here) passed away on April 21. Sometimes it feels like Beyoncé is determined to pick up the mantles of both.
Download this: Freedom, Formation, Pray You Catch Me, Hurt Me
Join our commenting forum
Join thought-provoking conversations, follow other Independent readers and see their replies