Billie Eilish review, Glastonbury: Idiosyncrasy is the cornerstone of her appeal during a charismatic set
Backed by her brother (the album's co-writer) on keyboard, Eilish's dark, ironic charisma that permeates the album translates well live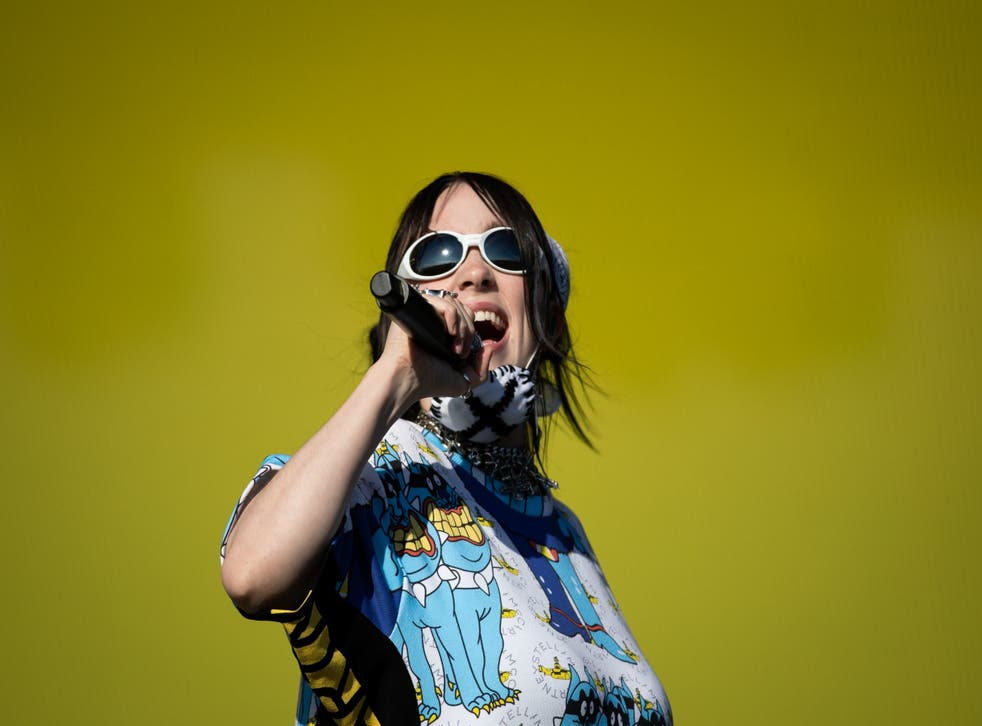 When Billie Eilish performed at Shepherd's Bush earlier this year, her teenage fans queued for hours and hours outside, lines snaking round the block. Eilish has the kind of fame whispered about in hushed tones by adults – how can this Californian 17-year-old, whose career spans a total of three-and-a-half years and one album, have such an enormous following (she has more than 28 million followers on Instagram) and inspire such devotion in her fans? Who is this Billie Eilish, in her absurd, oversized, clashing outfits, with her masculine, grungy swagger?
Today, the crowd at her ‪7pm‬ slot on the Other stage (respectably high billing for such a new artist) seems to span the ages, from tiny children to those old enough to be their grandparents and a concentrated core of teens at the front. "Damn, there's a lot of you," Eilish says in her LA drawl. "Ooh!"
Stepping on stage to the strains of literal crickets, dressed in an enormous, matching cartooned T-shirt and shorts combo, a bandana and a surgical mask, she opens with a hat-trick of her new album's most electric tracks. "Bad Guy", (which reached No 2 in the UK chart), a menacing, rumbling track that flips the script on sexual power dynamics gets an immediate frantic reaction from the crowd. "My Strange Addiction" samples The Office US – hardcore fans chanted every line along with the track. She swaggers through "You Should See Me in a Crown", a growling, ‪Lorde‬-inspired boast.
Best pictures from Glastonbury 2019

Show all 83
With her brother (the albums co-writer) on keyboard, Eilish's dark, ironic charisma that permeates the album translates well live – she is almost absurdly comfortable on stage, whether running its full length or sat cross-legged on the floor, casually shrugging along to frazzled beats. "If you absolutely despise yourself, this song is for you," she says, introducing "idontwannabeyouanymore". Worryingly, half the crowd seems to know every lyric by heart. During its emotional opposite, the arrogant "COPYCAT" (which has become infamous at her gigs for sparking crazed mosh pits), the audience gamely sinks to the floor – jumping up as she yells "PSYCH, BITCH".
There's a split in audience reactions – some are ecstatic and overwhelmed to be in Eilish's presence, others seem a step removed, looking at her with a dissecting gaze, as if this bright, big-eyed anomaly is an exotic insect in a glass tank.
The latter half might have been left baffled by of two consecutive near-ballads: Eilish's crooning and air-drumming on "Wish You Were Gay" drips in so many layers of irony that it could only be produced by a member of hyper-sardonic meme-making Gen Z. While "Xanny", a dark and introspective song about her peers' drug habits that somehow still manages to be sexy, is a triumph in my eyes, someone behind me loudly says, "I don't get it".
But Eilish's idiosyncrasy is the cornerstone of her appeal, and there's little to complain about in this eccentric, assured set.
Join our new commenting forum
Join thought-provoking conversations, follow other Independent readers and see their replies