Billy Joel, Wembley Stadium, gig review: 'Energy and passion for performing still as obvious as it was 20 years ago'
The Grammy Award winner finally made his Wembley Stadium debut
Vishal Rana
Monday 12 September 2016 13:39 Comments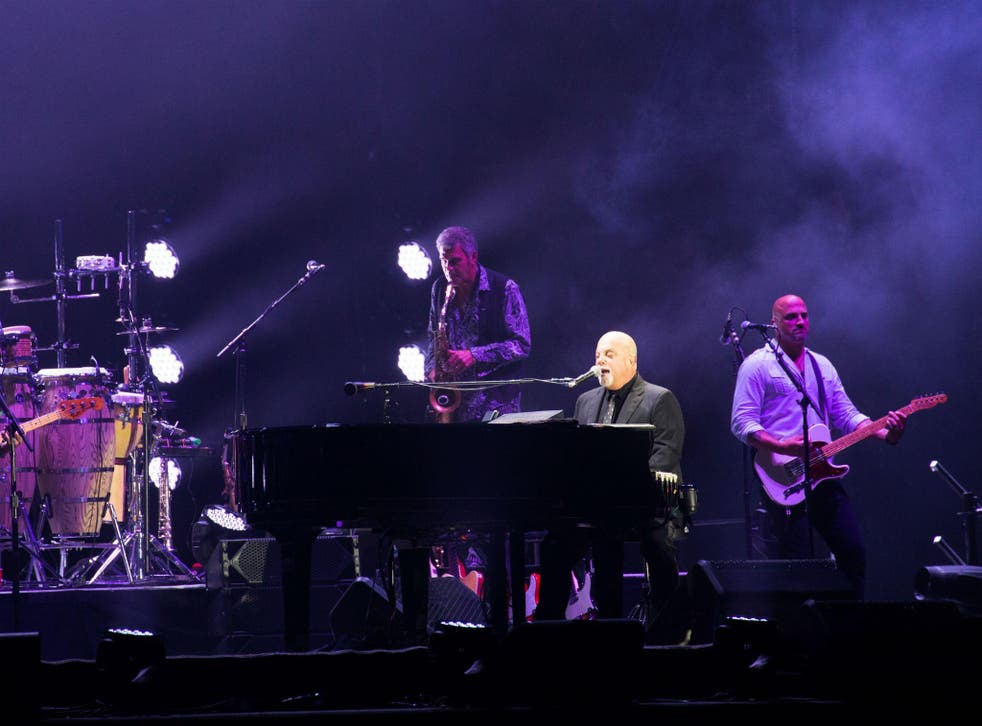 Six-time Grammy Award winner Billy Joel finally made his Wembley Stadium debut last weekend, bringing his piano rock sound to this side of the Atlantic for the first time in three years and still commanding the following that served him so well in the Seventies, Eighties and Nineties. It's difficult to imagine that he is 67 years old – his energy and passion for performing at this level is still as obvious as it was 20 years ago.
Anticipation had been building ever since the one-off UK show date was announced last December; articles about how to get tickets began popping up shortly after, paying testament to his credentials and dedicated fan base. The stadium was full come 7.30pm, with the masses excited for the scheduled 8pm start. Ever the professional, Joel made it on stage on time, unlike most of the big names that command the charts today. The music icon hasn't released a studio album since 2001's Fantasies & Delusions, yet a back catalogue, including the likes of "We Didn't Start The Fire" and of course "Piano Man", "Vienna" and "Keeping the Faith", meant that there was plenty to fill the two-and-a-half-hour slot.
After opening with "Miami 2017" and "Angry Young Man", before pausing to acknowledge the spectacle that is Wembley Stadium, stating his first gig in the UK was in front of 50 people at the Drury Lane Theatre and now he's in this "freaking stadium" to a huge cheer from the crowd.
Now that he'd built a dialogue with the audience, a choice between two songs was offered with "Just The Way You Are" drawing louder decibels than "The Stranger". This method of song choice carried on throughout the evening allowing the audience to feel involved and invested in how the evening would pan out.
What can't go amiss here is that Joel's voice is still record-quality perfect – not a note was missed, not a note was forced. It was effortless and easy, and proved just why he is celebrated as much as he is.
The Rock and Roll Hall of Famer continued going through his archive performing hit after hit, with the likes of "The Entertainer", "Zanizibar" and "Vienna" coming up next, spliced in with a version of "My Life" mixed with "Rule Britannia", something that went down extremely well at Wembley Stadium, home of the national football team.
The New York native continued in this vein, performing songs from his own repertoire including "The Longest Time" and "New York State of Mind" alongside a number of covers, with AC/DC's "Highway to Hell" followed by "With a Little Help From My Friends" by The Beatles – it was at this point he spoke about just how much Britain has given to the music world, again, to an inevitable round of rapturous applause.
The crowd, quintessentially British and somewhat quiet at first, was starting to liven up now, standing, clapping and dancing, particularly when karaoke classic "We Didn't Start The Fire" filled the stadium. This was followed by the "impossible not to sway along to", "She's Always a Woman", which was accompanied by a sea of light as the audience waved lit up phones in unison. "Keeping the Faith" and a "River of Dreams"/"Hard Days Night" medley followed before Joel invited guitarist Mike DelGuidice to join him for a pitch-perfect rendition of Giacomo Puccini's "Nessun Dorma" to the surprise and delight of the Wembley crowd.
Joel, coming to the end of a packed two-and-a-half hour set, gave the crowd what they wanted with a rendition of "Piano Man" before closing the night, saying his thanks and bidding a farewell to the sell-out crowd before the inevitable, but still loved, encore.
Enjoy unlimited access to 70 million ad-free songs and podcasts with Amazon Music Sign up now for a 30-day free trial
Sign up
The Piano Man came back to the stage with an encore consisting of "Uptown Girl", "It's Still Rock and Roll to Me" and "Only the Good Die Young" before closing with "You May Be Right" as the thousands of Billy Joel fans exited Wembley Stadium, satisfied that they'd seen a gig that will certainly live long in the memory.
Register for free to continue reading
Registration is a free and easy way to support our truly independent journalism
By registering, you will also enjoy limited access to Premium articles, exclusive newsletters, commenting, and virtual events with our leading journalists
Already have an account? sign in
Join our new commenting forum
Join thought-provoking conversations, follow other Independent readers and see their replies