Blur, Maida Vale Studio, London Charlotte Church, Green Door Store, Brighton
If now's the time to assess Blur's place in the grand scheme, this was a reminder that they were always streets ahead of the monobrows
Simon Price
Saturday 04 August 2012 19:53 Comments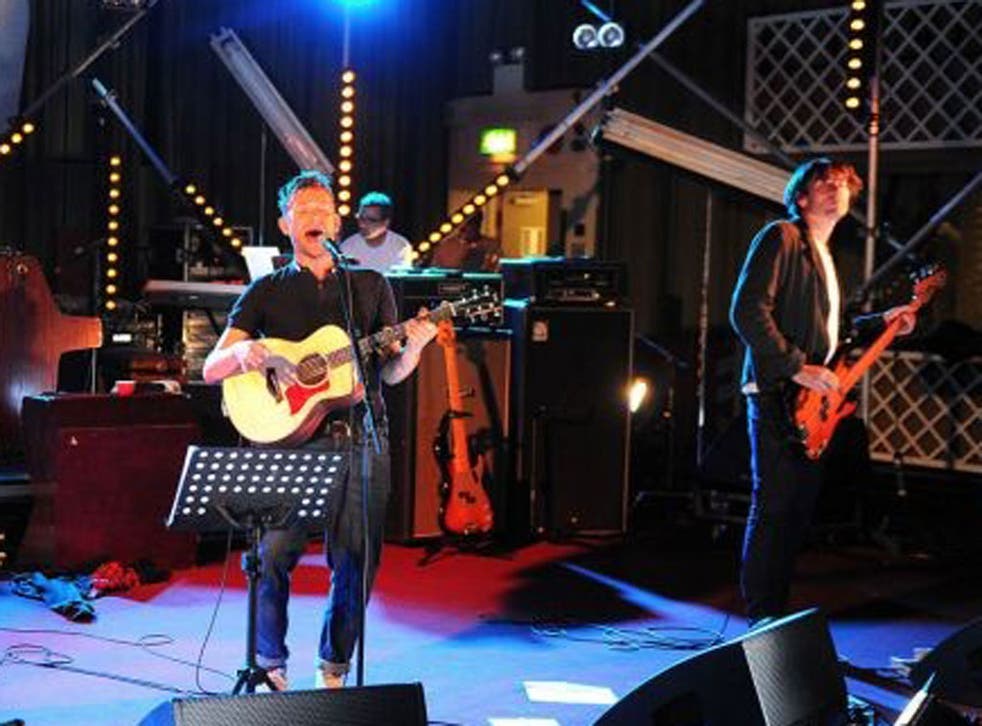 And it looks as if we might have made it to the end. As Blur prepare for their Olympic-closing Best of British blowout at Hyde Park, rumoured to be their farewell, with a few low-key warm-ups – a secret show in Margate, a last-minute one at the 100 Club, and this, an invitation-only Radio 2 and 6Music session at Maida Vale – it's a time for assessing their place in the grand scheme.
It's rare that you can pinpoint the moment a band hit rock bottom, but I was there when it happened to Blur. At Brixton Academy, April 1992, propping up the bill at the Rollercoaster indie mega-tour, I witnessed a drunk Damon Albarn with his trousers round his ankles, fronting a band of erstwhile baggy bandwagon-jumpers, one foot already in history's dustbin and no clue where to plant the other.
What happened next was one of pop's great reinventions. Blur weren't the first Nineties band to realise tapping into Britain's pop cultural history was a path forward, but when they began dressing like it was 1981 and sounding like it was 1965, a game-changing renaissance was under way.
They barely look any different tonight, in their hooped T-shirts and Fred Perrys. But enough has changed in the interim for it to be understandable that Blur aren't contemplating a future as a band. Apart from anything else, with drummer Dave Rowntree standing as a Labour councillor and cheesemongering bassist Alex James buddying up to the Chipping Norton set, the arguments on the bus don't bear thinking about.
The value in actually attending a show like this, streamed live and archived on the iPlayer, is all about the peripherals. Like walking past a sunburnt Graham Coxon taking a breather on Delaware Road. Or spotting a flight case labelled "Dave's Fetish Gear". Or the sweet glance between Damon and Alex at the start of "Out of Time", that unexpectedly gorgeous single from their early Noughties death throes, while Graham, who didn't play on it, looks on.
It's an evening of firsts and almost-firsts: 1999 track "Caramel" gets its live premiere, 1991 B-side "Mr Briggs" its first play since 1992, and a third outing for "Young & Lovely", written in 1993 but omitted from Modern Life Is Rubbish. New single "Under The Westway", featuring a shocking "Hallelujah/To ya" rhyme, gets its debut. What is it with Blur and that flyover?
But we also hear plenty of remin–ders that Blur were a band who, literally, couldn't have been any better. A band who played to the very limit of their abilities, often touching excellence while never quite suggesting the presence of genius. A band who, while bettered by Pulp, Suede and the Manics, were always streets ahead of the monobrows.
For example, Parklife's bittersweet beauty "This Is A Low", combining the aesthetics of Berlin Bowie and the Shipping Forecast. Or riotous stand-alone single "Popscene", which has Coxon on knees conjuring feedback from an amp, and Damon brandishing a loudhailer, sweat dripping from his stubble. Above all, "For Tomorrow", the one Blur song that's untouchably immortal and ought to be available on the NHS.
They end with "The Universal", a song forever soiled by commerce after being pimped to British Gas. It is, I like to think, with knowing irony that Albarn warns "Obviously, the use of lighter fuel is prohibited …."
Enjoy unlimited access to 70 million ad-free songs and podcasts with Amazon Music Sign up now for a 30-day free trial
Sign up
Having done the introspective thing with her last album, Charlotte Church is coming out fighting this time. The new material is what one might loosely term "alternative rock", the provocative artwork shows her lips sutured together, and she's touring intimate venues such as the Green Door Store, a cobblestoned rock'*'roll arch under Brighton station. With a super-cool studded top and dishwater-blonde hair, she looks the part, and on tracks like epic opener "The Rise" and upcoming single "This Is How Not To Be Surprised When You're A Ghost", she sounds it too, her "rock" voice as effortless as her more operatic moments.
She is, of course, very likeable. "I've got all sorts of gargling skills," she jokes after swigging a bottle of Volvic on mic. Admittedly, it's the law to love Charlotte Church where I come from – the real princess of Wales – but she's earning it all over again. Before a Blondie-esque disco finale called "James", she tells us there'll be no encores. Not because she's trying to be "punk", but because "I feel like a twat". There'll be some who question her sincerity with this new direction. But they're missing one fact: in one sense or another, Charlotte Church has always rocked.
Critic's Choice
Fairport's Cropredy Convention this year sees the folkrock veterans (Fairport played their first gig 45 years ago) welcome a line-up including Squeeze, Richard Thompson, Bellowhead and Dennis Locorriere to Cropredy in Oxfordshire (Thu-Sat). As Blur play what may be their last gig, The Specials, New Order and Bombay Bicycle Club complete a Best of British line-up, to mark the end of the 2012 Olympics, at Hyde Park (Sun).
Register for free to continue reading
Registration is a free and easy way to support our truly independent journalism
By registering, you will also enjoy limited access to Premium articles, exclusive newsletters, commenting, and virtual events with our leading journalists
Already have an account? sign in
Register for free to continue reading
Registration is a free and easy way to support our truly independent journalism
By registering, you will also enjoy limited access to Premium articles, exclusive newsletters, commenting, and virtual events with our leading journalists
Already have an account? sign in
Join our new commenting forum
Join thought-provoking conversations, follow other Independent readers and see their replies