Bon Iver review, i,i: Immersive lullabies that crackle with nostalgia
Justin Vernon's dreamy, genre-less music collective returns, with an exquisite album that is otherwise frustratingly apolitical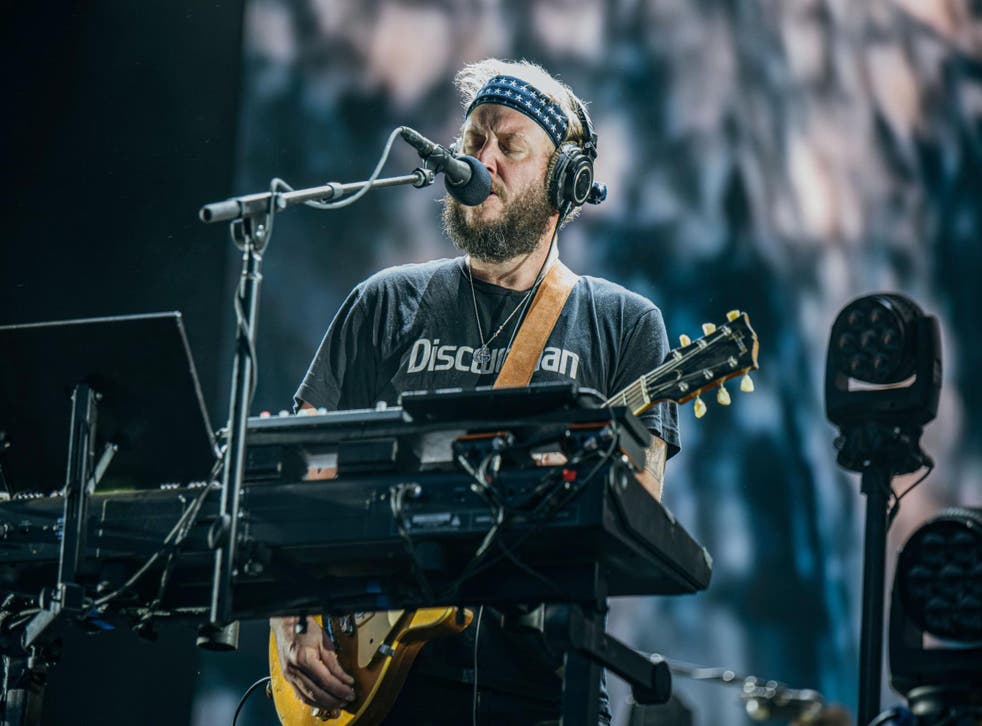 Now that alienation is viable pop currency, you can hear it everywhere – from Billie Eilish to Lana, Frank Ocean to The 1975. The gruff, unshaven great uncle of all this is Bon Iver: once the backwoods folk project of Justin Vernon, now a festival-headlining collective whose records use vast resources to conjure frailty, digital disconnect and a great, muddled quiet.
Unlike his glossier contemporaries, Vernon has the preyed-upon air of a troubadour who means not to sound so pretty. His sheepish falsetto and elusive lyrics grasp for the ineffable, somewhere between the couch cushions of language. Along with kindred spirits like James Blake, the Wisconsinite has spent the decade hashing out a new poetry of isolation: familiar sounds warped by strange electronics, vocals chopped and churned in edit suites, all awash in reverb. The songs are suspended between grandiosity and ambience.
The best albums of 2019 (so far)

Show all 67
During Bon Iver's exquisite fourth album, you may find yourself wondering how many musicians it takes to contrive such magnificent solitude. The answer, i,i proposes, is about 30. Blake himself is among them, singing backing on the lavish "iMi", as are Moses Sumney and members of The National.
Vernon has explained that the LP they've made symbolises autumn, completing the seasonal cycle of Bon Iver's first three albums. Fans of the "unhinged summer" record, 2016's 22, A Million, will find much here to love: oddities composed of otherworldly beats, whispering brass and fragmentary structures, as likely to crescendo mid-song as in a finale. The record feels less like an ending than another transition: always in-between, genre-less, genderless and timeless, and as such, suited to our present moment.
There's readymade nostalgia, too: it's not uncommon to find soft rock smuggled into its ambling dreamscapes. "Jelmore" sounds like a synth-rock climate anthem refracted through Aphex Twin's trick mirror, glitches rippling into place as Vernon demands, "How long will you disregard the heat?"
On the Americana redux "U (Man Like)", he slips into a Sly Stone rasp and calls, in his oblique way, for class revolt. "Ain't your standard premonition/ All this phallic repetition", he croaks over gospel piano. Behind the expensive turns of phrase lies a nagging sense that these are protest songs aspiring to the apolitical. Vernon may long for change but, in its riddling tone and cushy over-production, his music is doomed to pacify.
It's telling that Bon Iver's live shows, rather than communal outpourings, tend to feel like a private experience for the viewer: less the arena of magic and accident than of awesome majesty; the sort of thing, like a lullaby, that you close your eyes and yield to. You can let i,i overwhelm you or sink into its currents of drift and despondency – either way, it is immersive and rich. Yet it's hard not to anticipate certain peaks (the unimpeachable climax of "Holyfields," the joyfully silly "Sh'Diah" chorus) as if waiting for the school bell to ring.
In the end, what defines i,i are not those flashes of spiritual connection but the rifts that come between them. In that way, again, it's an album of its time.
Join our new commenting forum
Join thought-provoking conversations, follow other Independent readers and see their replies