Bonobo at O2 Academy Brixton, London, gig review: Surely one of the shows of the year
Brixton venue provides the perfect setting for electronic artist's first UK show in three years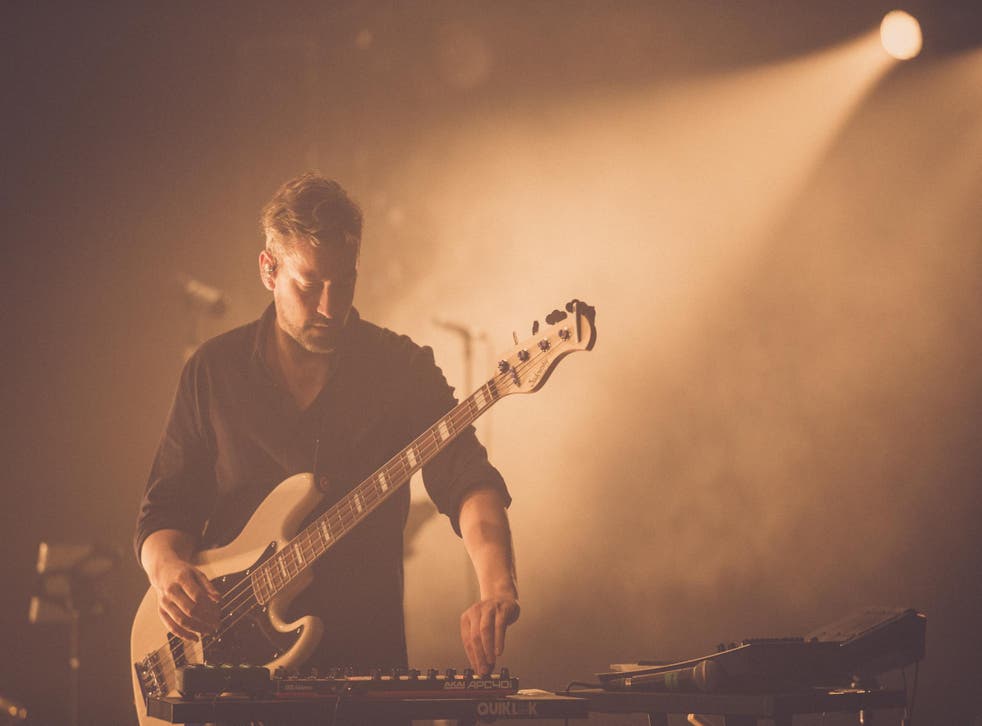 From the opening strains of "Migration", the eponymous title track from Bonobo's new album, a rammed Brixton Academy warmly embraces Simon Green's first live UK show since London's Alexandra Palace in 2014.
In many ways it's the perfect venue for this latest Bonobo incarnation – the cavernous auditorium with its sloping floor gives great views, while the acoustics add an extra edge to the music which, let's face it, most people usually listen to on headphones.
The bass is absolutely huge and when it drops on "Bambro Koyo Ganda", one of the standout tracks from the new album, it sends the crowd wild. Other highlights were a storming version of "Cirrus" and the "Kiara/Ten Tigers/Kong" trio.
Green is not one to hog the limelight, despite being a permanent bass-wielding fixture centre stage. Instead subdued lighting casts the band in shadow, while behind them abstract projections flicker and fade in time to the tunes.
It's beautifully hypnotic - a perfect visual representation then of Bonobo's music - complementing the almost orchestral arrangements which sets Green apart from his peers.
The 12-piece band features a note-perfect string quartet, a brass section and soaring flute alongside guitar, keys and drums. This is electronic music taken to a higher level.
For this tour Szjerdene Mulcare has taken over all vocal duties, bringing a new soul-heavy feel to well-known favourites from previous albums such as "First Fires". She also steps into take over Chet Faker's role on "No Reason".
Overall, there's a feelgood, almost festival vibe to the show: at one point there must be a dozen people on shoulders while someone even holds an umbrella aloft. It's no surprise then that the tour is already sold out, but try to get your hands on a ticket for what surely is one of the shows of the year.
Join our new commenting forum
Join thought-provoking conversations, follow other Independent readers and see their replies