Bruce Springsteen and the E Street Band, Etihad Stadium, review: Boss proves he is an enduring treasure
Springsteen has always been unapologetically crowd-pleasing and generous - and he didn't disappoint here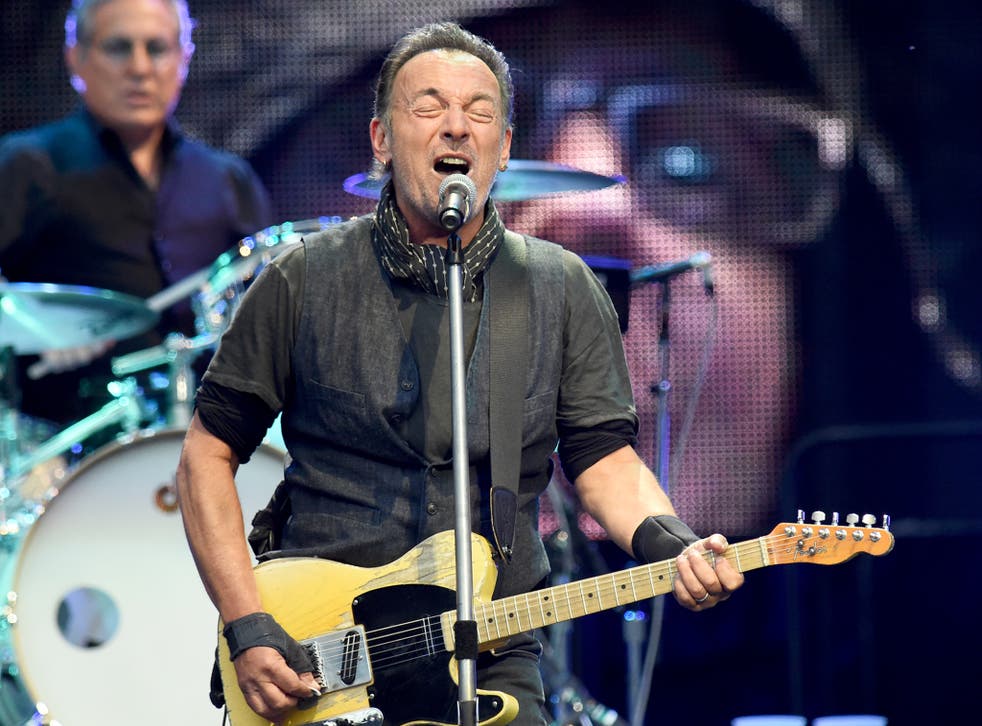 "Manchester I have a crush on you", hollers Bruce Springsteen, dressed all in black and still looking like a rugged matinee idol, before belting out "Crush on You" from his most ambitious and personal album, 1980's The River, which features heavily here, but not in its entirety, unlike at his recent US concerts.
The Boss isn't the sort to cut corners but shaving a few of 'The River' tracks (the likes of Jackson Cage and I'm a Rocker) feels like the right decision and means he can wheel out the likes of Darkness on the Edge of Town, Santa Claus Is Coming to Town (which he plays after spotting someone sporting a Father Christmas costume in the crowd), the sublime Because the Night (I've waited my whole life to hear this pop anthem live), The Rising, 10th Avenue Freeze Out and exquisite rocker Johnny 99. No bad thing. At all.
"Once I spent my time playing tough guy scenes/ But I was living in a world of childish dreams," growls the 66-year-old on Two Hearts, a high point on 'The River' and here in the steady drizzle. The double album River, written just as the Boss hit 30 and while the US was deep in recession, recalls the brutalism of Raymonds Carver and Chandler. It's about growing up, feeling stuck and feeling horny.
"You Can Look (But You Better Not Touch)" and "Hungry Heart", the most rousing song (and palpable hit; it was originally written for the Ramones) on 'The River', seem positively frivolous compared to the bleakness and high drama of Point Blank and The River ("Is a dream a lie if it don't come true/ Or is it something worse").
Music festivals guide 2016

Show all 20
His enduring E Street Band, led by a nimble Steve Van Zandt (or as Bru-uuce calls him "Ste-eeve") on lead guitar and able deputy Nils Lofgren, are as freewheeling and joyous as ever. The two-song salvo of Two Hearts and Hungry Heart is the pop (sorry) heart of this concert and 'The River'. It doesn't get better than that until Springsteen performs The River itself and his non-River material in this typically protracted and generous (three hours) performance which features plenty of sax, courtesy of Jake Clemons, nephew of the wonderful Clarence.
The second half of the set is peppered with 'Born in the USA' tracks – Darlington County, Working on the Highway and, best of all, the perfectly gorgeous Bobby Jean and (my favourite) Dancing in the Dark on which Springsteen (true to form) brings a woman on stage. The Boss has always been unapologetically crowd-pleasing and generous – and it's a huge part of his appeal. He's not embarrassed to entertain and he's rightly loved for it. In the year where we lost Bowie and Prince, everyone should treasure the Boss. He runs through the crowd for Hungry Heart, he brings up a boy for Waitin' on a Sunny Day and doesn't stop grinning throughout this giddy experience.
The only (very slight) gripe is the dearth of songs from 'Magic' (from 2007, and one of his finest albums of the past two decades) and an outing for Girls in the Summer Clothes and Radio Nowhere. It barely matters. A global treasure. Hell, he played Thunder Road and Born to Run so how could this review not be five stars? Bru-uuce...
Register for free to continue reading
Registration is a free and easy way to support our truly independent journalism
By registering, you will also enjoy limited access to Premium articles, exclusive newsletters, commenting, and virtual events with our leading journalists
Already have an account? sign in
Register for free to continue reading
Registration is a free and easy way to support our truly independent journalism
By registering, you will also enjoy limited access to Premium articles, exclusive newsletters, commenting, and virtual events with our leading journalists
Already have an account? sign in
Join our new commenting forum
Join thought-provoking conversations, follow other Independent readers and see their replies