Camila Cabello, Romance review: A sweet if flawed demonstration of artistic identity
The Fifth Harmony alumni carefully avoids being swallowed whole by her very public relationship with Shawn Mendes on her ebullient and pleasurable second album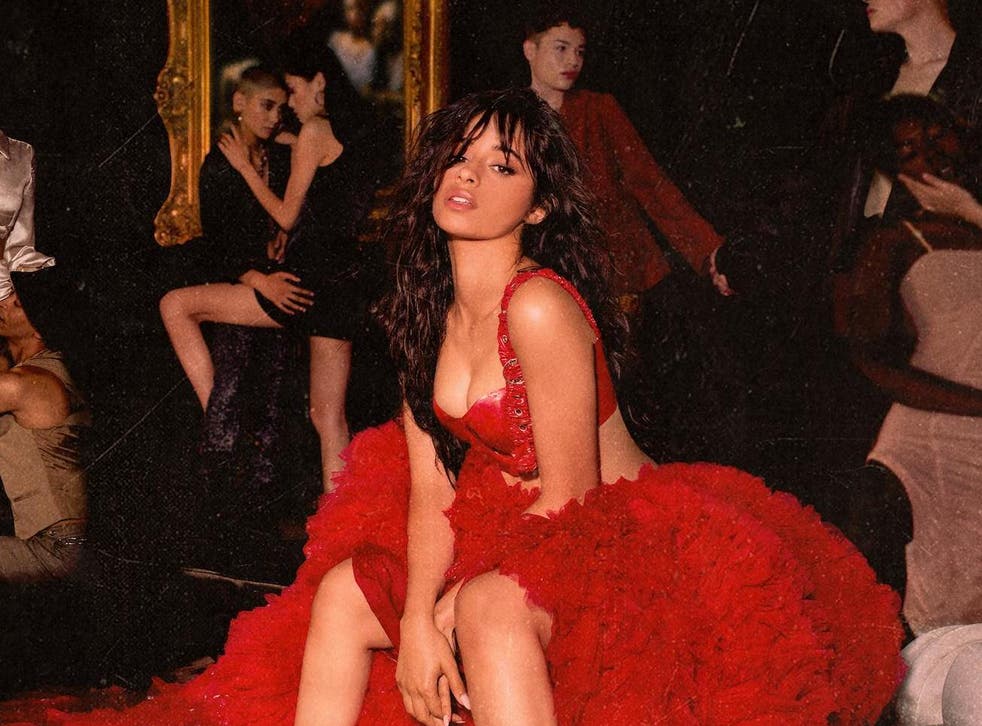 Spotify announced this week that the most streamed track of 2019 was "Señorita", the sweltering summer single from Camila Cabello and Shawn Mendes, an unbearably tactile real-life couple who have been anointed the Britney and JT of the Gen-Y set. For Cabello, alumni of the defunct girl group Fifth Harmony, it marked her second Latin-tinged smash after 2017's "Havana".
But Cabello has also faced a very modern conundrum: how do you translate two Spotify-dominating singles into a distinct musical identity? Particularly when the bulk of your recent press, whether deliberate or not, has focused on your hyper-visible relationship? Romance, Cabello's second solo album, doesn't solve the mystery, but it's at least a marked improvement on the pick'n'mix anonymity of her 2018 debut. That record, Camila, was cute if inconsequential, pulling from so many sonic trends that it was a rather faceless introduction to Camila Cabello the solo artist.
Even if not everything on Romance works, there is an obvious through line connecting the majority of its tracks – Cabello is sweetly ebullient as she repeatedly returns to feelings of being flush in first love. Convenient from a PR angle, absolutely, but also played so sincerely that it's not particularly bothersome.
"Please say you dream of me, too," she sings in album standout "Dream of You", her voice cracking into an airy plea. Single "Living Proof" is a wonderful flutter of a number, full of heady high notes as she compares finding love to finding religion. It's in these vulnerable mid-tempo moments that Cabello feels most at home, though that doesn't mean there aren't bops here, too. "My Oh My" sounds like it was recorded in a crypt on Halloween, Cabello reducing her pitch to a spooky timbre as she talks of a naughty boyfriend who "comes alive at midnight". The equally raspy "Cry for Me" is essentially Imogen Heap meets Carlos Santana, complete with an electric guitar solo that sounds directly lifted from the latter's Rob Thomas collaboration "Smooth". It's one of the album's more unconventional tracks.
The 50 best albums of the decade – 2010 to 2019

Show all 50
Whether Cabello has fully come into her own just yet, however, is a question Romance struggles to answer. Occasionally overproduced, it has a tendency to flatten her voice with unnecessary processing, morphing it too often into a gloopy gurgle. And a few too many songs feel like carbon copies of other people's, particularly "This Love", a thinly-veiled pastiche of Rihanna's "Love on the Brain" that never takes off in the same way.
But there's something here. When allowed room to breathe, Cabello's voice is wonderfully elastic, as pleasurable when it's low and gravelly as it is when it's high and pleading. And Romance feels like an album with a clear story, vision and personality at its centre, even if it's been tempered somewhat by trends and streaming expectations.
Considering how vulnerable Cabello has become to being swallowed whole by her personal life, it's a relief. It feels like the throwing down of a gauntlet, Cabello determined to wear her heart on her sleeve in the studio as well as in paparazzi photos.
Register for free to continue reading
Registration is a free and easy way to support our truly independent journalism
By registering, you will also enjoy limited access to Premium articles, exclusive newsletters, commenting, and virtual events with our leading journalists
Already have an account? sign in
Register for free to continue reading
Registration is a free and easy way to support our truly independent journalism
By registering, you will also enjoy limited access to Premium articles, exclusive newsletters, commenting, and virtual events with our leading journalists
Already have an account? sign in
Join our new commenting forum
Join thought-provoking conversations, follow other Independent readers and see their replies