Chic – 'It's About Time' album review: A love-in that fails to freshen the formula
On Nile Rodgers' new album, a litany of star names are reduced to audio clutter
Helen Brown
Thursday 27 September 2018 12:40 Comments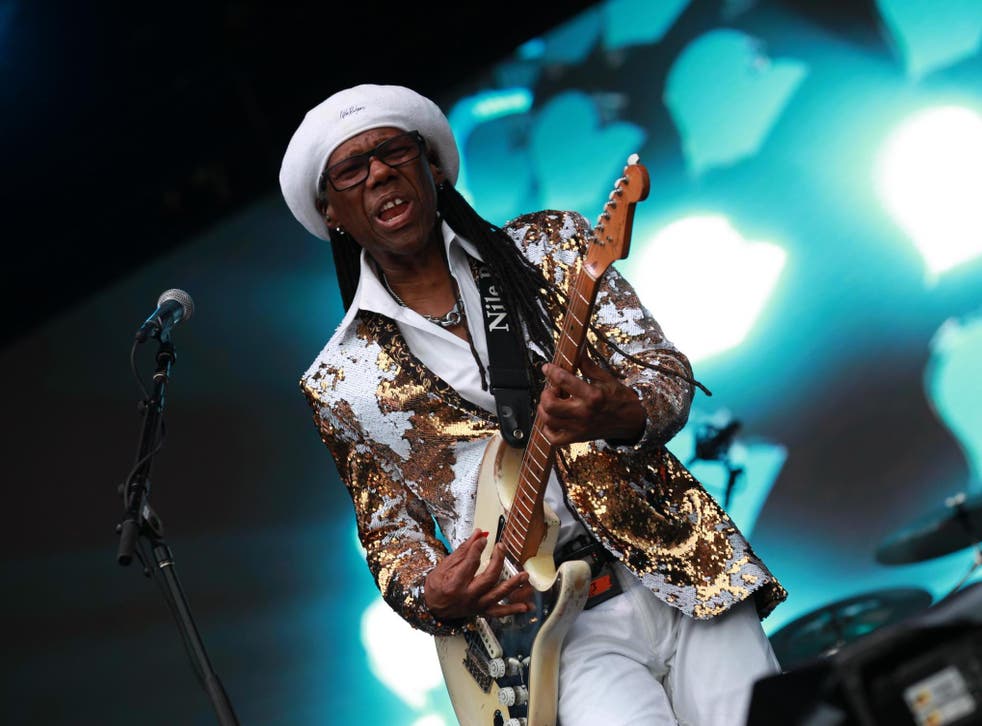 "When I was a kid," Nile Rodgers says, "I heard Miles Davis say: 'It's not the s*** you play. It's the s*** you DON'T play that makes it funky.'"
It was advice the young jazz enthusiast took to heart. The era-defining funk of Chic – formed in 1976 after Rodgers met bassist Bernard Edwards while they were touring with the Sesame Street stage show – is built around the distinctive "chucking" sound he snaps out of his unique (Eighties body, Fifties fretboard) Stratocaster, stripping tricksy chords down to three notes, flipping out the melody with the rhythm.
Chic's disco classics – "Le Freak" and "Everybody Dance" – continue to fill dancefloors, while samples from "Good Times" formed the foundation of hip hop. When dancers tired of the formula, Rodgers enjoyed a lucrative second act as a producer, waving his magic Strat over the works of Madonna, David Bowie and Daft Punk, spangling their music with a danceability he calls the "Chic Mystique".
Now, 26 years after Chic's forgettable eighth album – Chic-ism – and 22 years after Edwards' death, 66-year-old Rodgers is back with a host of (mostly younger) disciples paying homage at the mic.
Alas, the love-in comes at the expense of Davis's wisdom: too much s*** gets played. And no "mystique" occurs. Rodgers doesn't allow his pals to freshen the old formula, reducing them to audio clutter.
Nostalgics will probably shake out a move to "Till The World Falls", with silky vocals from rising Irish singer Cosha. Echoes of Sister Sledge's "Lost in Music" ping out throughout – no surprise there, as Rodgers and Edwards wrote and produced the song in 1979. Inevitably, the lyrical theme is the importance of dancing. There's more of the same on "Boogie All Night", featuring the quirky-cute voice of Nottingham-born "wonky funk" artist NAO. Craig David delivers a slick R&B performance against the Eighties block-punch synths which give a mild change of pace and lyrical theme to "Sober".
But an instrumental, featuring jazz pianist Philippe Saisse, has all the pointless propulsion of corporate hold music. Elton John and Emeli Sandé duet like they're recording competing leads on "Queen". Lady Gaga adds nothing but confusing layers to a cover of Chic's bell-tolling, 1978 smash, "I Want Your Love". As the line featured so prominently in her own "Bad Romance", Rodgers should have let her rip with a winking reference. But no.
New chic? C'est weak.
Register for free to continue reading
Registration is a free and easy way to support our truly independent journalism
By registering, you will also enjoy limited access to Premium articles, exclusive newsletters, commenting, and virtual events with our leading journalists
Already have an account? sign in
Join our new commenting forum
Join thought-provoking conversations, follow other Independent readers and see their replies