Christina Aguilera Liberation review: New album is everything diehard fans could want, but there are misses among the hits
Also this week: Mike Shinoda's new solo album, Chromeo's 'Head Over Heels', and a debut from Rolling Blackouts Coastal Fever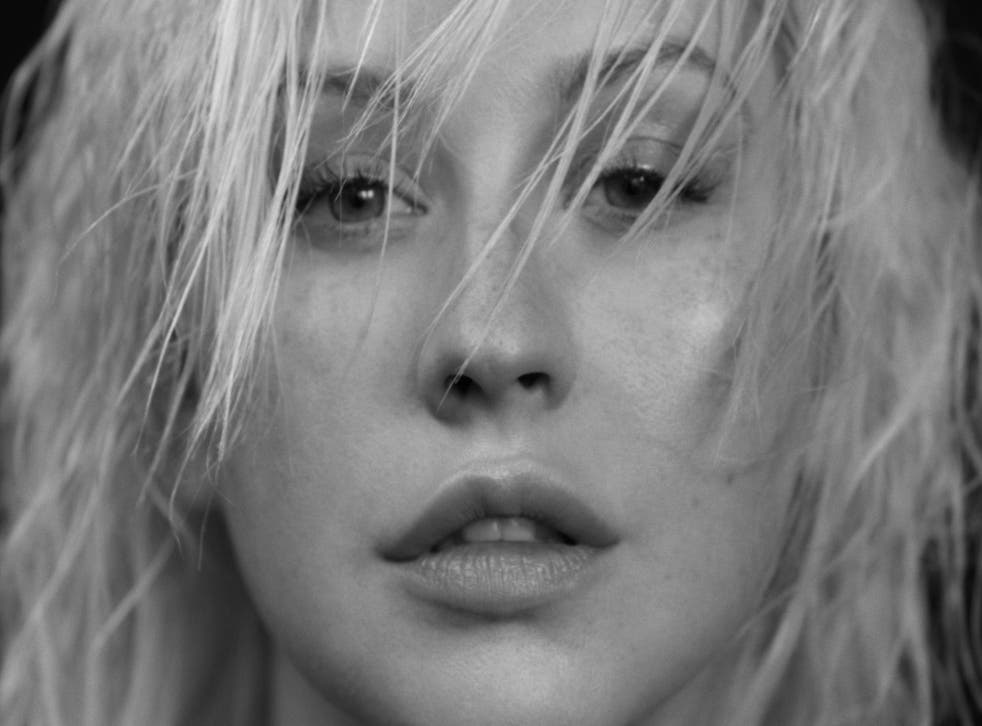 Christina Aguilera, Liberation
★★★☆☆
Download this: Maria, Sick of Sittin', Fall In Line, Unless It's With You, Masochist
Since her 1999 debut single "Genie in a Bottle", Christina Aguilera has always been a rebel in the pop world – straying from the "girl next door" stereotype that other pop stars clung to. While she may not have set out to be a rebel, she's certainly made a career out of being one.
Despite the world labelling her as a pop star – her music has challenged expectations. Before Carly Rae Jepsen and Lady Gaga, Aguilera's genre-defying pop ethos transformed the musical landscape. Throughout her seven previous records, Aguilera has consistently reinvented herself for a specific era – challenging her creativity and methods of expression. Albums like Stripped, Back To Basics, Lotus and Bionic were distinct in their aesthetics but had the constant thread of Aguilera's operatic vocals.
The 37-year-old began working on Liberation four years ago, but it's been six years since her last record came out. Since then, she's endured a lot of change, which included leaving her post as one of the four judges on the US version of The Voice and having a child. At the same time, it also meant rediscovering and reclaiming her identity. Liberation is record of empowerment – something that has always been embedded in Aguilera's music, but is timelier than ever. With Liberation, there were no limitations: Aguilera recruited a handful of collaborators including Anderson .Paak, Kanye West, Che Pope, Mike Dean and Tayla Parx.
She was quoted saying that the record was inspired by hip hop and R&B – something that checks out on some of the songs, but it's impossible to categorise the record as such. "Where are you? Are you there?" Aguilera seems to ask her inner child on the opening interlude. Liberation is symphonic and dramatic – everything diehard Aguilera fans would want in an album. But like most Aguilera albums, there are some hits and some misses.
"Sick of Sittin'" stands out as a gospel-fuelled rock track reminiscent of "Fighter", signalling Aguilera's restlessness. West fans will immediately recognise his familiar, cinematic production on the club-ready "Maria" and "Accelerate". For fans of both Aguilera and Demi Lovato – two of the best vocal powerhouses in the game – their impassioned feminist anthem "Fall In Line" is a standout on the record.
Similarly, Aguilera shines on Liberation's balladry, with the Ricky Reed-produced closer "Unless It's With You" and the sparse "Twice". "Sometimes I don't think I deserve you/ so I say some f***** up s*** just to hurt you," Aguilera sings with a keen sense of self-awareness on "Deserve".
On "Masochist", she also masters crafting her own brand of Eighties dream pop. But tracks like the reggae-tinged "Right Moves" and "Pipe" come off as monotonous. But there is a lot of Aguilera's sincere authenticity that is weaved throughout Liberation. It may not be a pop record, a hip-hop record or a soul record, but it's certainly an Xtina record. Ilana Kaplan
Mike Shinoda, Post Traumatic
★★★★☆
Download this: Place To Start, Running From My Shadow, Crossing A Line
There's no handbook on how to grieve once someone close to you has died – especially not your bandmate, your best friend or both. Linkin Park's Mike Shinoda knows that better than anyone. Last summer, he not only lost one of his best friends, but his bandmate Chester Bennington. To cope, he began making music without any pretence, starting with January's Post Traumatic EP featuring three raw songs and video footage of him in his creative process. That EP became the opening for his debut solo album, which is no coincidence.
The part-rap, part-rock Post Traumatic LP is rooted in confusion, grief, trauma and a forced reset button. It's not Linkin Park, it's not Fort Minor: it's just him. "Place To Start" is a melancholic meditation on the aftermath of Bennington's death, featuring voicemails from loved ones paying their respects. Rap-centric tracks "Over Again" and "Watching As I Fall" chronicle the never-ending cycle of frustration that comes with loss. The dark "Nothing Makes Sense Anymore" touches on Shinoda's insomnia following the tragedy and his need to focus on art.
Enjoy unlimited access to 70 million ad-free songs and podcasts with Amazon Music Sign up now for a 30-day free trial
Sign up
Chester Bennington dead: Linkin Park singer remembered

Show all 14
With the help of collaborators BASECAMP and blackbear, "About You" became a blend of various rap tracks; it was also supposed to be the first song that wasn't about Bennington. Shinoda has said that despite his efforts to make a track that isn't about him, people will interpret it to be that way, and he understands that. An interlude aptly titled "Brooding" separates the process of mourning from rebuilding.
"Crossing A Line" – one of the most radio-friendly tracks – also proves to be one of the most transformative selections on the record: "They'll tell you I don't care anymore/And I hope you'll know that's a lie/Cause I found what I have been waiting for/But to get there means crossing a line."
It's at this point on the record that Shinoda begins to focus on himself. "Can't Hear You Now" and "Running From My Shadow" instead centre on Shinoda coming to terms with his inner demons. By the end of Post Traumatic, you realise Shinoda is right: this record is as much about Bennington as it is about him, but that's what makes it so vulnerable and such a triumphant debut. Ilana Kaplan
Melody's Echo Chamber, Bon Voyage
★★★☆☆
Download this: Cross My Heart, Desert Horse, Shirim
Six years since Melody Prochet's debut, the second album by Melody's Echo Chamber has surfaced. In a brief seven tracks, Melody's Echo Chamber manages to create her own candy-coated daydream.
There are no barriers – she experiments with her soprano vocals, European folk music, Swedish jazz, grooves and electronica – something that seems inspired by her time living in Sweden and working with Fredrik Swahn of The Amazing and Reine Fiske of Dungen in an amalgamation of creativity. Aside from the internet-only 2016 EP From Pink They Fell Into Blue, she found herself struggling to make a follow-up. Prochet worked for two years solo to finish her sophomore record, but nothing panned out.
By then things had shifted for her – Sweden had let her evolve into a place where she could make that record. Vocals are secondary on Bon Voyage, but they also help the music flourish. Opener "Cross My Heart" could be a number of tracks in one as it continuously evolves its sound, even featuring a hip-hop breakdown in the middle of the seven-minute track that pays homage to her sonic beginnings.
The rebellious "Desert Horse" frantically shifts time changes and instrumentation fusing vocoders with acoustics. "Visions of Someone Special, On a Wall of Reflections" is a deconstructed dedication to Serge Gainsbourg's "Ford Mustang". With Bon Voyage, it genuinely feels as if Prochet got lost in her sounds and let it lead her. In her own musical liberation, Prochet makes something bizarre and stunning. Ilana Kaplan
Chromeo, Head Over Heels
★★★★☆
Download this: Count Me Out, Juice, Must've Been
All manner of genre tags have been applied to Chromeo over the course of their 16 years together, with electro, disco and synth pop all among them. In actual fact, though, you don't need to look much further than their Twitter handle to know where the Montreal duo's musical roots really lie; rather immodestly, they describe themselves as "FUNKLORDZ" and sure enough, beneath the pristine electronic surface, the influences at the beating heart of Chromeo's musical blueprint have always been the James Browns, Chaka Khans and George Clintons of the world, rather than anybody more contemporary.
How must they have felt, then, to have seen the style enjoy such a mainstream resurgence in recent years? Between the re-emergence of Nile Rodgers and Chic (they'll put out their first album in a quarter-century this year) and the likes of Daft Punk's "Get Lucky" and Mark Ronson's "Uptown Funk" becoming global smashes, the audience is clearly there for Chromeo and for any number of their funk-inflected peers that the pair could see either as potential rivals or collaborators.
On this fifth LP, Head Over Heels, it's the latter; continuing in the same vein as 2014's White Women, Dave 1 and P-Thugg have opened up their creative process and enlisted outside help, and the result is genuine progression. By enlisting hip-hop up-and-comers like French Montana and Stefflon Don, they've inched towards R&B, but in a fashion that feels more like a nod to the Eighties than the present-day equivalent; see the irresistible opening one-two of "Must've Been" and "Don't Sleep" for evidence.
Elsewhere, the tracks that are more classically Chromeo – with "Juice" and "Count Me Out" among the highlights – benefit from the assembly of a star-studded cast of backing musicians that includes Raphael Saadiq and Rodney Jerkins; this is as close to the live iteration of Chromeo that one of their records has ever come. Plus, its arrival at the start of the summer feels like serendipitous timing; this might be their moment. Joe Goggins
Rolling Blackouts Coastal Fever, Hope Downs
★★★☆☆
Download this: Bellarine, Sister's Jeans
Much of the early talk about Rolling Blackouts Coastal Fever has drawn favourable comparisons with their compatriots The Go-Betweens or the jangle-pop stylings that dominated the celebrated New Zealand label Flying Nun in the Eighties. In truth, more contemporary parallels with the likes of White Denim and the gentler side of Parquet Courts might be more accurate.
At the heart of the Melbourne quintet's sound are the interlocking guitar lines from the band's three songwriters, Fran Keaney, Joe Russo and Tom White, who also split vocal duties equally; accordingly, there's a palpable tension that runs beneath their otherwise sunny sound.
Hope Downs is their debut full-length and is a meatier prospect than their two well-received EPs Talk Tight and The French Press – all thumping percussion and skyward riffs. It's a peculiar record and one that involves a push-and-pull between two extremes; on the one hand, the instrumentation is wound tight and built around sharp melodies that, at their best, are difficult to shake off – "Bellarine" and "Sister's Jeans" in particular are real earworms.
The other side of the coin, though, is that the chopping and changing between vocalists lends the album a fragmented feel that seems to seep into the lyrics, too; "Talking Straight" flits between "waiting for Jenny's coupe", which is the sort of laidback summer-night fare you might expect from a group that channel Real Estate and Beach Fossils, to suddenly ruminating on the vast nothingness of the universe: "I wanna know where the silence comes from/Where space originates."
It's a dynamic that sets Rolling Blackouts Coastal Fever apart in an already crowded market for blissed-out indie rock, but it also lends Hope Downs a disjointed quality – it's freewheeling one minute, and a little awkward the next. Joe Goggins
Register for free to continue reading
Registration is a free and easy way to support our truly independent journalism
By registering, you will also enjoy limited access to Premium articles, exclusive newsletters, commenting, and virtual events with our leading journalists
Already have an account? sign in
Register for free to continue reading
Registration is a free and easy way to support our truly independent journalism
By registering, you will also enjoy limited access to Premium articles, exclusive newsletters, commenting, and virtual events with our leading journalists
Already have an account? sign in
Join our new commenting forum
Join thought-provoking conversations, follow other Independent readers and see their replies