Daniel Caesar at KOKO, London, review: Breathtaking talent
The 22-year-old curates an intimate, magical set that feels inherently personal
Tara Joshi
Tuesday 06 February 2018 17:06 Comments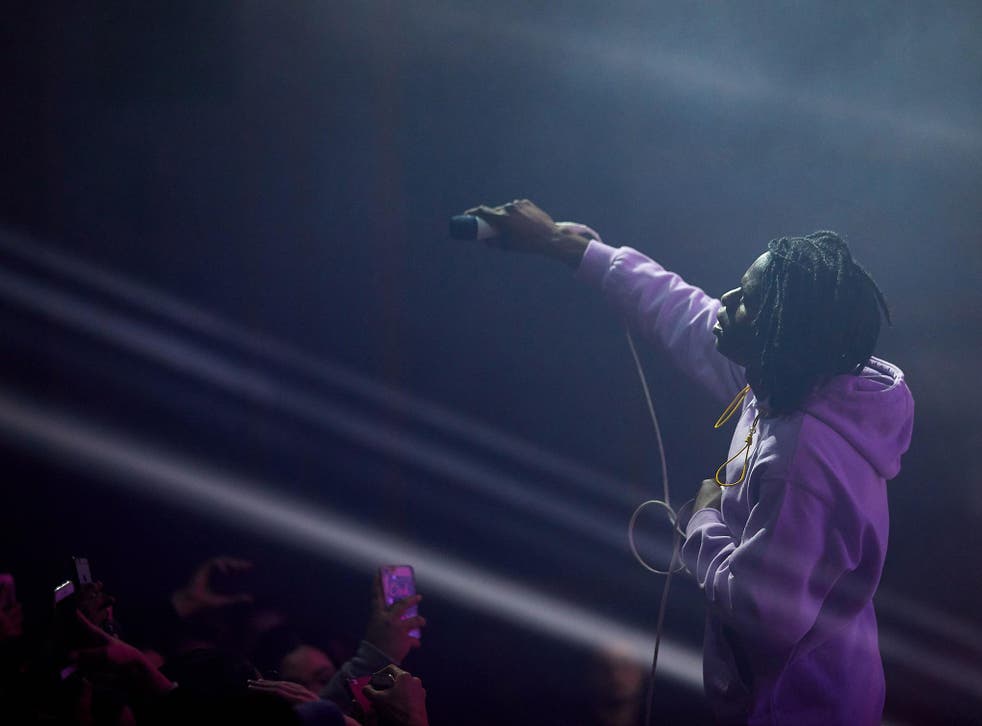 Though Daniel Caesar can count names as notable as Barack Obama among his fans, there's something engrossingly unassuming about the rising Canadian artist. His debut album, last year's Freudian, was at the forefront of R&B re-embracing its tender, gospel-tinged side, and his live set at KOKO tonight is testament to this soft sense of vulnerability.
Rugs, flickering lamps and even a desk litter the stage in a comfortingly homely way as Caesar lights some kind of sweet incense, dreamily fanning it as he wanders around the stage in a hoodie – the scene is set as an intimate view of a bedroom, rather than the first of two sold-out headline shows at one of London's bigger venues.
And, indeed, that bedroom-intimacy coupled with epic songwriting is an overarching theme to this performance: though the venue is packed, and he's got a full band and three swaying vocalists behind him, it all somehow feels inherently personal. Opening with the backing trio singing "Freudian"'s harmonious gospel refrain of "If you love me won't you let me know", the 22-year-old quietly appears on the stage, seemingly entirely at ease as he feels out the atmosphere.
Taking a seat, he begins to strum the guitar introduction to the woozy romance of "Best Part" – and, astoundingly, the whole crowd has already started singing the first verse. Indeed, there are frequent times in the show that Caesar ends up more of choir director than headline singer, speaking the first words of the next line to guide his enthused audience.
That's the one thing that seems a shame: for all it is quite magical and freeing to close your eyes and join so many voices singing along to tracks like his 2015 cut "Death & Taxes"; Caesar's fluid, soulful falsetto is so powerful and beguiling live that it would be nice to hear more of him actually singing.
But it feels a minor criticism in the grand scheme of what is undoubtedly a beautiful show, and Caesar is clearly enjoying himself: he jams on his guitar, paces the stage in awe, and even gets down into the crowd to really soak up the immersive energy. Coming back on for a rapturous encore of his biggest song "Get You" (one of his band members takes Kali Uchis' part), there's little doubt that this has been something special.
Daniel Caesar's shows have often been the location of marriage proposals, and while that doesn't happen tonight you can certainly see and feel why it would. With a voice and lyrics so impossibly swoony and gorgeous the combination will make you melt, and an infinitely warm, relaxing stage presence, his soulful London show proves Daniel Caesar a sincerely breathtaking talent.
Register for free to continue reading
Registration is a free and easy way to support our truly independent journalism
By registering, you will also enjoy limited access to Premium articles, exclusive newsletters, commenting, and virtual events with our leading journalists
Already have an account? sign in
Join our new commenting forum
Join thought-provoking conversations, follow other Independent readers and see their replies